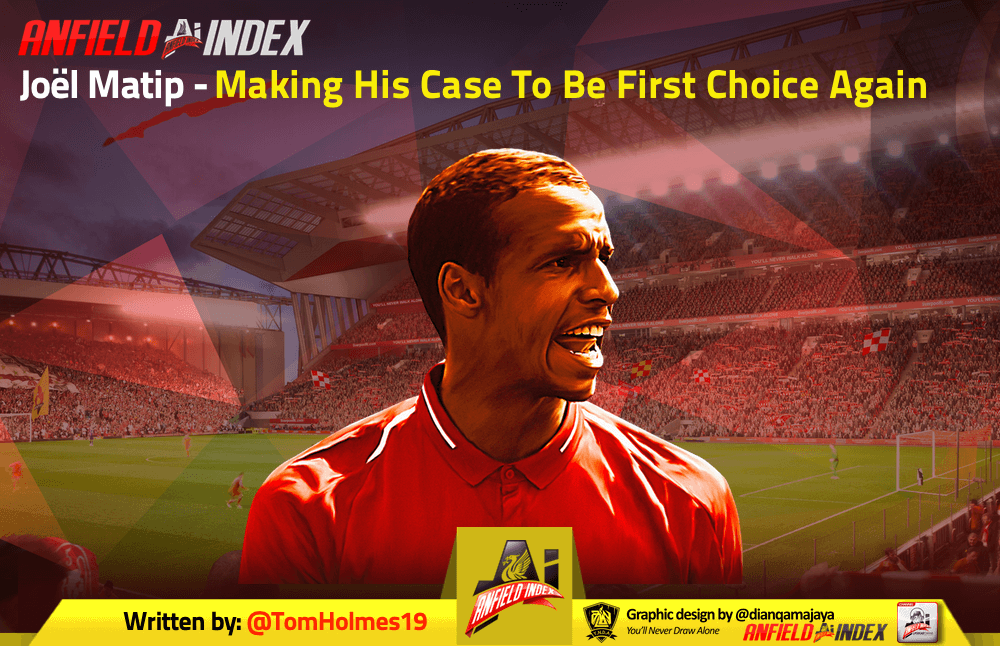 Joël Matip - Making His Case To Be First Choice Again

It's been a pretty impressive few months for Joël Matip. Since his return to the team against Crystal Palace, Matip has played every minute of the last 13 Premier League games, during which Liverpool have conceded just 10 goals, keeping six clean sheets, and winning nine. Over the course of the season, Matip has actually played 16 league games alongside Van Dijk, with the Reds conceding just 11 goals in those games, winning 12 and drawing four.
In the Champions League, Matip has also made a big impact, exceptional in both legs against Bayern and important in the 1-0 win over Napoli that saw the Reds through the groups. Again, Liverpool have conceded less than a goal a game in his UCL games, although he did feature in the 2-0 loss to Red Star – a loss that could hardly be placed at his feet.
Overall then, the numbers indicate that Matip has done a more than ample job standing in for Joe Gomez, since his serious injury in early December. And whilst it's easy to sit here and shrug at Matip's performances, or to point out that Liverpool have been brilliant defensively all season, conceding just 20 goals in 34 games with 9 of those in the 19 games without Matip, the simple fact is that Matip has stepped into the breach and the defence has seen very little drop-off.
Consider that at the time of his injury, Joe Gomez was being hailed by Liverpool fans as one of the best centre-backs in the Premier League, and the idea of facing even a month, let alone the nearly five months that it has ended up being, was considered by many to be a potentially title-ending blow. And whilst the title hasn't been won in his absence, it certainly hasn't been lost either, and certainly not due to the performances of Matip, who has been very, very strong in his absence.
Matip has had a mixed career for Liverpool under Klopp. Signed in the summer of 2016 on a free, he settled quickly alongside Dejan Lovren and was widely considered Liverpool's best centre-back by the following summer, which was a huge part of the problem. Matip was a solid central defender, but he was never an elite defender, and there was no doubt that injuries were a problem.
He started 27 league games in his first season for the Reds, who floundered defensively without him, conceding 18 goals in 11 games without Matip compared to 24 in 27 with him, and last season started just 22 games due to injury.
Again, it's easily forgotten that Matip was actually Klopp's first choice partner for Virgil Van Dijk when the Dutchman joined, but a hamstring injury ruled him out of Liverpool's last seven league games, and the Champions League Quarter-finals onwards.
The fact that Matip picked up another niggle right before the season started was the final straw for some Liverpool fans, and when Joe Gomez was given a run of games at the start of the season at centre-back, for many there was no way back for Matip, especially given how well Dejan Lovren had played while Matip was gone. In less than a year, Matip had gone from first choice to fourth, through no fault of his own, and was facing a mountain to get back into the team.
But, as is the case with this set of Liverpool defenders, injuries were always going to afford the opportunity. Joe Gomez, Dejan Lovren and Matip are all varying degrees of talented defenders, but none of them have been able to consistently nail down that spot alongside Van Dijk because they've all picked up injuries. Gomez's unfortunate injury was matched by Matip's broken collarbone and whatever was going on with Dejan Lovren, and fortunately, Matip was able to recover quickly enough to return before the end of January.
And given the opportunity to make his stamp on the side, Matip has done just that. It's increasingly clear that any of the three lads would be more than capable of pairing with Van Dijk to varying degrees (Liverpool have conceded 11 in 16 with Matip alongside VVD, 5 in 9 with Lovren there and 4 in 9 with Gomez there) but the simple fact remains that under potentially sticky circumstances, Matip has stepped up in a big way, both in the Premier League and in the Champions League.
So now that Joe Gomez is back in the picture with a handful of weeks left to go in the season, does Joe jump back above Matip in the pecking order, with two games against Barcelona on the horizon and three vital league games to come?
This is a tricky question. I would argue that right now, Matip has to remain Liverpool's first choice partner to Van Dijk. We don't know if Gomez is ready yet or what he'll look like when he starts, and unknown variables are big risks at this point in the season. Moreover, even assuming Gomez jumps back into his best form, Matip has certainly made a case that he deserves to be starting for this team on merit.
In reality, however, this gives Klopp options. He might want the solidity of Gomez at right-back in either of the big games against Barcelona, or he might decide to rotate Matip again, resting him as he did in the first leg against Porto, keeping Matip fresh for the big games.
In any case, whilst it's impossible to say how Liverpool's centre-back situation will look at the start of next season – there's plenty of scope for injuries to make their mark over the summer and there's no guarantee that Klopp won't dip into the market again given the potential unreliability of his current options – I think it is fair to say that Joël Matip has done enough to ensure that he won't simply be dropped in a week or so if Joe Gomez is ready to jump back into the team.
And given how good Gomez was in the front half of the season, and how forgotten and maligned Matip was during that period, it's genuinely remarkable, and a testament to how well Matip has played, that it's probably not a simple case of Gomez being reinstated immediately when fit.