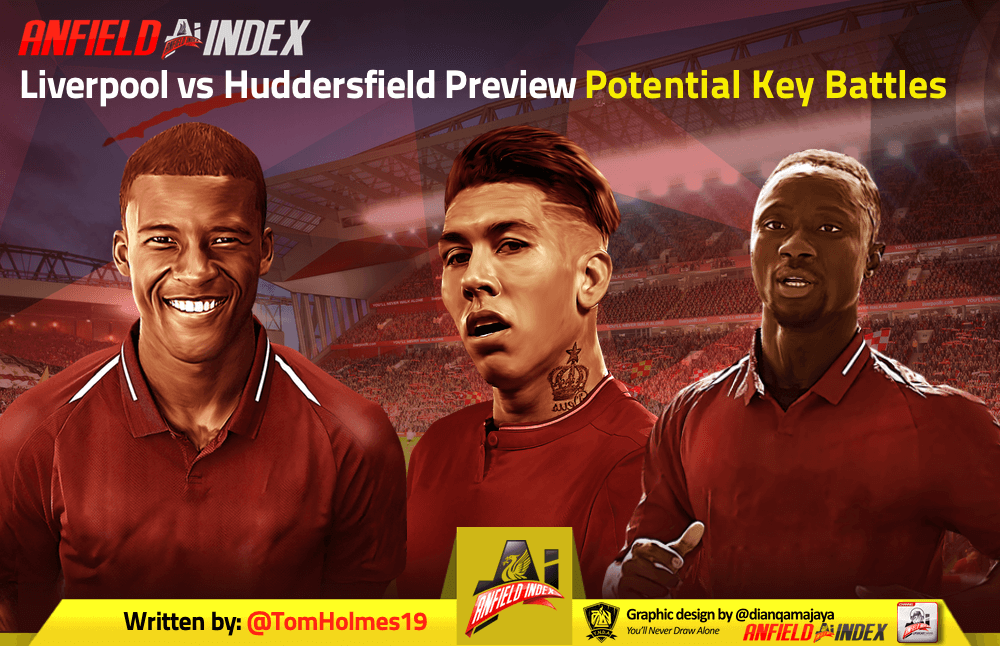 Liverpool vs Huddersfield Preview - Potential Key Battles

Liverpool have three games left in their Premier League season and are bang in the thick of it, with three wins putting them on the brink of a historic Premier League title win. And whilst many have already assumed that the first of these wins will come at home to relegated Huddersfield, it would be foolish to write off the Terriers, who gave Liverpool a good game earlier in the season where Mo Salah scored the only goal. So what are some potential key battles ahead of this critical fixture?
Roberto Firmino vs Terence Kongolo
Bobby Firmino is an integral part of this Liverpool attack and has been on hot form since the return from the international break. He scored in both games last season against Huddersfield, an important part of the Reds' two 3-0 wins, but only played for 13 minutes in the reverse fixture earlier this season, where the Reds looked absolutely disjointed and sloppy, notching only 0.66 xG, compared to their PL average of 2.08, with Huddersfield's average xGA 1.74. No Bobby, clearly no party, but if he starts against Huddersfield on Friday night, he will make a huge impact.
As for Kongolo, he'll probably be the man closest to dealing with Firmino, although the way Bobby plays makes it extremely unlikely he'll be involved in a direct one-on-one match-up with anyone. Nevertheless, Kongolo is a core component of Huddersfield's defence and will need to step up in a huge way to stop Bobby and Liverpool.
Naby Keita vs Jon Gorenc Stankovic 
Along the same lines, Keita has become an absolutely vital part of Liverpool's midfield over the last few weeks. His consistent ability to generate space in the final third and take defenders out of the game really brings something to Klopp's side that hasn't always been there this season, and he's starting to be able to do so without sacrificing the level of control that is vital for the way Klopp's team stifle teams at 1-0 and 2-0. Whether or not Keita starts against Barcelona might well dictate whether he plays in this game, but I suspect it's more likely he starts in this one than at the Camp Nou.
Stankovic hasn't been first choice for Huddersfield all season, but is now getting a regular run of games in defensive midfield and is going to be a player who may well be tasked with dealing with Liverpool's attacking midfield options. It's not just about containing Keita, but being aggressive and getting in his face, stopping him from dictating the game. Which is easier said than done.
Gini Wijnaldum vs Aaron Mooy
Mooy is probably Huddersfield's best player, certainly their most creative one, a vibrant and occasionally explosive central midfielder who is more than talented enough to play consistently in the Premier League – probably one who will leave Huddersfield in the summer.
If Huddersfield are going to trouble Liverpool, this man will have to play a huge part in that, and that's why Gini – who in the absence of Fabinho will likely continue in the defensive midfield role, will be crucial. Controlling the game and the opposition is Gini's wheelhouse, and bullying Mooy will be his most important contribution to the game – unless he scores from another clever corner routine that is.