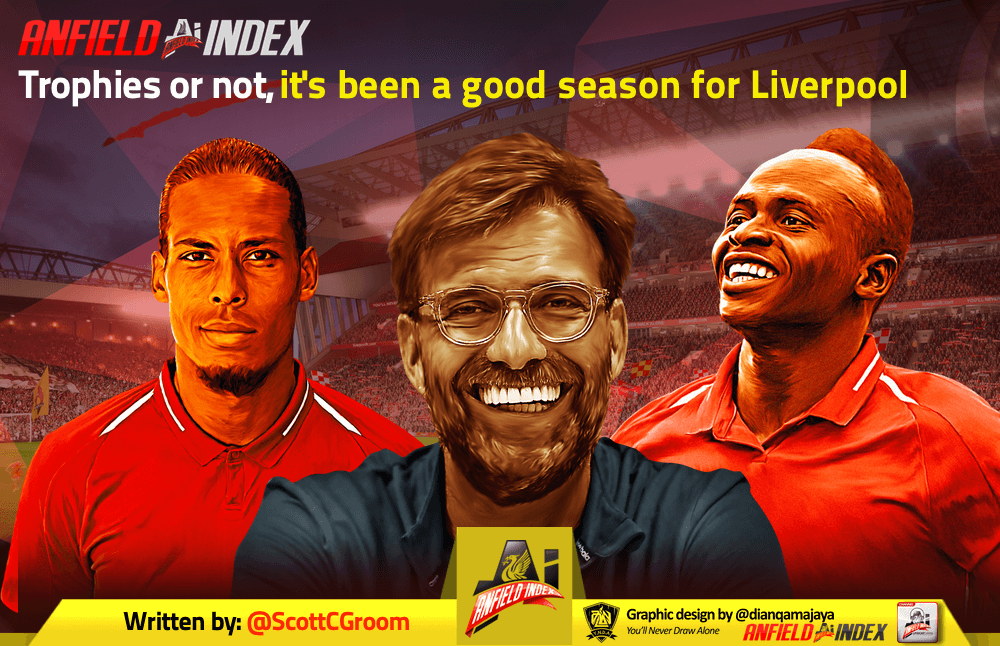 Trophies or not, it's been a good season for Liverpool

The title race is going to the wire and Liverpool are right in the thick of it. The Champions League semi-finals are so finely poised and Liverpool are in the thick of it.
Feels nice, doesn't it?
It's been another rollercoaster ride of a season for Jürgen Klopp's Red men which has seen them amass a record points tally with three games left to play.
Had it not been for the undeniable brilliance of Pep Guardiola's Manchester City, the title would've been wrapped up weeks ago for Liverpool. But it's not, and there's still every chance that we could miss out on that long awaited nineteenth league title.
And in the Champions League, we have already come past stern tests in the form of PSG, Napoli and Bayern Munich before dumping Porto out of the competition for the second year running.
If it weren't for a semi-final against old employees Suarez and Coutinho and their Barcelona side, you'd argue that Liverpool were favourites to lift their sixth European Cup, too.
So again, what if we don't get our hands on the trophy in Madrid, or win the league; will this season have been a failure?
Many will point to the obvious gaps in the trophy cabinet and suggest that since nothing new has been added since the League Cup back in 2012 and use that as a benchmark for success.
But that doesn't even begin to tell the story.
The fact that everything about Liverpool has changed since then, from the style of play to the personnel to the manager to the squad mentality. It's all different now.
And even comparing to last season, the Reds have come so far. To be competing down to the final weeks of the season with this Manchester City side after finishing 25 points behind them last season is an achievement that should not be taken for granted.
Neither is the fact that the defence has been transformed into the tightest in the league, conceding a mere 20 goals all season.
These are big steps to take in the space of a year.
And the longevity in the squad is abundantly clear, meaning that unlike Brendan Rodgers' side of 2013/14, this title challenge will be the first of many and not just a flash in the pan.
That consistency has been underlined in the Champions League, too. A second consecutive semi-final awaits, and Liverpool certainly won't fear Barcelona.
Getting this far once more underlines the improvements Liverpool have made and further emphasises the fact they are, once more, one of the most feared teams in Europe.
It's not a fluke that they've got to the semis again. It's not a fluke that they were worthy winners against Bayern Munich and Porto. It's not a fluke that everything about this Liverpool side screams consistency.
So to come all that way after finishing fourth last season (and we were made to sweat that as well, with that going to the wire) is pretty commendable.
If Liverpool miss out on the title this year having lost just once all season, you have to hold your hands up and just admire the achievement of City. Begrudgingly, yes, and with a very heavy heart, but you can't take that away from them.
Likewise if Liverpool do become English champions again, City can only bow to our greatness.
This Liverpool team has come so far since last August, and for that I am proud.
And let's face it, if we don't win it this year then we'll win it next season.