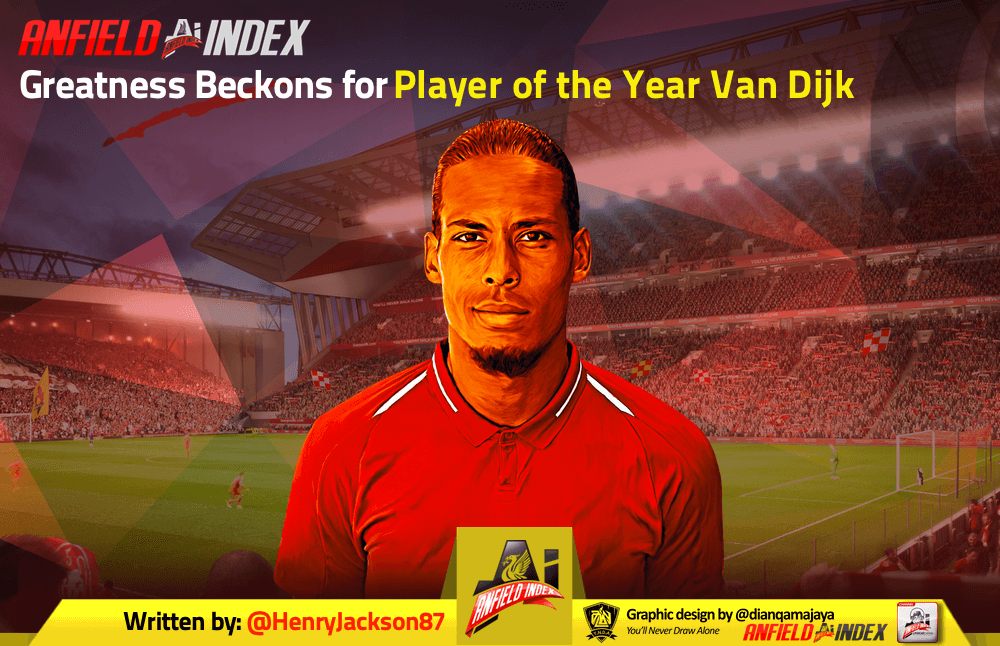 Greatness Beckons for Player of the Year Van Dijk
For just the fourth time in 40 years, a centre-back has been named PFA Player of the Year, and he couldn't be a more worthy winner.
Joining Gary Pallister, Paul McGrath and John Terry is Virgil van Dijk, following a season unlike many ever seen by a defender at Liverpool.
When gushing over a player in the present, it is easy to get carried away and start rating him higher than his actual level merits.
I loved Daniel Agger, but he was never as good as I claimed around a decade ago. I rated Philippe Coutinho among Liverpool's greatest ever foreign players at one point last season, but I went overboard. I could go on.
But with Van Dijk, every ounce of praise coming his way after this stunning campaign is warranted, and every bold prediction made about his future standing should not be mocked.
It is still only 15 months since the gigantic Dutchman made the record-breaking switch from Southampton, at a time when many laughed at the £75million Liverpool paid.
Do you want a way of working out exactly how special Van Dijk is? Just sit back, hit mute on your TV, phone or laptop and listen to that beautiful silence. That's the sound of those previous ridiculing voices with nothing left to say about the matter.
Imagine being so good that you're the most expensive defender in history and nobody has any qualms about it.
As highly as many rated Van Dijk when he became a Red back in January 2018, did anybody really expect him to be this good?
Maybe Jurgen Klopp, in fairness, who ignored the hysterical calls for a new centre-back the previous summer and waited to get his first-choice target. He knew.
It would be churlish to say that Van Dijk has transformed Liverpool single-handedly in the season and a half that has followed, but he has been the catalyst in them maturing from a hugely exciting side to one of the most balanced, consistent, devastating outfits in Europe.
From minute one, he has improved everyone around him, from full-back marauders Trent Alexander-Arnold and Andy Robertson to divisive centre-back duo Joel Matip and Dejan Lovren.
The 27-year-old knows full well how good he is and that belief rubs off on others, taking their game up a notch and creating a far greater winning mentality.
They may be entirely different characters, playing in completely different positions, but Van Dijk's impact draws comparisons with Eric Cantona's at Man United in 1992.
Liverpool have become a different animal with him at the club – a more serious team who look like challenging on all fronts with him around.
That's not to discredit Alisson's huge influence in goal, the continued brilliance of Mo Salah, Sadio Mane and Roberto Firmino or the underrated work of every single midfielder, but Van Dijk is the one Klopp can least do without.
Liverpool have been fortunate this season in that respect, with their No.4 playing in every single Premier League game and producing staggering statistics along the way.
In 35 appearances, he has guided the Reds to 17 clean-sheets and just 20 goals have been conceded, meaning Klopp's men are on course to let in their fewest number of league goals since the 1978/79 season.
Van Dijk has made 170 ball recoveries, won 207 duels, made 183 clearances and come out on top 152 times in aerial battles. He is a monster.
He has committed just 12 fouls and has only one yellow card to his name, highlighting his ability to not jump in on opposition players and also display world-class positional sense.
Perhaps most remarkable of all is the fact that Van Dijk has not been dribbled past once this season, which is so impressive it almost defies logic. It is defensive perfection.
The only genuine big error came at home to Man City when he fouled Leroy Sane late on, but fortunately, Riyad Mahrez saved his blushes when he sent his penalty sailing into the Anfield Road end. The mix-up with Alisson at Fulham was more the fault of the goalkeeper's dithering.
This isn't just a great centre-back we are watching, this is someone who could go down as Liverpool's best in history in that position, and one of the outstanding defenders of his generation.
He doesn't have a single weakness, much like past greats such as Paolo Maldini, Alessandro Nesta and Marcel Desailly. And yes, he deserves to be mentioned in such company, but admittedly must play to this level for fix or six more years to be on a par with them.
There is always the threat of serious injury, which could clearly change the direction of his career, but if he stays fresh he can become anything he wants to be.
Sadly, there will always be the risk of Barcelona or Real Madrid swooping in, managing to turn his head like they do to so many players, but he seems settled at Liverpool and is part of one of Europe's topmost exciting 'projects'.
There was admirable competition provided by former Reds youngster Raheem Sterling for the Player of the Year award, but Van Dijk always had to win it. If he didn't, all defenders may as well accept that the prize will never come their way again.
Whatever happens between now and the end of the season, Van Dijk's campaign should always be looked back on as one of the genuinely great seasons by a Liverpool player.
It has been every bit as influential as those produced by Kenny Dalglish (1982/83), John Barnes (1987/88), Steven Gerrard (2005/06), Luis Suarez (2013/14) and Salah (2017/18), albeit in a very different, sometimes less eye-catching, way.
Here's to 'Big Virg', the man who has helped take Liverpool from entertaining top-four hopefuls to one of Europe's biggest forces.