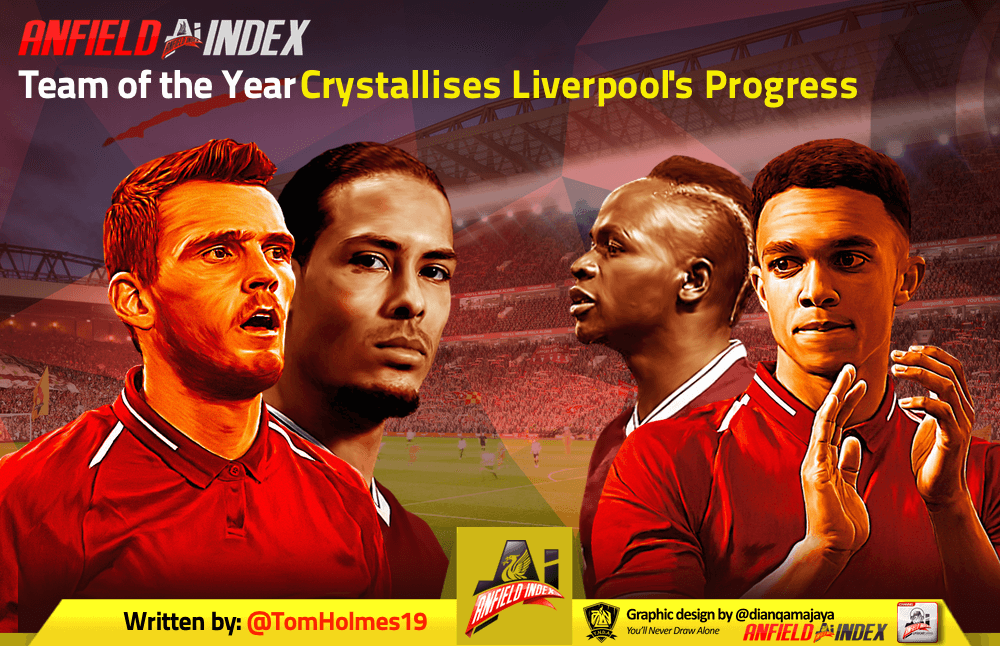 Team of the Year Crystallises Liverpool's Progress
So Paul Pogba eh? What a huge shock and weird selection to the PFA Team of the Year that was! In this essay, I will…
Just kidding. Whilst I do think it's strange he's been selected despite an inconsistent season, I could see how getting shoehorned into a 4-3-3 formation with a clear lack of individual central midfield candidates could end up with Pogba potentially getting in the team, maybe even with less votes than both Hazard and Salah, both of whom could have also made the team but were victims of both the formation selection and, simply put, the absolutely incredible calibre of candidates for those two wing positions. Picking two of Hazard/Sterling/Mane/Salah must have been a really tough job and I'm not surprised two of those big names missed out.
But, I'm not really here to talk about the Team of the Year itself. I mean I am, that's the basic layup of the article, but I want to talk about it from an exclusively Liverpool perspective (since this is a Liverpool site after all if you want 1500 words on Pogba go follow Old Trafford Index).

More substantively, I want to talk about how whilst the Team of the Year itself isn't necessarily Liverpool dominated – only four Liverpool players made the team, although all of them arguably deserve to be there – the team of the year itself this year and the discussion around it just once again reinforces how insanely good Liverpool have been this year.
Last year, only Mo Salah made the Team of the Year, and although there were reasonable shouts for other players, truthfully no other Liverpool players turned in a complete enough league season to make a good enough statement to be in the team. You could see the germs of both Robertson and Van Dijk's places in the team this year, but with Robertson not a regular fixture until December and VVD only a January signing, neither was making a serious case to be in the team.
The year before, Liverpool's sole name in the team was Sadio Mané, whose inclusion this year makes him the first Liverpool player since Luis Suarez to be named in the TOTY more than once, an honour shared in the PL era with Sami Hyypia, Fernando Torres (two each) and, of course, Steven Gerrard (selected a record eight times).
In 2016, Klopp's first season at the club, not a single Liverpool player made the TOTY, in 2015 it was just Phil Coutinho, whose selection was arguably questionable given his best seasons with the club were still to come.
In 2014, naturally, Liverpool had more players selected, 3 on that occasion (Gerrard, Suarez, Sturridge) and had 3 in 2009 (Gerrard, Torres and Glen Johnson that year). But in the five years in-between, Suarez got one selection and that was it.
Look, the selections for the PFA Team of the Year are largely incidental. I don't think they're a set in stone narrative for the best players in each position each year and it would be silly to treat them as such. Every year there are a few controversies, it's a game of opinions, etc.
That being said, you can see a nice picture being painted of the last decade or so of Liverpool's history through the TOTY selections – 3 a piece in the two years we put up decent title fights, almost nothing between the two because we were absolutely awful for five years, and then under Klopp a couple of decent seasons followed by this year – a record selection for Liverpool in the Premier League era.
Moreover, when you look at the selections for the Team of the Year, there are some notable Liverpool absentees. As I mentioned right off the bat, Salah/Hazard/Sterling and Mané are vying for two (probably should have been three) spots, and to many people – myself included – it's a mistake that Mo didn't get one of those slots.
The other big question mark over the team lies in goal, where Alisson Becker has a serious case to be in the side ahead of his fellow countryman Ederson. In just about every statistical measure, Alisson has had a better season than Ederson, and whilst I'm not convinced Alisson has been quite as good as some have made out, I'm struggling to find a cogent argument that he hasn't been the best keeper in the league this season, with De Gea struggling in the last few weeks especially and Ederson not really impressing.
Of the three big questions about the 2018/19 Team of the Year, two of them are over the lack of Liverpool players, who were both surely the best players in their respective positions (or in the top two in Mo's case, I'm not wholly convinced he's been better than Raheem Sterling). Moreover, in the third case, Pogba, there remains a Liverpool candidate who may not be at the forefront of the conversation, but certainly has been mentioned – Gini Wijnaldum, one of the players that Klopp highlighted as a TOTY candidate in his press conference on Thursday.
So this is a terrific indication of where Liverpool are at as a team. We've got four players in the best XI in the country, we've got two more who absolutely also should be in that team and we've got a seventh who is at the least in the conversation. That's before we even talk about Roberto Firmino, who has still had a solid season if not his best, Fabinho who looks to be in the Van Dijk/Robbo mould of players who will make a serious TOTY run next season, and of course Joe Gomez, who certainly would have been staking a claim to make it an all LFC back four if he hadn't missed the entire back half of the season through injury.
Of course, there are plenty of Manchester City fans who could be writing a similar article. City ended up with six players in the Team of the Year – Ederson, Laporte, Fernandinho, Bernardo Silva, Sterling and Aguero – and almost all of them absolutely deserve to be there. Four of them were also nominated for POTY and deservedly so for the most part. What's potentially the most startling thing about this City side is that five of those six have not made TOTY before (Aguero has), despite the fact that City also had five players in the TOTY last year – Aguero, Otamendi, Walker, De Bruyne and David Silva.
Man City can construct almost an entire XI from players who've made the Team of the Year over their last two dominant seasons in English football, missing only a left-back. And they've achieved another incredible season without De Bruyne, Silva or Walker reaching the lofty heights of last season, and pretty much without Otamendi playing at all. It's staggering.
Once again, this helps to contextualise the sheer fight that Liverpool have faced this season to win the Premier League and the sheer scope of their challenge. A challenge and a fight that the Reds have been up for, and that isn't over yet. With the announcement of the TOTY, coupled with City's win over Man United the previous night, there seems to be a sense that the season is all but over, and whilst there are only two weeks left, the idea that the title race is wrapped up is nonsense. City still have three games left to win, two of which will be potentially very tricky and Liverpool have the opportunity to lay down a marker – with City now not playing before the Reds again this season.
Nevertheless, even in Klopp's press conference there was a sense of looking ahead with promise, whilst not giving up yet this season. This is, as Klopp was very eager to point out, not the last title race he's in with this Liverpool team, but the first one. This team isn't quite yet the finished article, although if they can finish off a 97 point season and still potentially a double then it's close.
But whilst the Team of the Year wasn't as Liverpool-centric as it might have been, this Liverpool team are still doing incredible things, and can still be the team that takes the only prize(s) that matter at the end of the season.