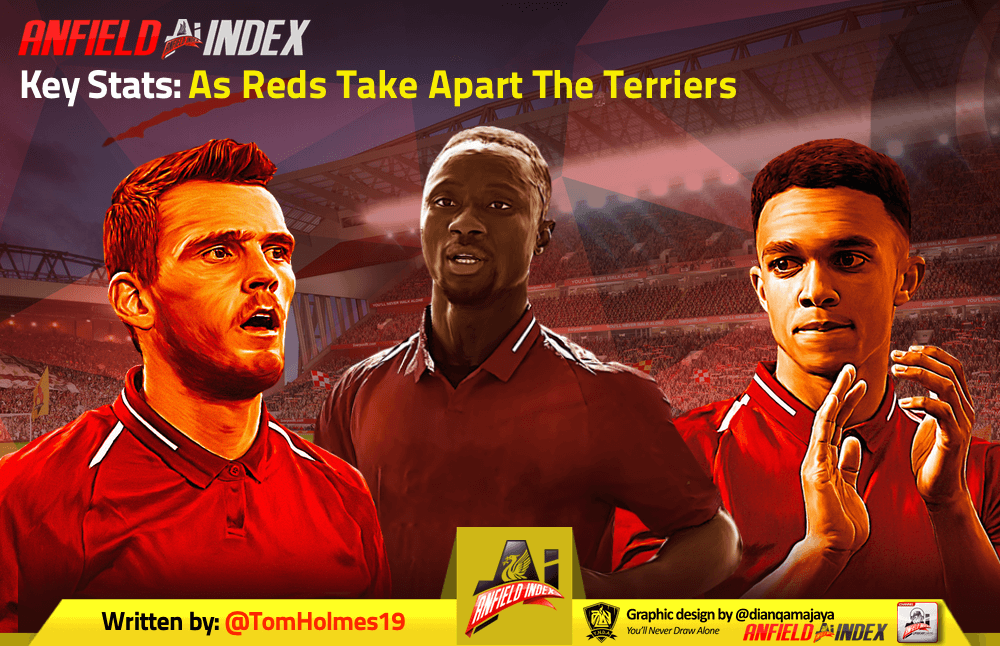 Key Stats As Reds Take Apart The Terriers

Liverpool took Huddersfield apart in one of their best performances of the season to move back to the top of the Premier League. But what are the key stats from an absolutely superb 5-0 win over the Terries at Anfield?
Mo and Mané Battle For The Golden Boot
Sadio Mané and Mo Salah continued their own personal battle to be the top scorers in the Premier League. Mané is now on 20, with no penalties, but it could have been more, as he scored just one of his three big chances, albeit converting two goals from 1.29 xG. Interestingly, five of Mané's goals have been headers, and as this tweet indicates, only Chris Wood and Alexander Mitrovic have scored more this season.
The only player with more goals in the Premier League this season is his strike partner Mo Salah, now up to 21 goals with eight assists. Mo has now got over ten expected assists this season, a feat only Hazard, Sterling and Fraser have also achieved. He has of course, also broken the record for most goals scored by a Liverpool player in their first 100 games, having scored 69 ahead of Hunt and Raybould on 68. He's also contributed 29 assists.
As Sky Sports pointed out, this only the 4th time a team has had two players scoring 20+ goals in a PL season – Sturridge and Suarez in 13/14, Drogba and Lampard for Chelsea in 09/10 and Beardsley and Cole in 93/94 for Newcastle being the others.
Back to the game though and this was an absolutely incredible attacking performance from Mo Salah – eight shots (his highest in one game for five seasons), and 1.39 xG converted into two goals, four key passes, including one big chance, 0.72 xA and an assist, as well as five dribbles. I know it's only Huddersfield, but that's as good as it gets by Mo.
Full-Backs Continue To Fly
Liverpool's two starting full-backs now have 20 Premier League assists between them, with Andy Robertson notching two more in this game and Trent one. Robbo was the most creative player on the pitch, making four key passes, including two big chances, for 1.14 xA, on top of an xG Build of 2.07. Only the aforementioned Hazard and Fraser, as well as Christian Eriksen, have more assists than Robbo's 11 now.
As for Trent, he was slightly less impressive, with just the one big chance created and two key passes giving him an xA of 0.35 with Mo Salah finishing his delightful over the top pass. That puts him on nine assists for the season. On top of the previously mentioned players, only Sterling and Sane have more assists in the PL, having hit double-digits.
The Premier League all-time assist record for a defender is 11, so Robbo has matched Leighton Baines and Tony Hinchcliffe on that front, and stands every chance of breaking that record in the last two games of the season.
Naby Is Starting To Naby
Naby Keita was the best two-way midfielder in Europe when he joined Liverpool, and if you've been watching him closely over the last few weeks, you'll be starting to see why. 4/5 tackles, six ball recoveries, three interceptions and a clearance is his off-ball performance, with a press that led to a goal inside 15 seconds. But his on-ball performance is steadily improving too, with his goal in this game joined by 2/3 dribbles, 92% passing accuracy from 63 passes, and an xG Build matching Robertson for a game high 2.07. At 0.63/90, Naby has the best xGBuild ratio in the squad now.
It feels like every facet of Naby's game is starting to click, with goals, pressing, creative passing and exceptional dribbling all combining with his exceptional skill at controlling midfield.
Complete and Utter Domination
Look, Huddersfield are bad. They just are. But all that aside, it was still one of Liverpool's most complete league performances from a statistical point of view – albeit certainly not one of their most impressive performances given the calibre of opposition.
At 3.59, this was Liverpool's 4th highest xG of the season behind West Ham (4.34xG 4-0), Burnley (4.12 4-2) and Arsenal (3.71 5-1). It was also their lowest xGA of the season (0.16). That makes it their third best xG difference at 3.43 behind Burnley (3.65) and West Ham (3.94).
In terms of big chances, the Reds created six without shipping any. Against Burnley they created four and shipped one, against Arsenal it was 5-1 (a game in which all six big chances were converted) and even against West Ham we only created five big chances.
And of course, 5-0 is our joint best win of the season with Watford. Huddersfield had three shots inside the box, Liverpool had 14. The Reds had 81% of the shots, 82% of the shots in the box, 88% of the shots on target, 98% of the xG, 100% of the big chances and 100% of the goals.