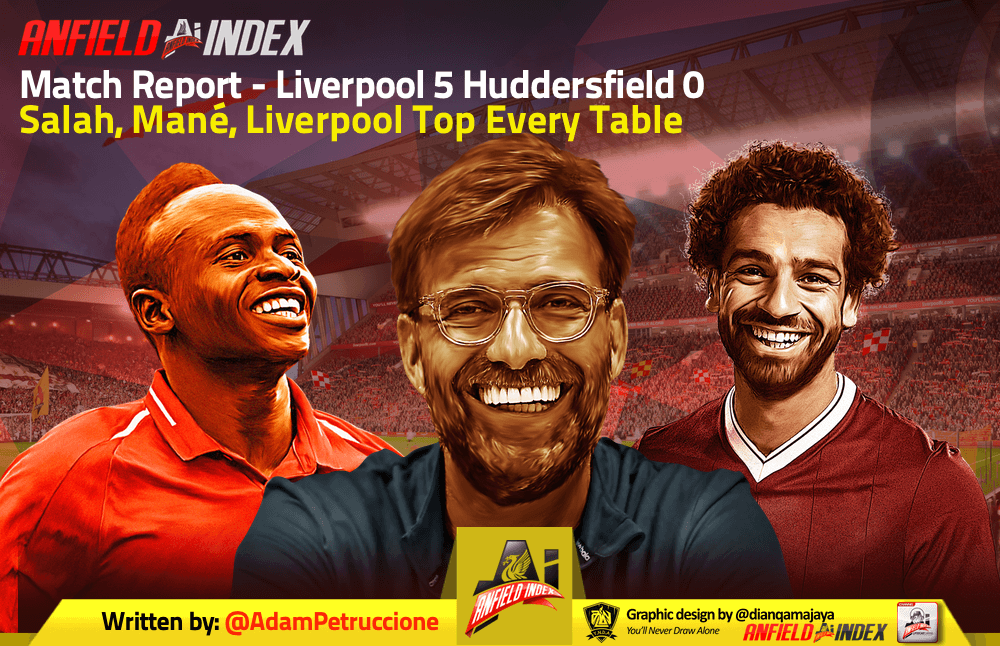 Match Report: Salah, Mané, Liverpool Top Every Table
There's a tradition in U.S. where high school (American) football teams will schedule Sister Mary's School for the Blind for their homecoming weekend so they can show off a bit in front of their girlfriends before the big dance. This… was that.
Where was Huddersfield Town in 2013/14? This is the match we wanted Crystal Palace to be. An already relegated side, H-Town capitulated faster than you could crack open your beer with Naby Keita scoring off of a pretty press, pass and goal at the 14" mark. Yes, that's 14 seconds, not minutes.
Bobby Firmino was absent from the party; rested along with Joel Matip and Fabinho. Daniel Sturridge, Dejan Lovren and Gini Wijnaldum filled in, with the former two on possible Anfield farewells. Sturridge looked slick, but badly out of sync with the rest of the attack. Understandable with Sadio Mané and Mo Salah in a race for Golden Boot honours.
Mo Salah looked like he smelled blood and was trying everything to pad his stats within the context of a one-sided match while Sadio was just playing his typical game and the goals kept coming to him. It took Mané until the 23rd minute to get his first after a brief bit of fight from the visitors. A header from an Andy Robertson cross set off another competition, for most assists in the squad. With a little luck, Liverpool could have three double-digit assist men if Salah can keep pace with our generous fullbacks.
The match devolved into a sort of Harlem Globetrotters exhibition after 2-0 with Liverpool using and abusing Huddersfield, reducing them to nothing more than a warm-up for Barcelona. The Reds, like a sports-car that's been in the garage all winter, seem just some fine-tuning away from firing on all cylinders. If it all comes together against Barcelona, dios mío….
Even a degree or two out of alignment, Liverpool continued to dominate and, as has been their trademark this season, added another goal just before the half. The service from Trent Alexander-Arnold was perfect; casually popping a ball over the top from deep, catching Salah in stride who lobbed it over Lossl. Liverpool had been threatening while maintaining possession and going through the motions. Even Jordan Henderson had a go, but it was Mo who put the match away before the break.
Huddersfield were so ripe for the taking that conversations about goal difference started to come up, evoking difficult memories of Rodgers' 2013/14 side that tried to close the goal gap on City and instead gifted Palace a 3-3 draw. However, this time, Dwight Gayle was not walking through that door and apart from some Dejan Lovren acrobatic mistakes, Liverpool were never threatened.
Sturridge fired one home, which would have been a nice story, but the cross from Trent caught him a yard offside. Salah hit the side netting with a spectacular effort and then, that man again, that Mané again, was there with another header. In the 66th minute, Jordan Henderson found Mané's forehead with a deep cross. Sadio was making it look easy.
Continuing the celebratory atmosphere, Alex Oxlade-Chamberlain and Shaqiri came on to raucous cheers. Moments later a Salah-Chamberlain combination came oh so close but Lossl looked ready, which is more than you could say for the rest of The Terriers.
Mané came close again, hitting the bar with a leaping header, but it was Mo Salah who would increase the margin for Liverpool. Robertson was the provider again and Salah tapped in for a relatively effortless hit for the Egyptian who has been working his tail off for opportunities in recent weeks.
There is something fantastic about watching Liverpool chase this title with fate completely out of their control. The team seems perfectly capable of winning out in both competitions. It's just a matter of what the football gods will provide in return. On to Barcelona on May 5th.
Up The Rampant Reds!