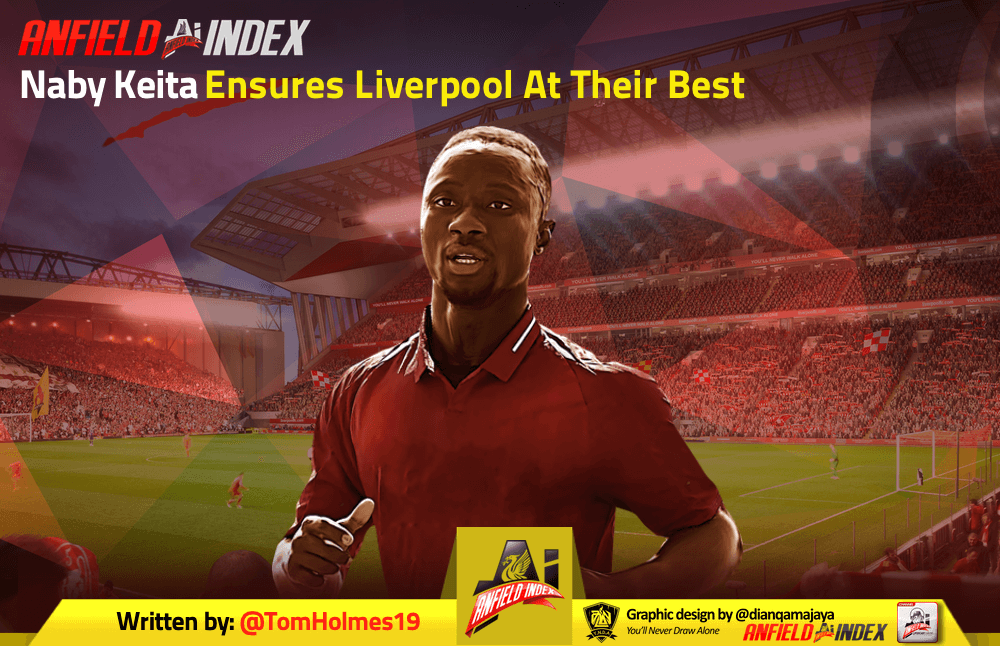 Naby Keita Ensures Liverpool At Their Best
Naby Keita. Look, I've been on board the Naby train since Day One. I maintain that he's the most complete midfielder that this club has had since… well you know. He's the best two-way midfielder in the Premier League and possibly in Europe, and he's an absolutely incredible athlete. I'm getting all the superlatives out of the way in the first paragraph because I don't want to be accused of being biased or having an agenda later on. Yes, I'm slightly biased in that I thought Keita was a phenomenon before he came here because that's what every shred of evidence suggested, and I still believe that now because that is what the evidence still suggests now.
As for agenda? Yes, of course I have an agenda. I'm a Liverpool fan, my agenda is loving Liverpool players, and this lad is a dead talented Liverpool player, whom I think has the potential to be a club legend. Just sign me up for whatever Naby Keita agenda club there is, me and Sam McGuire wearing matching Naby T-shirts would be a highlight of my life.
Anyway, to the point of the article then, which is assessing how Keita has done in the last few weeks, as well as picking out a few trends for him across the whole season. I actually want to start with the latter point, because it feeds really well into the former point.
Naby started the season strongly, as did Liverpool. The Reds won their opening six games in the PL, with Naby starting four of those and coming off the bench in the other two. It was understandable to an extent though, when Klopp returned to the tried and trusted midfield of Hendo, Gini and Milner for the majority of big games in September and early October, as Naby was dropped against PSG, Chelsea and Man City. Weirdly, of course, injuries meant that he started but came off against Napoli, only to feature off the bench prominently against City a few days later.
He then went off on international duty still carrying an injury and as a result, didn't start for Liverpool again until early December. The Reds were decent in his absence, but nothing special, struggling in Europe and securing unconvincing wins against Everton, Fulham and Huddersfield in the league, as well as drawing with Arsenal.
However, as Naby returned, he started playing well again, and so did the club. December was one of Liverpool's best months of the season, as Naby started games against Burnley, Bournemouth, United and Wolves. He didn't play his best football, being shunted out on the left wing, but the club were in a nice rhythm and Naby was contributing to that.
Then things got a little weird. Naby didn't start a league game for almost a month, returning for the 4-3 win over Palace. Things then, of course, got a little bad in terms of fitness for a lot of players, meaning Naby started against West Ham, Leicester and then Bournemouth and Bayern. At this point, Naby really was building up a head of steam and whilst Liverpool were still struggling slightly as a team – it's easily forgotten that food poisoning riddled the game right before the two games that we unexpectedly dropped points in – but Naby was really finding his form.
And then after the Bayern game, he made two nothing sub appearances and didn't start for over a month until the Southampton game. And here we are now. It's the same story again. Naby has started five of Liverpool's last six games, and once again, he's built up a head of steam, so have the Reds, and we're playing our best football of the season.
Whilst I would say that's by and large been the story of Naby's season – he comes in, improves the team, slowly but surely builds his performances to a strong level and then disappears, either through injury or Klopp not trusting him in big games or some combination of the two, and the cycle starts all over again.
Three things to note here. The first thing is that of course, Naby hasn't been perfect throughout. But his two worst performances for Liverpool have come in cup games, in which he was essentially playing with the backup squad and if we're being blunt, nobody played particularly well. He's also had some sticky league performances, but they've usually been either when he's played on the left of a 4-2-3-1, a role that he had almost never played in his career, or in that brief spell where half the squad were struggling with illness.
The second thing to note is that Naby has improved the Liverpool team almost every time he's played. If you look at what's widely considered to be Liverpool's best three stretches of the season – the opening six/seven games, the nine game run in December, and right now – then as I've already alluded to above, Naby features prominently, the first and third runs especially.
The obvious caveat to this is that Liverpool have been absolutely superb all season with or without Naby. He isn't yet a key player in this squad, I'm not suggesting that he is yet and the team itself has still played majoritatively very well without him in the team. You don't get to a 91 point season being reliant on someone who has featured in less than half of your games and I'd be stupid to suggest otherwise.
That being said, the evidence does suggest that Liverpool do play better when Keita is in the team. In the 19 PL and UCL games he's played more than half of the game, Liverpool have 15 wins and four draws. The Reds have scored 44 goals over that period, conceding nine. That's a win ratio 79%, 2.58 points per game, 2.32 goals per game scored and 0.47 goals conceded, compared to our PL and UCL averages of a 74% win ratio, 2.39 points per game, 2.22 goals per game scored and 0.63 goals per game conceded.
So when Keita plays, Liverpool win more games, secure more points, score more goals and concede less goals. To focus briefly on the Premier League, the Reds manage 2.65 points per game with a win ratio of 82% compared to our league averages of 2.53 and 78% respectively (that's 2.42 and 74% without him). The Reds concede marginally less in the PL with Keita (0.53 goals per game with him compared to 0.58 without him – their league average is 0.56) and score more with him in the side too (2.47 with him, 2.21 without him, 2.33 overall).
Quality of opposition is a reasonable point to be raised, but Keita has played the majority of league games against Man City, Spurs, Chelsea and Man United, with Liverpool securing 10 points from those four games. When Keita hasn't started against top six opposition, Liverpool have two wins, three draws and one defeat.
The third thing to note is that this trend has reached its crescendo in the last few weeks. Keita has started five of Liverpool's last six games, with Liverpool winning all five, scoring 14 and conceding just once. Keita himself has scored thrice in that period, and been impressive on all five occasions.
There's no doubting that this is Liverpool's strongest period of form this season, and Keita himself is undergoing his own strongest run of form. On the ball, as we've already mentioned he's scored three goals, and whilst he's not had the most outright creative of seasons, his general contribution to attacking play has been solid. He has the best xGBuild in this Liverpool squad at 0.63/90, and that's one aspect that has come to the fore in the last four league games, averaging 0.93/90 over that period.
And his off-ball performances, which have been one area highlighted all season as an area to improve, have been absolutely sensational in the last few weeks, culminating in Klopp describing his performance against Huddersfield as his best defensive performance.
That's a hugely positive sign. Liverpool need Keita to not just control games in midfield, but contribute to the team both in terms of attack and defence. His role under Klopp has been different to the way that he's played at Leipzig, largely because Liverpool function differently as a team, but he needs to demonstrate that he's positively contributing.
There are two main ways that role will be different. The first is creatively, which explains the shift from having a much higher xA at Leipzig (0.19/90 in both seasons at Leipzig, 0.07 this season) to having a much higher xGBuild this season (0.30 and 0.23/90 at Leipzig, the already mentioned 0.63 this season). Because Liverpool play through the full-backs more than they play vertically, and because the midfield is asked to do less creatively, Naby is as involved in attacks, but less directly so.
The other side of the game is the focus on attacking through counter-pressing, and against Huddersfield, we saw Keita win the ball through pressing for his own goal, and also for Mane's headed big chance that hit the post. Keita is very aggressive off the ball, as only Fabinho attempts more tackles per 90 than him (4.3 compared to 4.2) in this Liverpool team, and as a result, only Fabinho has completed more tackles than him (2.7 compared to 2.4), although he's also the most dribbled past player in the team (1.8, Fab at 1.7).
This is something that will both impress and frustrate Klopp and goes a long way to explaining why he's felt both Fabinho and Keita need to adapt and plays the other three in big games. All three of Milner, Henderson and Wijnaldum tackle less, but all three have better tackling percentages and are dribbled less (Keita 57%, Fab 62%, Milner 63%, Henderson 68%, Gini 78%). So there's a direct inverse relationship in this Liverpool midfield between amount of tackles made and tackling %.
Both Fabinho and Keita press very aggressively, but as a result leave more gaps at times. However, in the last five games, Naby has attempted 27 tackles, completing 20. So not only are his tackling numbers even higher than his league average (5.4 attempted, 4.0 completed) but his % is well up too, at 74%. This fits with his history at Leipzig. In 16/17 and in 17/18, Naby averaged 3.0 tackles completed per 90 at a 71% success in the BL.
Tackling isn't pressing of course, but those numbers go a long way to demonstrating Naby's off-ball performances, why Klopp feels they perhaps needed to improve, and also why Klopp himself might be happier with Naby's defensive performances in recent weeks. The Under Pressure boys have been raving about his pressing for a few weeks now.
So there are clear reasons for Naby's performances dipping when they've dipped, some evidence as to why he hasn't played as much as he would have liked, but also plenty of evidence of how his role has changed slightly at Liverpool, given his need to adapt.
On the other hand, the fact remains that this Liverpool team are a better team when Naby Keita is playing, and he simply offers something different to what anyone else in this midfield offers. At his best, Keita is the most complete midfielder in the Premier League, and a complete revelation at what he does. And whilst we haven't quite seen that best just yet, we're absolutely starting to, and Liverpool are playing their best football of the season as a result.