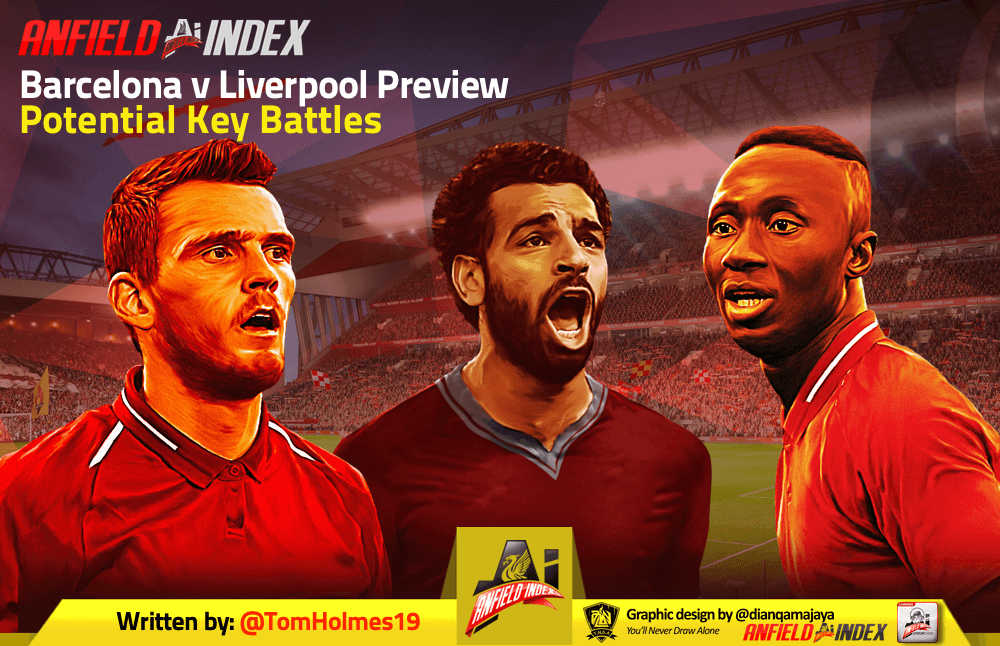 Liverpool vs Barcelona - Potential Key Battles

Liverpool take a break from the breathless scrap of the Premier League to face possibly the best team in Europe – Barcelona and Lionel Messi – in the Champions League semi-finals. The first leg is at the Nou Camp, where Liverpool remain the only English team to win, including on their last trip in 2007. But, what will be some of the potential key battles from a game that could define Liverpool's season?
Andy Robertson vs Lionel Messi
Yeah, there's just no two ways about it. I mentioned him in the opening paragraph and he's just completely unavoidable. The best player in the history of football is on the opposite side and if he wasn't, Liverpool would probably be favourites. But he is, so they aren't. You don't need me to tell you how good Messi is, or how important it is that Liverpool restrict him to the peripheries of this game. Whilst Messi doesn't have a fixed position, he'll certainly be coming off the right flank quite a lot.
Quite a lot has been made of the VVD/Messi tussle, because Van Dijk hasn't been dribbled in over a year, is the best defender in Europe and the prospect of Messi squaring up with the only person capable of stopping him is enticing. But I think Robbo will also have a vital job, both in terms of ensuring multiple players, one of them consistently being him, are dealing with Messi, but also in terms of exploiting the inevitable space that Messi will leave.
If anyone is capable of the lung-busting game this fixture is going to require, it's Andy Robertson.
Mo Salah vs Jordi Alba
Look, if there's any player in this Liverpool team capable of carrying the team on his back, doing to Barcelona what Messi can do to other teams, it's Mo Salah. He's not been quite on the levels he produced at Anfield against Roma in last year's semi-final, where he produced one of the finest individual displays in the history of the competition, but he's capable of reproducing it.
Pairing Salah with Jordi Alba is something Klopp might think twice about. In the past in big first legs of European ties, he's unleashed Mo up top and either played Bobby or Sadio off the right. It's the classic push/pull argument with Mo I've mentioned before, in that he and Alba both have to think twice. Alba is a phenomenal attacking full-back but could leave Mo acres of space to run into. Equally, does Mo, who is usually the member of the front free asked to do the least defending, track Alba all the way or hang around up top waiting for a counter-break.
Klopp's usual solution to this is getting a midfield shuttler on Alba, but with Coutinho not a winger as such, that might make Klopp's job easier for him. And from Barca's perspective, it'll be interesting to see if Alba foregoes his natural tendencies to keep Salah in check.
Naby Keita vs Busquets
There are two dimensions to this one. Busquets is almost unflappable, and an incredible defensive midfielder, remaining one of the most important and influential players in this Barca team. In an ideal world, you stick Bobby Firmino on him but we don't know if Bobby will be fit, and if he is, you suspect he won't be able to press at his complete best. Either way, he'll need the help of Keita.
This is a job that I highlighted before the Huddersfield game and one that Keita did to perfection, pressing Stankovic to score inside 15 seconds. I suspect it won't be that easy against one of the best press-resistant DMs in the business, but it's hugely important that Liverpool test Busquets as much as they can.
Of course, the other dimension is whether or not Naby will play at all, but for my money, he's a gamble worth taking. His form in recent weeks, off the ball especially, means he should be undroppable, so it'll be interesting to see what Klopp does, as it wouldn't surprise me to see Henderson, Gini, Milner again. In which case, there'll be extra pressure on Firmino to lead the press.