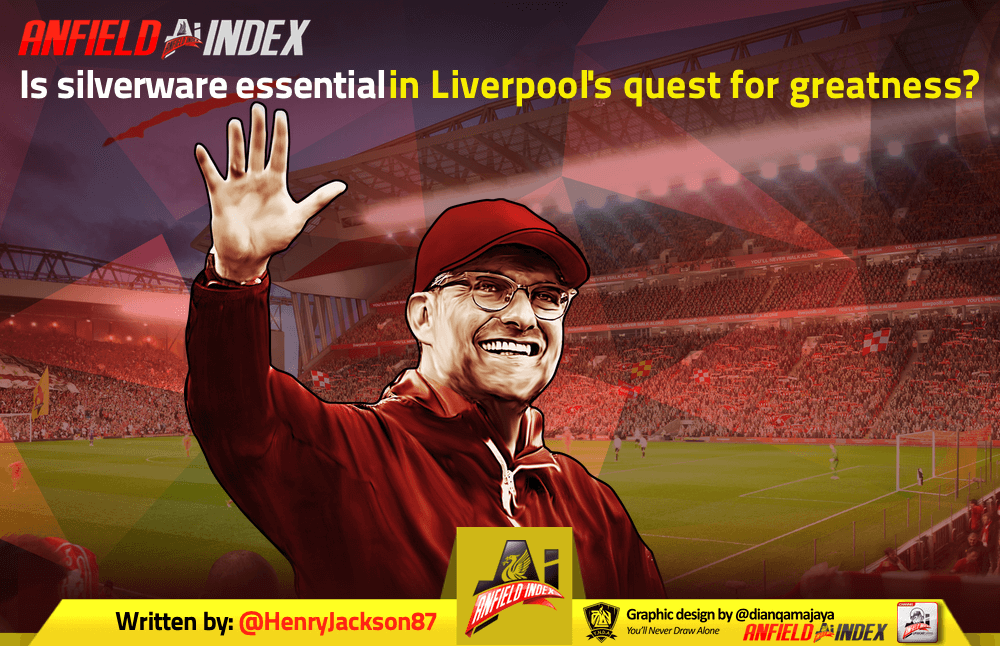 Is silverware essential in Liverpool's quest for greatness?
An argument that will forever cause frustration is that for a football team to be remembered as truly great they have to win something, true though it may be.

Holland's game-changing 'Total Football'-playing side of the 1970s are a perfect example as to why this opinion can be invalid, considering both World Cup and European Championship glory evaded them.
They are seen as one of the most important, influential teams in football history, who helped inspire so much of the magic we witness today.

While it is a flawed argument in some ways, it is still hard to argue that trophies don't play a major part in defining how well a side goes down in history.
Whether it's right or wrong, the image of a side lifting a trophy will naturally stick in the mind more vividly than one who can't quite get over the finish line, and that ability to secure glory takes great mental fortitude.
My dad has bored me to death with his view that Brazil's 1982 World Cup side would be seen as the Selecao's best of all time instead of the 1970 crop, had they not had one nightmare game against Italy.
Similarly, Liverpool's 2008/09 and 2013/14 title challengers would be viewed very differently if they could just have pipped Man United and Man City, respectively.
The Ajax team that is earning so many plaudits for its youthful exuberance and ball-playing brilliance will only seal greatness by winning the Champions League final in Madrid next month.
Chelsea's class of 2008 is right up there among the best sides in their history, but who really remembers it outside of west London?
They were defeated in the league and Champions League final by a once-in-a-generation United and were a John Terry slip away from European immortality.
This leads us to the Liverpool outfit on show this season, who could go the same way as those mentioned or win a Premier League and Champions League double in the coming weeks.
If they did the latter, it would be one of the all-time great achievements by an English side, on a par with United in 2007/08 and arguably not far away from their treble-winning feats of 1998/99.
Don't even get me started on whether or not they would be held in higher regard than Arsenal's 'Invincibles' of 2003/04, who were beaten in the Champions League quarter-finals and who actually drew 12 Premier League games that season.
A double would turn Liverpool into instant legends, as would winning one or the other for that matter, ensuring they all have a place in future Legends matches if they fancy it.
A 54-year-old Andy Robertson taking on a Man City all-star side featuring a vastly overweight Carlos Tevez – sounds good, doesn't it?
On the flip side, Liverpool could finish 2018/19 empty-handed.
Rather depressingly, that now looks heavily odds-on, considering City need just two wins to seal Premier League glory and Barcelona are strong favourites to progress in the Champions League semi-finals, following Wednesday's 3-0 win at the Nou Camp.
That would be utterly cruel on Jurgen Klopp and this wonderful group of players he has assembled, considering they have put together a season of true brilliance.
It is wrong to celebrate the points tally achieved too much, with some almost treating it like a trophy in its own right, but the fact that such a total would have won endless titles in the past is significant.
It shows precisely how good Liverpool are these days.
To potentially reach 97 points and not win the league, then also come up short in Europe's greatest club competition, would leave a very flat feeling, and perhaps even an unjust one. Football feels cruel at the moment if you are of a Reds persuasion.
It seems deeply unfair that this team will instantly be thought of as inferior if they don't lift a piece of silverware or two in a few weeks, but that is the ruthless nature of the game.
I know I'm in the minority when it comes to not solely judging a team by trophies, which makes Liverpool winning something before the season ends essential, in terms of their reputation moving forward.
I want this side to be remembered by the footballing world, not just Reds fans. I have never had as close a bond with or been so in awe of, a Liverpool team. They deserve to be showered with praise for many years.
Klopp has made a habit of falling short, though, and while it is something that has become ludicrously overplayed – was it his fault that Mohamed Salah got injured in last season's final, and Loris Karius went to pieces, for example? – getting that monkey off his back is of huge importance.
It is galling that it now looks like we will have to wait for another season for that to happen and that Liverpool's quest to be remembered as genuinely great looks set to go on.
Who knows what might happen in the new few weeks, but it's not exactly looking positive, is it?