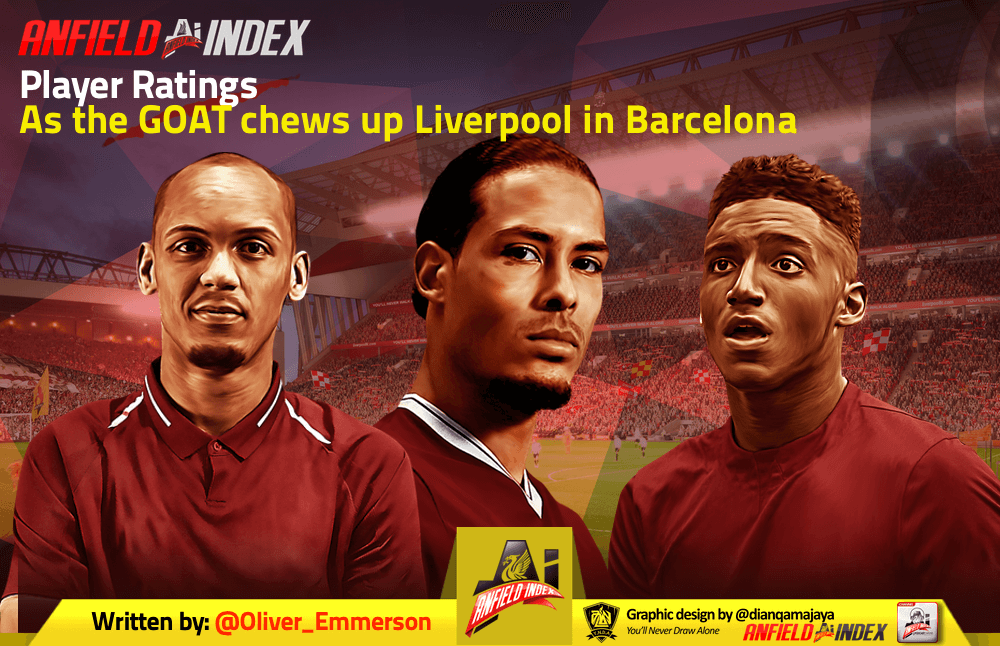 Player Ratings as the GOAT chews up Liverpool in Barcelona

Football is a game decided by moments. The Champions League is a competition decided by key moments. Unfortunately, they didn't go Liverpool's way tonight.
I'm disappointed to lose 3-0, but little else. Not pissed at the officials, annoyed at Klopp, angry at a player. Liverpool went to the Nou Camp and created chances kept Messi quiet (in open play) and forced Valverde into what was essentially an 8-2 formation for times during the second half.
However, the greatest player of our time still had his way. Barcelona's first goal is without him, crafted exceptionally by Alba and finished sublimely by a name we all know so well. The second strike, the one that rocks Liverpool after an exceptional spell, is pure luck. Nothing else. Don't try and blame people, sometimes the opposition get the bounces.
After that, the Messi show kicks in. A 30-yard free-kick followed up by a counter-attacking blitz that saw the Reds leave with their tails between their legs. On another night, it may have been so different. Here are your player ratings.
Klopp's defensive gamble fails
Alisson Becker (6): What can you say? Spreads himself well but Suarez's finish is elite, is then undone by a spot of luck and a laser-guided free-kick. Makes a few good saves aside from that, especially when Barca were countering at will at 3-0 up.
Joe Gomez (6): I was surprised that he was brought in. Regardless of the reasoning, he hadn't started a game since December. Was Barcelona away the time to do it? Looked okay at the back but Barcelona scored from their left side so you can't claim 'it worked' and then we miss out on so much going forward.
Joel Matip (7): It's rare that he outshines Virgil but tonight was one of those nights. Was targeted by Suarez and dealt with him fairly well, didn't give much away and played some nice passes.
Virgil van Dijk (6): I don't think the big man did much wrong, the game just slipped away from Liverpool and in turn, away from the defence. Exceptional recovery speed to catch up with Alba from a late Barcelona break. I'm not blaming him or Matip for the first, it's just superb football.
Andy Robertson (7): Think he comes out with the most credit defensively but his attacking let the Reds down on occasion. Too many flat crosses, a shadow of what he was delivering on Friday night.
Milner struggles
Fabinho (7): I'm all about this lad. Wins tackle after tackle, a key part of Liverpool keeping Messi quiet until 70+ minutes. So many times you think the ball has evaded him and a long leg goes out to clasp it back.
James Milner (5): Brought in for his experience and showed it, unfortunately, he represented that experience by chasing shadows for the majority. Should probably score one. Lovely bit of snide on Messi though.
Naby Keita (6): Started brightly, shame his groin went.
The chances, the chances!
Mohamed Salah (6): Bloody hell, Mo. I want to give you an 8. Had a couple of the Barcelona defence on toast repeatedly but misses the chance of the game to bring us back into the tie at 3-1.
Georginio Wijnaldum (5): Yeah, not a false nine. Actually, think when he dropped deeper into more of an attacking midfield role he linked stuff nicely but any further up and he just looked lost. Not really his fault.
Sadio Mane (6): Should maybe get a penalty, should maybe score a goal. Is definitely fast.
Substitutes
Jordan Henderson (5): Oh my god if he just cushions it properly to Wijnaldum we're having a different conversation. Think he missed an open goal with a header, but I can't be sure. In his defence, it's hard to come on so early into a game of that tempo.
Roberto Firmino (N/A): Should have been introduced at 1-0.
Divock Origi (N/A): "Origi down the left, comes inside and curls one… into the nearest man."