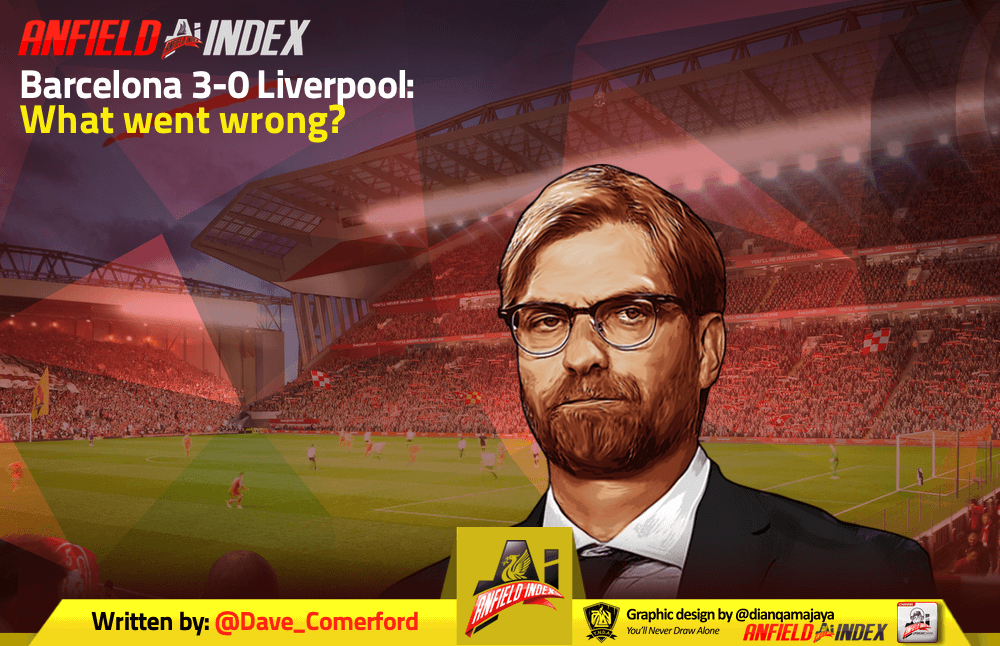 Barcelona 3-0 Liverpool: What went wrong?

This one hurts. Liverpool performed well at the Nou Camp, but they've come away on the end of a stinging defeat which leaves them in need of a miraculous result at Anfield next week to salvage hope of silverware.
The tie slipped out of the Reds' grasp in agonisingly swift fashion with Lionel Messi's second-half double. Chances to grab a critical away goal were spurned, and now one goal for Barca would leave Liverpool needing to score five.
The painful truth is that this has the feel of a season-defining blow.
Messi.
We won't even bother talking about his first goal, as pretty much anyone could have scored that, but it's a different story for the second.
You don't want to read me drool over Messi, and I won't. All that needs to be said is that sometimes when you concede, you just have to sit back and accept that there's nothing you can do to stop it. Don't blame Fabinho for giving the free-kick away, or, ludicrously, question Alisson. The best player of all time once again justified the mantle.
As we'll discuss, though, the Messi factor is not the only explanation. Liverpool would have been fully aware coming into this tie of his capacity for the extraordinary, and that meant there was no room for error.
For the moment, we look to be his latest victim.
Klopp's questionable decisions
If Roberto Firmino wasn't fit to play the full 90 minutes, then I suppose that's fair enough. Divock Origi was admittedly poor when he last started, against Porto, but surely playing him on the left, and Sadio Mane through the middle, was a better option than having Gini Wijnaldum slot between the two forwards?
It was glaringly obvious that Wijnaldum didn't quite know what his role was. And Liverpool were paying for the lack of a seasoned centre forward as they repeatedly got into good areas but had nobody in a position to attack the ball.
Firmino should have been on at halftime. And failing that, before the hour mark. The 79th minute was far, far too late. There simply wasn't enough time for him to make a potentially crucial impression on the game.
Klopp knows far better than I, but to my mind this has to be considered a baffling mistake from the manager.
The rationale for his changes was also puzzling. Klopp appeared to suggest that he made so many simply because he felt obliged to bring in fresh legs.
In fairness, the only alteration which really backfired was starting Joe Gomez ahead of Trent Alexander-Arnold. Gomez didn't play particularly badly, but he offered Liverpool very little going forward. Trent's absence as an outlet on that right-hand side was sorely felt.
Klopp said on Tuesday that he would be to blame if his side was beaten. He's partly right.
Liverpool's missed chances
The Reds stroked the ball around the midfield with plenty of confidence, but their final ball let them down on a number of occasions. When they did get it right, they squandered their opportunities, and that will only add to the gut-wrenching disappointment.
Two of the best chances fell to James Milner with Barca leading 1-0. Wijnaldum's dummy fashioned a glorious opening and he had to score, but he fired straight at Ter Stegen. Earlier, Sadio Mane might have done better with an attempted half-volley.
If Liverpool could have chosen anyone to be presented with their golden chance, it would have been Mo Salah. But perhaps he tried to be too precise in finding the top corner rather than lacing the ball into the middle of the net. It came crashing back off the post, and heads were in hands everywhere.
Salah's critics are sure to revel in this, and make no mistake, he'll be hurting.
How different we might have felt had he, or Milner, converted. Liverpool just needed that glimmer of hope, but the mood in the dressing room was likely despondent.
Still, to end what turned out to be a grim evening on a note of the slightest optimism, we're not out of the competition just yet.