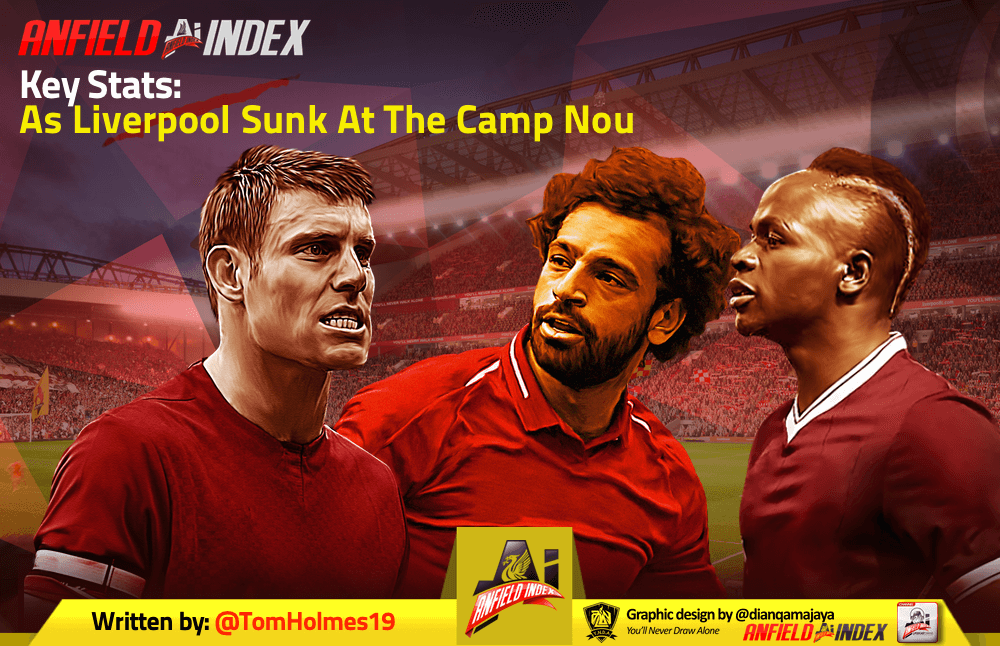 Key Stats as Liverpool Sunk At The Camp Nou

So, Liverpool are 3-0 down at what is effectively half-time? What possible precedent is there for such a recovery? Here are the key stats from a chastening defeat at the Nou Camp, starring Leo Messi.
Big Chances Haunt Reds Again
There have been moments in the Champions League this season where Liverpool have gotten away with missing big chances, and it didn't haunt them. They missed three in the first leg against Bayern and secured a 3-1 win over the two legs. They missed three against Napoli at home and held on for a 1-0 win.
But in this game, they missed three big chances and were brutally punished by Barca. Despite amassing 1.6 xG, Liverpool failed to score and those missed chances, particularly by Salah and Mane, have probably cost them the tie.
Barca, on the other hand, were clinical. Although they ended up with a much higher xG in the end, they scored three goals from their first two big chances, with the third goal being an insane free-kick from Leo Messi.
Sometimes you get goated. But it doesn't help when you miss key chances from six yards out.
Reds Suffer Rare and Heavy Defeat 
This is only Liverpool's third defeat of the calendar year in all competitions. Having only lost seven games in all competitions this season, this one was by far the heaviest blow. Five of those seven defeats have been by a single goal (and four of them 2-1), and only Red Star Belgrade and now Barcelona have been Liverpool by more than a single goal. This is their first defeat by three goals or more since Spurs beat them 4-1 at Wembley in October 2017.
As the numbers below demonstrate, it's a rare feat that Liverpool lose so badly, which makes it all the more painful that it occurred in a Champions League semi-final.
First time Liverpool have been 3 goals behind in a game all season, barely been any games they've been 2 goals behind:
-3:
@ Barcelona, CL, 8 minutes
-2:
@ Red Star, CL, 71 minutes
@ PSG, CL, 8 minutes
@ Barcelona, CL. 7 minutes

— James Yorke (@jair1970) May 1, 2019
Hope?
There are instances of a team losing by three goals in the first leg coming back – against Barcelona no less, as Roma won 3-0 at home in their Champions League quarter-final last year with the Spaniards. Barcelona themselves also turned over PSG from 4-0 down in that infamous 6-1 fixture a few years ago.
Barcelona are in fact the only European team to come back from 3-0 down in the first leg of a semi-final of the Champions League, in 1986 against IFK Goteborg. Is that an omen? I don't know if that's an omen. Since then, Copenhagen, Galatasaray and Werder Bremen have all come from 3-0 down to win in two legs, but all of which were against inferior opposition (Linfield, Neuchâtel Xamax and BFC Dynamo respectively).
More recently, Deportivo beat European giants AC Milan 4-0 in the second leg of a UCL QF in 2004 having lost the first leg 4-1. So, that's something?