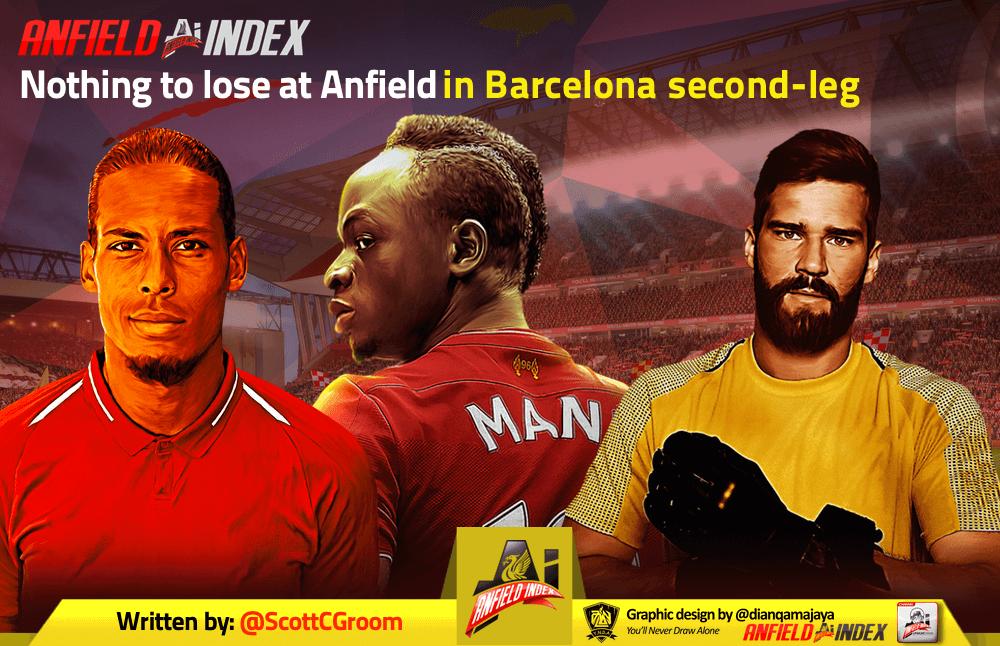 Nothing to lose at Anfield in Barcelona second-leg
It wasn't exactly the ideal result, despite a solid performance.
It was a rare occasion that Liverpool found themselves in last night, losing.
The 3-0 defeat to Barcelona was a low moment in a season of highs for Jürgen Klopp's men, and it puts their place in a second consecutive Champions League final in serious jeopardy.

And what it does is throw the second leg as wide open as Alisson's goal was for Messi's first at the Nou Camp.
But that shouldn't put Liverpool fans off or dampen their spirits, in fact, they should see it as almost a free shot.
The result in Barcelona almost completely alleviates the pressure on Liverpool for the second leg, as nobody is now expecting them to go through – and it does mean that they do have to go out and attack Barca.
That could make for a lovely swansong to what has been a fantastic season, no matter whether it ends in a Champions League final or not.
It'd make for quite the spectacle for football fans and Liverpool fans alike, and it could well play right into Klopp's hands.
We've witnessed many a time how the power of Anfield can result in. Cast your mind back to Dortmund in the Europa League, Olympiakos in the famous 2005 resulting in the miracle of Istanbul.
There have been so many famous nights under the lights on Merseyside, that this does look poised to potentially result in another.
It would be quite the turnaround, and it does seem unlikely, but having a free-shot at Barca when the shackles have been released could set that scenario up perfectly.
It would be a celebration of all of the things that have been good about our season.
The cynics will say that the season has been a failure if there's not at least one new trophy in the cabinet come June, but that is far from the truth.
To be disappointed with our result against Barca despite a fantastic performance and to be chasing the Premier League title heading into the final two games of the season was the stuff of dreams for Liverpool fans not so long ago.
But now, this is a reality, and it's one that looks set to stay for quite some time with the direction that Jürgen Klopp is taking this side.
This side has nothing to lose in Europe and potentially a place in the final to gain. Is that not a reason to just think 'why not just have a right good go at Barca here and see what damage we can do'.
To me, it feels like the perfect chance to do that and then refocus on the other competition that at this stage seems the more achievable of the two wondrous targets we've set ourselves.
I for one, will not be disappointed should we go out of the Champions League, but what I will be disappointed by is to see us go out with a bit of a whimper at Anfield.
That's not what this great football club is about. So let's just have it for 90 minutes and see what happens, yeah?