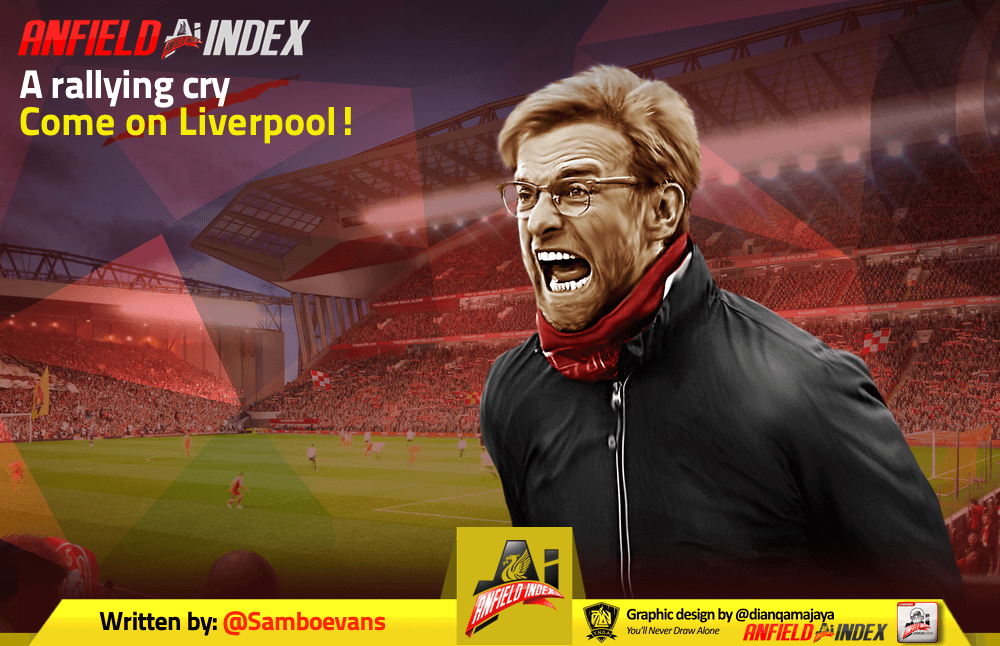 A rallying cry - Come on Liverpool!
Ouch.
Not again.
This week we saw Manchester City narrowly beat Burnley which appears to have finally broken the spirit of even the most positive Liverpool fans on social media. Pair that with a soul-destroying 3-0 away defeat to the breathtaking Lionel Messi feat. Barcelona and you could be forgiven to think that Liverpool's once incredibly promising season now lies in tatters. For me, this is simply not the case.

I'm not having it.
And the reds aren't having it.
https://twitter.com/LFC/status/1123938942028353536
This week has been extremely challenging and has acted as a proverbial kick in the bollocks to me and all of my fellow reds. But it's now time to dust ourselves off and give it our all one last time.
After all we have gone through this season as a fan base, this is absolutely NOT the time to throw in the towel. It's true that both Premier League and Champions League glory are both very much out of our hands now, but that is absolutely no reason to give up. We go into this tricky away tie against Newcastle with one clear target in mind. Win all of our remaining games.
No matter how deflated we feel, "it ain't over until the fat lady sings". And I can't hear any singing. A single draw for Manchester City and we are back in with a chance, but only if we beat Newcastle. We have to be in position ready to strike just in case Manchester City slip up. That won't happen if we give up now.
If 3 consecutive victories against Newcastle, Barcelona and Wolves leaves us with an empty trophy cabinet at the end of the season then it's fair to say we couldn't really have asked for much more from this Liverpool squad this season. The bar has been raised, and our challenge is to try to get ourselves over that bar. We are so so close to achieving that goal. If we end up falling just short, it doesn't mean that this season has been a complete failure. We would need to look at it as another step in the right direction. Another step up the ladder.
If we achieve our goal of two more league wins, we will finish the season on a spectacular 97 points. The most successful manager of the Premier League era Sir Alex Ferguson's highest ever points tally was 92 and that was in a 42 game season! That really puts into perspective how well we have done this season and just how consistent we have been as a team. And this has been achieved whilst navigating yet another excellent European campaign. Whatever happens now, this team should be applauded. You could never label this team as a team of bottlers. We have far exceeded expectations regarding results overall and it would be nothing but misfortune that would prevent Liverpool from winning a trophy that they deserve.
But this isn't another "next year is our year" article. This year could still be our year. But if it isn't, I still have plenty of faith that this season is not a flash in the pan. It was clear for all to see that the squad was nowhere near good enough to compete long term when Liverpool came second in 2013/14. The foundations of that team were made of prawn crackers, they were always going to crumble. But this new Liverpool team's foundations are made of stone. We are going nowhere. And we are continuing to build. We are on the up.
Weds night was Liverpool's first defeat in 20 games, the longest undefeated run under Klopp

— SimonBrundish (@SimonBrundish) May 3, 2019
2.35 Points per game
2.25 Goals per game
0.75 Conceded per game
2.06 XG
0.74 XGA

— SimonBrundish (@SimonBrundish) May 3, 2019
Success is never a straight line. There are always peaks and troughs. But as long as we are continuing to improve year on year, then success will become inevitable. And I have absolutely no reason to think that this Liverpool team is going to do anything but continue to improve.
I understand that second place is nowhere in sport, and I for one will absolutely NOT be celebrating achieving a 2nd place finish in the Premier League and a semi-final exit in the Champions League. I understand that second is not a success, and we must always strive for first. But it doesn't mean that we have failed if we don't achieve first. It just means that we go again until we get first. We need to also be extremely proud of how far this Liverpool team has come over the last 4 seasons and I for one believe that we will achieve our goal sooner rather than later.
I'm not interested in this Liverpool side being part of yet another hard-luck story. We have higher standards than that now. Anything short of winning is a failure. No ifs, no buts. Our objective is to win trophies. This is why Liverpool will never give up under Jurgen Klopp. And neither should you.
After getting to the final of both the Europa League and Champions League in recent seasons, we've got to a point now where we EXPECT to get to the Champions League final every time we enter the competition. That's phenomenal. This is such a far cry from the Brendan Rodgers era where we basically gave up on our Champions League place and even fielded a weakened team against Real Madrid at the Bernabeu in a disappointing display of surrender. We were cowards. We had no fight and looked out of our depth trying to compete with the big boys. Things are very different now. We are brave. We now sit at the top table. It's time to claim what is rightfully ours.
No more waving the white flag. No more excuses.
That is the Liverpool of old.
This Liverpool team stands up against the world elite and never hides. No matter what the outcome.
https://twitter.com/LFC/status/1123980717447237632
We are all hurting at the moment, but all is not lost. In fact, we are still in the hunt for Premier League and Champions League glory in the final month of the season. I have never witnessed this in my 28 years of supporting the reds. This is special and we should treat it as such. We will need to rely on a bit of good fortune to win either trophy at this point, but is that a reason to give up?
One last push.
Win our remaining games. Let's see where we end up.
Pressure can do funny things to teams. An early goal or two versus Barcelona and we are back in the tie. A win tonight and a Jamie Vardy masterclass at the Etihad and we are back in with a chance of immortality. You never know. Believe.
It's time to pick ourselves up from the floor and get behind this team for the home straight.
Never give up.
We are Liverpool.