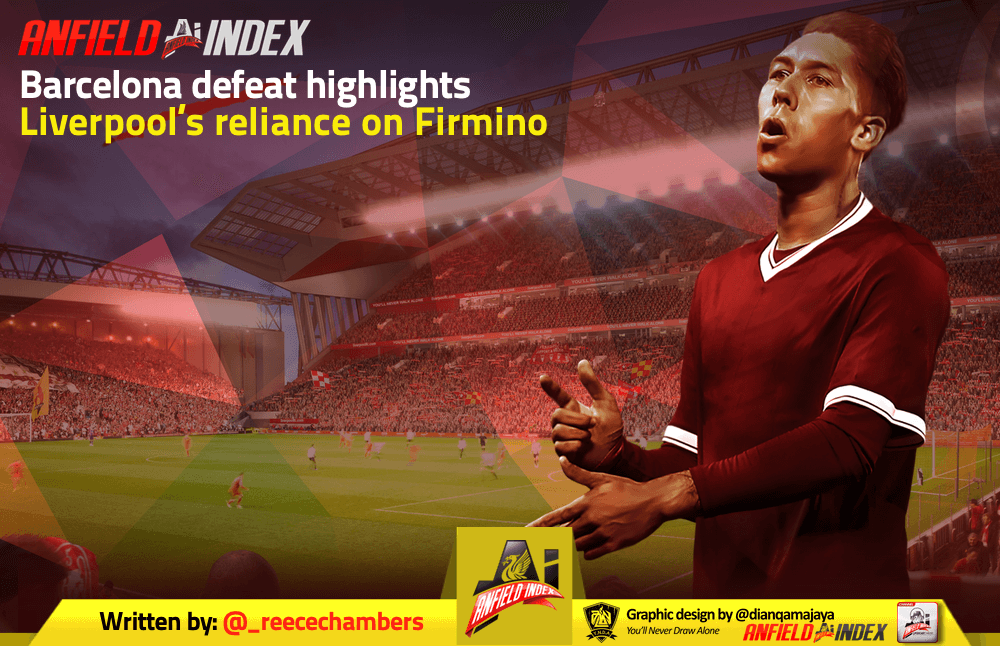 Barcelona defeat highlights Liverpool's reliance on Firmino

The Brazilian was sorely missed for the first 78 minutes versus Barcelona
Wednesday night at Camp Nou didn't go as planned, nor did it leave Kopites with much hope for the return leg at Anfield on Tuesday. But, if those connected with Liverpool are to learn anything from Wednesday night, it has to be the importance of Roberto Firmino.
The Brazilian's absence from the starting XI against Barcelona in the first-leg showed just how important he is in every aspect of Liverpool's play. Everything from the start of an attack to a decisive final touch in the opposition's penalty area almost always involve Firmino, and such an absence on Wednesday proved fatal.
To the untrained eye, or to a football fan who only values direct goal involvements, Firmino may not be the first name on the team sheet. But, to those who watch him every week, it is clear that his presence in the Liverpool team is absolutely vital.
As shown on Wednesday, a Liverpool team without Firmino is a completely different side, one that lacks that cutting edge in the final third that you need at such a decisive stage of the Champions League.
Indeed, the presence of Sadio Mané and Mohammad Salah still presents an impressive attacking line, but the attributes of Roberto Firmino ensure that both can play to the best of their abilities.
Firmino's tactical adaptability proves to be one of his most valuable attributes. He has played in a range of attacking positions this season, ranging from striker to attacking midfielder in the number 10 role, as well as wide left and wide right. Such flexibility to play in a range of positions allows the 27-year-old to interchange with his attacking teammates.
However, such adaptability is only effective when combined with footballing intelligence, and Firmino has that in abundance. His ability to work in between the lines and pick up pockets of space that allow him to intricately thread attacking phases together makes him one of the best centre-forwards, of his type, in the world.
In Firmino, Liverpool have a striker who can not only create big chances in the final third, but they also have a striker who has the ability to find an important goal. For instance, the Brazilian netted a crucial goal in Liverpool's 2-1 win over Spurs back in March as well as an important goal against Leicester earlier in the season.
For a forward in a title-challenging side, 12 goals and 7 assists so far this season may not light up the eyes of fans around the world. But, Firmino is much more than goals and assists. He's often the assister to the assist, a player who has an uncanny knack of being in the right place at the right time. A player who can single-handedly change a game through footballing intelligence and ingenuity within the blink of an eye.
Klopp's most trustworthy attacking outlet might not be Firmino in terms of goals or assists, but he certainly provides something that no other player can. He's the platform, the foundations, upon which attacking phases can be built in order to create chances for the likes of Mané and Salah. His acute awareness of those around him makes him more or less irreplaceable.
Without Firmino, you quite simply don't have the same Liverpool. That's why calls from Reds fans for a back-up striker are impossible to satisfy. Indeed, Klopp needs to look at bringing in other attacking options this summer in case of injuries. But, he will be hard pushed to find a striker that offers the same attributes of Firmino.
Firmino is a player that can't be replaced. His style of play is enigmatic: is he a striker, centre-forward or attacking midfielder? He has the attributes for all three and can do all three superbly.
Liverpool cannot live without Roberto Firmino if they are to play the way that has given Kopites so much joy this season, and that's why Klopp must look at developing Liverpool's attacking strategy.