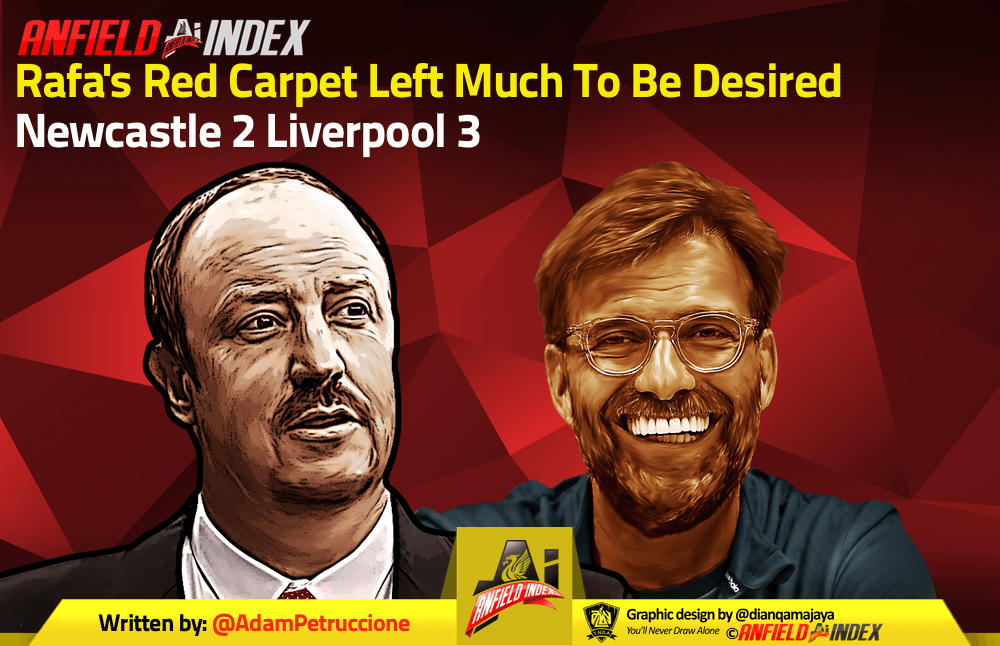 Newcastle 2 Liverpool 3 - Rafa's Red Carpet Left Much To Be Desired
When the time comes, you'll be down in the crypts. They're the safest place to be.
We'll put you in the crypt, where it's safest.
Rafa will roll out the red carpet for Liverpool.

Newcastle will be on the beach.
Geordies want Liverpool to win.
Yeah, I think we've learned this week not to trust long-running, repetitive narratives.
Just a casual stroll up to Tyneside without Bobby Firmino, Naby Keita or Joel Matip with the Premier League title still in the balance. Bobby Firmino was held out due to ongoing fitness issues, exacerbated by his cameo against Barcelona. The sturdy false-nine has broken down at the pointy end of the season after coming into form lately and being a reliable presence all season. Daniel Sturridge started in Firmino's place and had looked good the previous weekend with his hold-up play, though his shooting boots are still missing.
Dejan Lovren was inserted into the lineup just for grins with Joe Gomez back healthy and Joel Matip edging towards a "world class" conversation based on his 2019 performances.
Rhian Brewster trained in the warm-ups and Oxlade-Chamberlain was on the sub's bench as several Reds are coming back from injuries while others are headed to the training room at an awkward time.
As the match kicked off, Javi Manquillo put a high boot in on Sadio Mané, ending any thoughts that this was going to be a walk-through. Yet, while Newcastle were certainly up for it, The Reds got on the scoreboard early. Man marking from Rafa Benitez? Who woulda thought? Trent Alexander-Arnold put in a gorgeous ball for Virgil van Dijk who beat half of the Newcastle squad and ended up with a free-header for 0-1. The assist made it 10 on the season for the young right-back.
The celebrations didn't last long though as a chaotic series of events with the rejiggered back-line gave up a would-be goal that Trent elbowed off of the line, dropping his appendage on the ball like Macho Man Randy Savage. Could have been a red. In a parallel universe, it would have been a penalty and a sending off, but fortunately for The Reds play only stopped after Atsu equalized off of the rebound with Alisson helpless to stop either shot.
Dejan Lovren wasn't alone, but he was certainly involved in the mess. It's quite a call to play Lovren in a match with these kinds of stakes for the manager, but Klopp seems to silence doubters at just about every time of asking.
Ayoze Perez struck a sweet ball around Van Dijk that stopped hearts as it hit the post, but back at the other end, Mo Salah was there to finish a sweet movement from Sturridge and Trent Alexander-Arnold. A stiff back-heel from Sturridge from the corner found Trent who fired in yet another perfect cross for a Mo Salah volley, 1-2.
OK, Newcastle. Great job putting up a fight there, we can coast the rest of the way, right? This didn't look like a typical Liverpool with key pieces missing and Newcastle didn't look like they wanted any part of a coronation.
Salomon Rondon had been battling Liverpool's back four all night, and at 54' it paid dividends. A corner initially defended, then conceded from a Rondon volley from the edge of the box. It was a flashback to a recent era we all thought was dead and buried. But the dead can't come back… right?
Working for another dramatic, Mo Salah was chasing an overhead ball into the box. As the ball came in, Salah was pushed to his right as Dubravka rushed out and the Egyptian's head got caught between the two. The collision was such that Mo Salah's writhing movements were actually a welcome sign. After a long period on the pitch and clearly in tears, either from the injury, the circumstance or a bit of both, Liverpool's staff stretchered him off with The Reds chances looking in serious doubt. At 73' the league was in serious jeopardy and with Mo Salah out with at least a concussion, what chance would we have against Barcelona in a few days?
Divock Origi came on for Salah and James Milner replaced Dejan Lovren shortly after as The Reds chased the match. The team looked seriously disjointed with an unfamiliar mix of players and desperate circumstances. As supporters looked for signs of leadership or some kind of magic the team was flailing, but as injury time approached, Big Div delivered. A free kick from Shaqiri to the head of Origi and in reality it just skimmed the Belgian's locks and found Lascelles head for the final ricochet into the net. 2-3 Liverpool.
After Salah's injury and several attempts to waste time from Newcastle players, 8 minutes was added on. It felt like a solid half an hour as Liverpool seem unable to do anything to waste time themselves, and with mostly attacking players on the pitch it was an adventure to say the least.
Absolute credit to the boys for getting this done and taking the title chase to the final day at the very least, but this was not an encouraging performance against a team that's been battling relegation for large portions of the season. Club captain Jordan Henderson and veteran striker Daniel Sturridge didn't come through, especially in the closing minutes with gilt edge chances and what does that say about what we can expect in the remaining matches?
Either way. Stay out of those crypts. We go again.
Up The Improbable Reds!