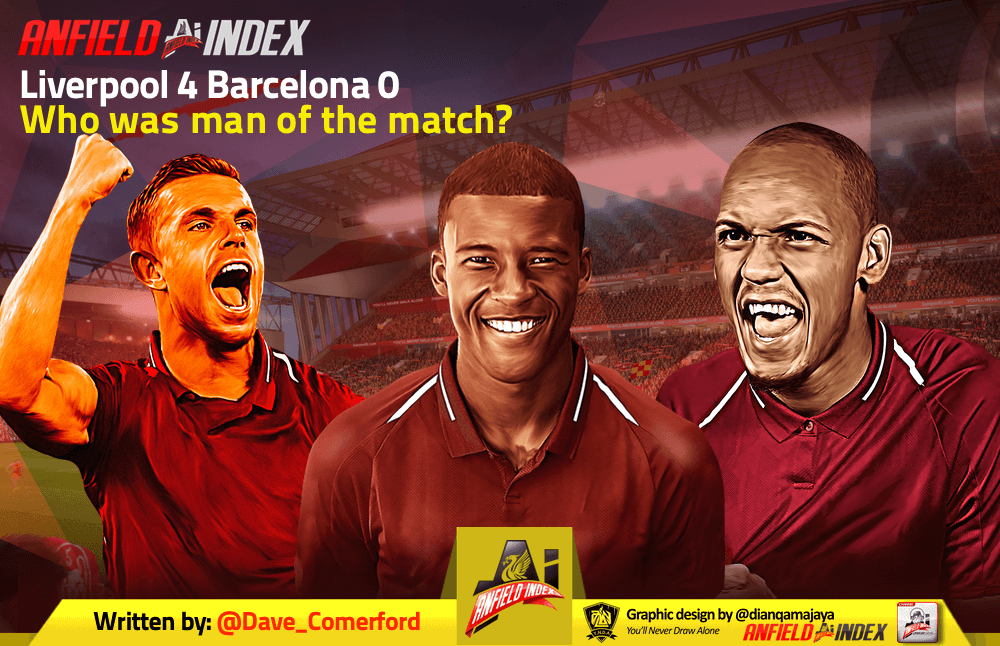 Liverpool 4-0 Barcelona: Who was man of the match?

There are truly no words so soon after the greatest European night in Anfield's history, but I'll try to find some.
This was a depleted Liverpool side – no Mohamed Salah, no Roberto Firmino and, after halftime, no Andrew Robertson – but each and every man in red wrote themselves into footballing folklore.
Never has there been such an embarrassment of riches in the MOTM discussion.
Alisson Becker kept us in the competition with his remarkable sprawling save against Napoli way back in December, and he rescued his side once again with a series of top-drawer stops.
The Brazilian proved equal to everything Lionel Messi and Luis Suarez threw at him, producing the kind of big moments which set the best 'keepers apart.
Barcelona had Liverpool on the ropes at times, but Virgil van Dijk and Joel Matip put up a stern and ultimately unbreakable resistance. Both players came up with vital interventions. Special mention to Matip, who was impressive even in defeat last week and who is really looking right at home alongside the best centre-half in the world. He truly has been the unsung hero this season.
And what about Trent Alexander-Arnold? The lad who was just six years old watching Istanbul played a critical part in the Reds' greatest European feat since. It was his pure ingenuity which caught out Barca and presented Divock Origi with a golden opportunity to score the decisive goal. On top of that, he exhibited incredible maturity in his work at the other end of the pitch. The best night of his career so far, without question.
Andrew Robertson was typically valiant in his 45 minutes on the pitch but when he was forced off, James Milner, as he literally always does, stepped up to the plate. Never before has a player offered such a guarantee of solidity in so many different roles.
Another who produced a heroic display was Fabinho, handed the almighty task of shielding the back four from the visitors' petrifying advances. Visibly at least, no player was as emboldened by the sizzling Anfield atmosphere. Jurgen Klopp always calls for his players to be angry, and tonight Fabinho was at boiling point, oozing passion and desire. He truly embodied the never-say-die attitude which carried the team to a miracle, and for that he is receiving plenty of warranted acclaim.
Captain's performance barely covers it for Jordan Henderson, who gave everything and then some, as he shook off a nasty-looking injury to lead Liverpool to the final. It really isn't an exaggeration to say he was Gerrard-esque, and that is mark is how far he has come this season. Henderson has found another level in the searing heat of battle and looks to be in the process of transforming his Liverpool career.
Georginio Wijnaldum completes the trio with a decidedly unexpected but vital contribution. A lack of goals has been the main mark against his name in the last couple of years, but tonight he decided to bag two, first by positioning himself in the perfect area and second by powering a wonderful header past Ter Stegen. He grabbed the game by the scruff of the neck, and was gloriously tigerish in possession as Liverpool sought to wind down the clock in the dying stages. A monumental performance.
Even Xherdan Shaqiri, who aside from a delightful lofted pass into Mané had had a wretched first half, was able to come up with the goods. He teed up Wijnaldum with an excellent cross, his second crucial assist in the space of four days. The end product took its coming, but the work-rate was phenomenal throughout.
Sadio Mané was the man to whom Liverpool looked to conjure up the magic in the absence of Salah and Firmino, and though he wasn't on the scoresheet, his application was exemplary. As always, he made himself an absolute nightmare to deal with and tracked back not simply out of duty, but with a real enthusiasm.
But man of the match, in my mind, ultimately has to go to Divock Origi. He epitomised this Liverpool performance. It wasn't actually about quality tonight, it was about wanting it so much more than Barcelona, and extracting every possible yard from your weary legs.
Origi injected genuine belief into the optimism surrounding Anfield when he was on hand to open the scoring after just seven minutes. It was a case of right place, right time. Barca nerves promptly began to jangle.
And then he got the goal which settled it. It would have been oh so easy to send that bouncing ball into the stand, but Origi expertly steered it into the top corner as the defenders around him watched on, shellshocked.
I personally have been a consistent critic of Origi, but it's impossible to slander him when you reflect on his contribution this season. His goals against Everton and Newcastle may not have been the finest, but they kept Liverpool in the title race. And his strikes here may have set Liverpool on course for glory when agony beckoned.
To an extent, it wasn't about replacing Firmino. Origi has an altogether different role – make life difficult for the opposition defenders, and grab your chances when they come. In that respect, this was a flawless effort.
He has without doubt earned another season at Anfield, and depending, perhaps, on what transpires in Madrid in June 1, he has written himself into the club's illustrious history books.
But it must be stressed that it's a team of heroes. Liverpool will probably miss out on the title by one hellish point this weekend, and whatever happens tomorrow they will have to navigate their way past a team who has conquered a member of the European elite to win this competition. Yet this night, this pinch-yourself-it's-really-happening-night, simply compels us to look upon this sensational team with immense pride, and a heartfelt adoration.