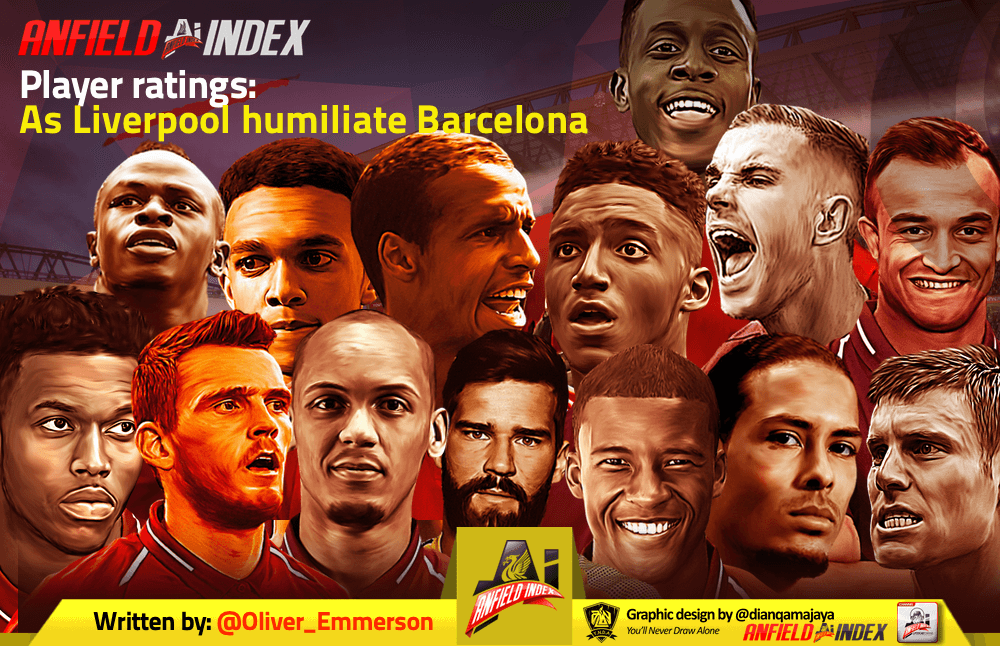 Player ratings as Liverpool humiliate Barcelona

Just had a big cry. A big massive cry. A happy cry, though. Never had that sensation before in my 20 years on this planet, not particularly shocked that it's football that finally brings it out.
These Reds. This gang of lads, a bunch that simply don't know when to quit. They've taken Lionel Messi's Barcelona, hungrier than they have been in years for a Champions League title, and taken them to task in possibly the greatest night Anfield has ever seen.
History has yet to write whether or not Jurgen Klopp and his men will pick up European Cup number six, in the city of the side that ousted them last year, but it can't take tonight away from us.
Here are your ratings.
Resisting the urge to give everyone a 10…
Alisson (9): Absolutely herculean. I best get the thesaurus out because describing these lads with any kind of variety could prove a struggle. Our Brazilian beauty made save after save, never giving Barcelona  chance to stick away a rebound, dominated in the air and barely put a foot wrong.
Trent Alexander-Arnold (10): Yeah. There's your ten. I'd say sends Coutinho back to Barcelona with his tail between his legs, but sending him back to Espanyol seems more appropriate. Everyone's banging on about his assist for the winner but that one for Wijnaldum is world class in terms of technique. The one after, world class in terms of vision and coolness. Over 50,000 people in the stadium and he's the only one that know he's about to set up a history making strike.
Joel Matip (9): Superb against Suarez. Superb against Messi. Superb against literally any challenge Barcelona thought they might throw against our second choice centre-half.
Virgil van Dijk (10): Asdfghjkl. This man could legitimately win the Balon d'Or. Impeccable at the back all night, like Matip. What gets VVD his 10/10 is that organisation in the last ten minutes, post fourth goal. Liverpool park their bus into the perfect space and that's because Van Dijk is at the wheel, conducting each and every player around him into the perfect position. Barcelona create nothing as a result.
Andy Robertson (8): 7/10 performance before he goes off but it's 9/10 snide. The little ruffle of Messi's hair, arguing back with Suarez. Robertson being injured by Suarez so that Wijnaldum simply had to come on and score twice was poetic.
Out Busqueting Busquets…
Fabinho (9): 75 minutes against the greatest player of all time and the greatest shithouser of all time whilst on a yellow card, doesn't put a foot wrong. Never looks like getting sent off, ever. Excellent on the ball at slowing the game down when it needed so.
Jordan Henderson (9): Run Jordan, run! He sprints at them, he tackles, he passes. He sprints again, tackles again, passes again. An absolute nuisance if ever there was one. Barcelona couldn't handle him, they hadn't a clue. Gets a 10 if he can get his head up and find Sturridge for 5-0.
James Milner (8): His tears at the end, I feel you, James. Puts a shift in whilst in midfield and then I'm wincing as he's moved to left-back, more fool me.
Georginio Wijnaldum (9): Might be the first time I've given a substitute a nine, arsed? Absolutely wallops his first one in and then leaps like a salmon for the second, unbelievable. Maybe the most press-resistant lad you've ever seen. Maybe the best arse you've ever seen. Definitely the best 'sends four Barcelona players for the Echo' you've seen.
Divock Origi, cult hero
Xherdan Shaqiri (8): Underhit pass. Underhit pass. Underhit pass. Brilliant pass curled expertly onto Wijnaldum's head. Get in, Shaq.
Sadio Mané (9): This bloke. He'd like you to know that he likes playing with his mates Bobby and Mo, but he needs you to know that he doesn't need them. Absolutely terrorises the Barcelona defence, quite often leading the line on his own. What a season he's having.
Divock Origi (10): Yeah, of course he's getting a 10. If Liverpool win something this season he may go down as the biggest cult hero the club has ever had. Great finish x2. Almost tried to no-look the winner, that'd have been a laugh.