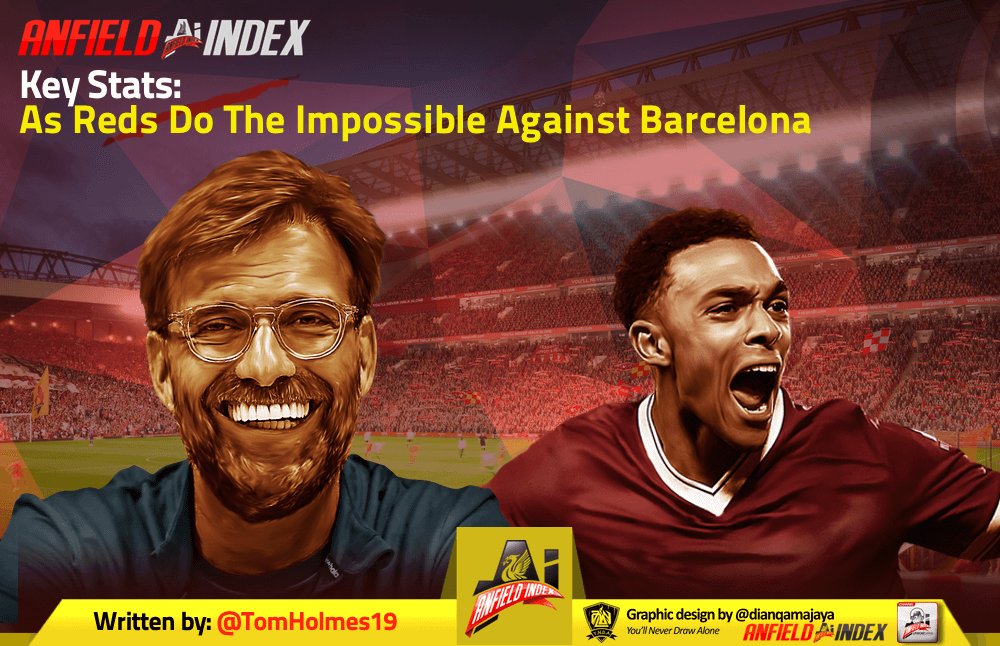 Key Stats As Reds Do The Impossible Against Barcelona

Honestly, where do you start with this one?! Liverpool are in the Champions League Final against all odds, having beaten Barcelona 4-0 at Anfield, to overturn a 3-0 first leg defeat and make it through 4-3 on aggregate. Even writing that sentence is maddening. So key stats eh?
Unlikely Heroes – But Heroes They Are
Looking at this Liverpool team, they only really have had three goal-scorers all season, and they were stripped of two of them for this game. That left a vacancy in the team for goalscoring heroes and Gini Wijnaldum and Divock Origi filled the gap.
Origi scored the first Champions League goals of his Liverpool career, and now has six goals and one assist in 580 minutes this season – a goal or assist every 83 minutes. In those goals, he's scored two last ditch PL winners, and two vital goals, including the winner, in this game. How about this for a stat too.
Divock Origi has scored more goals in European Cup / Champions League semi-finals than Paris Saint-Germain.

— Richard Jolly (@RichJolly) May 7, 2019
As for Gini Wijnaldum, the incredible stat below underlines exactly how big his contribution was tonight, as he made it three goals in Champions League semi-finals for Liverpool.
23% of Gini Wijnaldum's Liverpool goals have been in Champions League semi-finals.

— Andrew Beasley (@BassTunedToRed) May 7, 2019
European Giants
This is Liverpool's second Champions League final under Jürgen Klopp in two years, in two Champions League campaigns. To contextualise just how absolutely massive that is, only one other English club (you know who, I'm not dirtying this article with their name) has made more than two Champions League finals in their entire history than Liverpool have in twelve months under Jürgen Klopp.
Absolutely incredible scenes.
Trent Comes Of Age
Trent Alexander-Arnold now has 14 assists in all competitions this season, notching his 3rd of the UCL season against Barca with an incredible corner to find Divock Origi. Although he didn't get an assist for Wijnaldum's first goal, he was heavily involved with an excellent cut-back, and overall was excellent.
His cross for Liverpool's 4th goal is honestly the most intelligent thing I've ever seen on a football field. 20 years of age. A generational talent.
Klopp's Reds Unbeatable
Just to rattle off a few stats I've rattled off before, and am still able to rattle off now. Liverpool have never lost a two-legged European tie under Jürgen Klopp, reaching three finals in three campaigns. They've never lost a European game at Anfield under Klopp. And Liverpool have never lost a second leg home Champions League semi-final at Anfield, this being their fifth. They've never even conceded a goal.
Barca's Away Form Costs Them Again
0-4, 2-3, 0-4, 0-1. That's Barcelona's record away from home in Champions League semi-finals since 2011. They also lost 3-0 or worse in 3 of their 4 knockout away games in 16-17 and 17-18, as well as losing 2-0 away at Atletico in the quarter-finals of 15-16.
Whilst there was almost no precedent for what happened tonight, if there was any team it was going to happen to, it was Barcelona, who threw away a 4-1 first leg lead in last year's quarter-final after all.