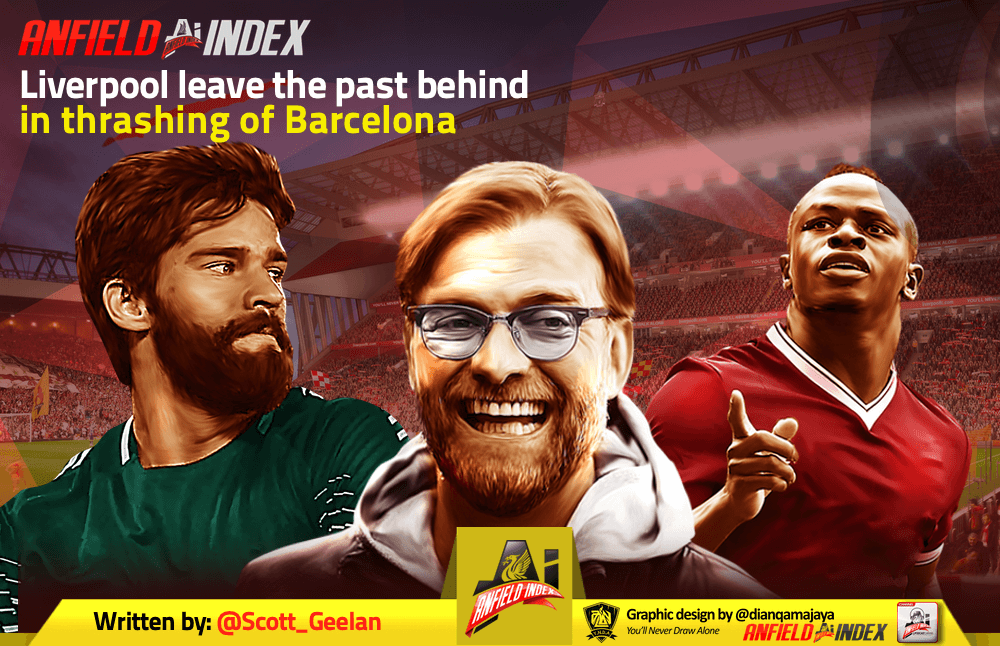 Liverpool leave the past behind in thrashing of Barcelona

This club is the mix of atmosphere, emotion, desire and football quality. Cut off one and it doesn't work.
The words of a stunned, joyous and emotionally drained Jürgen Klopp after the greatest Anfield night of his tenure: a perfect storm of atmosphere, emotion, desire and football quality that tore into Barcelona, blowing their European dreams apart and reducing even the greatest footballer ever to a footnote in what had been a special European tie.
3-0 down after the first leg, twenty-four hours after Vincent Kompany scored the unlikeliest of goals to once again render Liverpool chasers in the Premier League title race and shorn of the scorers of almost forty percent of their goals this season, Klopp's mentality monsters didn't just walk through the storm, they were the storm.
Since Klopp's arrival at Liverpool, the club has increasingly consistently combined its four key ingredients. Before then, for far too long, it felt something was missing. Last night felt like an exorcism of so much of that, and much that has happened since.
The atmosphere, emotion, desire and football quality was on show, in all its magnificent and unique glory. The big heart is pumping stronger than ever.
Anfield, that spent much of the destructive reign of Hicks & Gillette under threat of being the very symbol of that destruction, was superlative. Old and new, both fans and stands, combined during a glorious European night that seemed so far away less than decade ago. It may not see many nights as special as this one again, but it will certainly see many more European nights.
The Academy, for far too long producing so very few who went on to play, let alone star, for the seniors, was represented by Trent Alexander-Arnold. Alexander-Arnold, not only an academy product, but a Scouser, performed with extraordinary composure and execution, delivering the assist for Liverpool's fourth with a piece of spontaneous genius. The club is a different place when local players contribute so significantly.
Two former Liverpool stars returned. Two players who wanted to go on to bigger and better things after seeing the club some way along its journey to these heights, but not, to their own detriment, to that journey's conclusion. With every defiant chant of "F*ck off Suarez" and with every passing moment of anonymity from Coutinho, the final possible questions of whether the club were better for their departures were conclusively answered. Liverpool didn't need Suarez or Coutinho after all. And there isn't anything or anywhere better than this either.
Those bottlers comments? Borne out of failures from years gone by… But not this year. Not this Liverpool team. Bottlers don't come back from 3-0 down against Barcelona, against Lionel Messi. Bottlers don't deal with disappointment by surging back with better.
Messi's tie transforming moments last week were exorcised too. After taking last week's game by the scruff of the neck, seemingly ending all Liverpool hopes, he too was swept up in the Liverpool whirlwind. Every red shirt that swarmed him, snapped at him and stole the ball away from him exorcised the shadow of Messi over Liverpool's season. The greatest of all time was reduced to a walking, no aimlessly wandering, fluorescent yellow shirt amidst the surging red ones that won the day and the tie.
The final exorcism? That will have to wait until June 1st. But with this Liverpool squad, there's no doubt that the storm is on a course for Madrid.