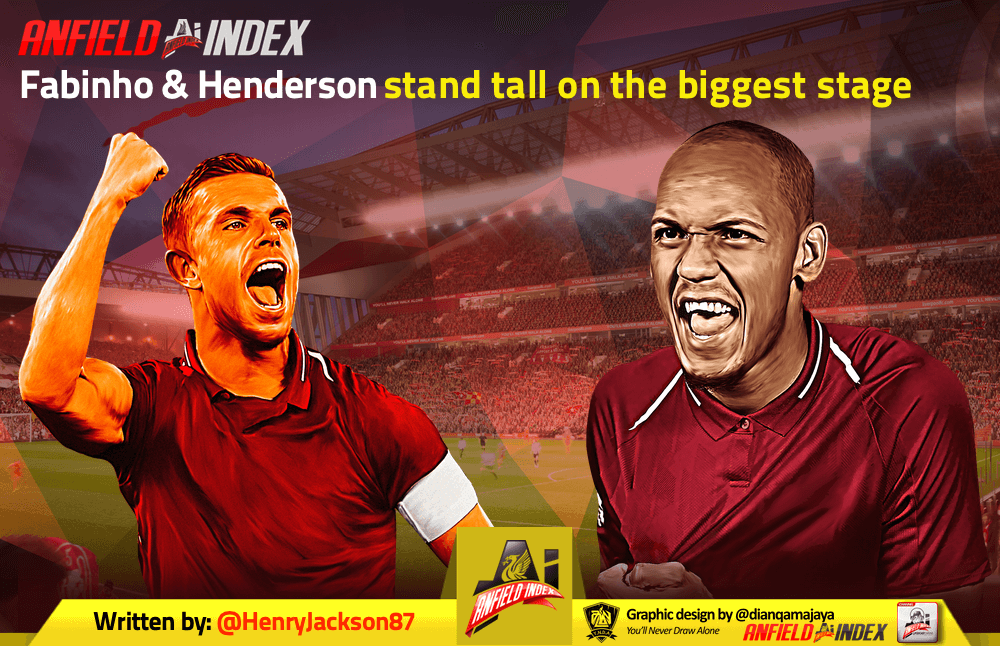 Fabinho & Henderson stand tall on the biggest stage
Who else is still bouncing? Who else can't think about anything apart from THAT game? Who else wouldn't change this Liverpool team for the world?
Tuesday night is seconded only to Istanbul for me, in terms of drama, passion and emotion, on a night that genuinely felt flat in my mind before kick-off.
This time they really weren't going to turn it around, were they? That Vincent Kompany stunner against Leicester had only further dampened spirits, following an extremely harsh 3-0 defeat at the Nou Camp last week.

Even the most optimistic supporters seemed silent about a miraculous comeback, such was the unlikelihood of consecutive Champions League finals being reached.
But then Liverpool produced the perfect performance – perhaps the greatest seen in Anfield's history, given the occasion and the opponent. What could you possibly fault?
Once the final whistle blew, the 55,000 fans inside Anfield and the many millions watching across the world could scarcely believe what they had seen.
It's over 24 hours since the final whistle, and quite frankly, I still find myself sitting alone trying to let it sink in.
Sod the Premier League, I might just re-watch the Barcelona highlights until the Reds do battle with Tottenham in Madrid on June 1st.
What a game that's going to be, by the way.
On an evening when there were so many heroes for the Reds, from the unbeatable Alisson to the game-changing trio of Trent Alexander-Arnold, Gini Wijnaldum and Divock Origi, it was midfield pair Fabinho and Jordan Henderson who shone brightest.
Had you uttered their names a few months ago, a very common, rather tedious conversation would have taken place.
Henderson was still generally being used in the No.6 role that he has divided opinion in, with Fabinho the one so many wanted to see there every week.
Sure, the Brazilian was still acclimatising to his new surroundings, but Henderson was so 'useless' in the position that their new signing had to be a regular.
Much like Henderson and Emre Can during their time together at Anfield, it was almost seen as a sin if you didn't rate one and fail to give credit to the other – truly ridiculous really, isn't it? – with no space for both in the team.
Jurgen Klopp has switched things up of late, however, revitalising the skipper in the box-to-box role he thrived in back in 2013/14 and 2014/15, getting the most of out his key attributes – namely energy, power and underrated end product.
Fabinho, meanwhile, has only grown in the deep-lying position, adjusting fully to playing in Klopp's complex system and becoming an undisputed key man.
Neither play every match, with Klopp rotating his five or six central midfielders wisely, but both can now work together immaculately in the same starting lineup, which wasn't always the case.
Back to Barcelona then.
Fabinho and Henderson produced arguably their greatest individual performances for Liverpool on that balmy night on Merseyside, which for the latter shows exactly how impressive he was, considering he is the Reds' longest-serving player of almost eight years.
The captain was relentless up against a disillusioned and ageing Barca midfield, snapping into tackles, showing tactical discipline but also displaying such quality with the ball at his feet.
There was a genuine concern when he went down with what looked like a knee injury in the first half, perhaps highlighting how much his reputation has been in enhanced in recent times.
He dusted himself off and kept going, heroically taking an injection at half-time and playing through the pain barrier, leading his team expertly over the finish line. He is a true leader these days.
If you replaced Henderson and put Steven Gerrard in his place, replicating the performance, the legendary ex-Red would have been lauded for a colossal Champions League display, and rightly so.
Henderson will never be Gerrard, of course, not owning a fraction of his natural talent, but he is a proper captain, an excellent footballer and now only the fourth person to skipper an English team in two European Cup finals, after Emlyn Hughes, John McGovern and Gerrard himself.
If Henderson was exceptional, Fabinho was a man possessed, not only standing out as the best player on the pitch, but also putting in one of the great midfield performances by a Reds midfielder.
An early booking in a Champions League semi-final second leg would take an edge off most players' game, but if anything, the 25-year-old actually seemed to thrive off it.
His snide edge came to the fore and he enjoyed a personal battle with Luis Suarez, on the best pantomime villain form imaginable, and the work he got through and physical prowess he showed were a huge reason Liverpool eventually progressed.
Fabinho won all of his aerial duels, made 10 ball recoveries, won four tackles and enjoyed a 90 per cent pass accuracy. He was monstrous.
There were many predictably lazy enough to write off Fabinho when he struggled to begin with this season, but he has already grown into one of Europe's best destroyers.
Barcelona couldn't handle his physicality all night, whether it be a muted Lionel Messi, tetchy Suarez or powerless midfield threesome of Sergio Busquets, Ivan Rakitic and Arturo Vidal.
Fabinho and Henderson are two top-class players, albeit with one having a higher ceiling than the other, and they are contributing so much to this potentially all-time great Liverpool side.
Picking a team for Madrid is already tough, given the brilliance of Wijnaldum and Klopp's understandable love of playing James Milner in the biggest games, but Fabinho and Henderson both have to start at the Wanda Metropolitano Stadium.
They have left their best performance of the campaign for a Champions League semi-final second leg, which says all you need to know about their character, class and influence.