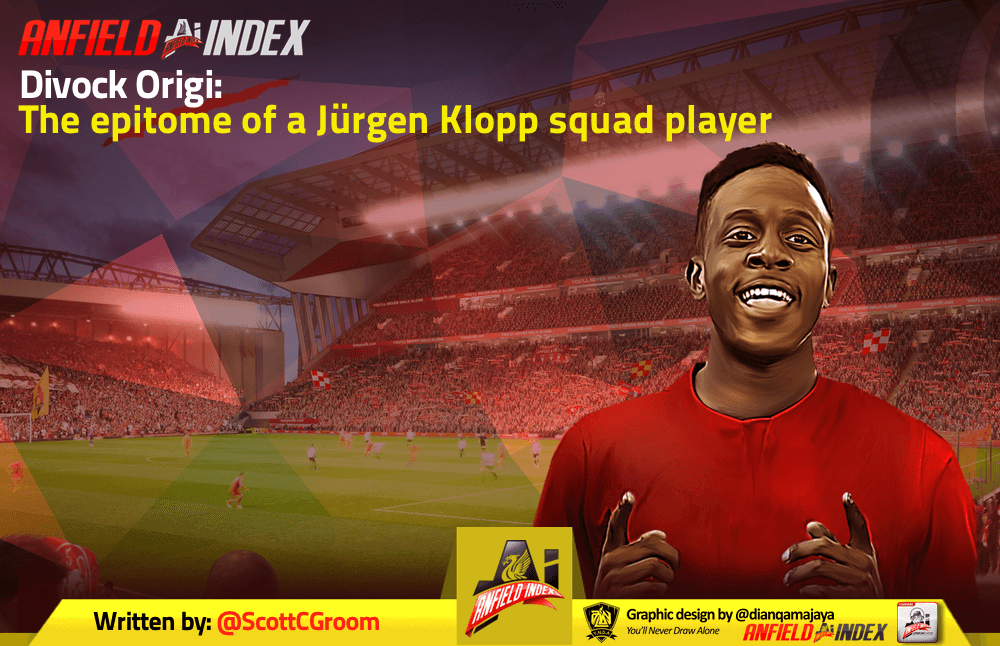 Divock Origi: The epitome of a Jürgen Klopp squad player
What a week it's been for Divock Origi.
First, he scores an 86th-minute winner against Newcastle to take the title race into the final day of the season.
Then, due to an injury to Roberto Firmino, he gets given the nod to start against Barcelona in a Champions League semi-final. And scores twice.
Who knew that back when he scored that iconic 96th-minute winner against Everton at Anfield back in December that it would be the start of things to come for a man who would become a Kop cult hero by the end of the season.
Yet, it's probably not that surprising that Origi has had some say in the destiny of Liverpool's season.
After his disappointing loan spell at Bundesliga side Wolfsburg, Origi's future at Liverpool looked non-existent.
Klopp clearly thought so too, touting for offers for his services, with Wolves allegedly having offered £22m for his services.
Yet Origi opted to stay and fight for his place on Merseyside – ticking one of many boxes for his manager.
Then there's his work ethic. Origi was made to ply his trade with the Liverpool youth sides in a bid to prove his fitness and capabilities. He did that too, no questions asked.
Another box on Jürgen Klopp's checklist filled in with a big, fat tick.
Completing those first few tasks without even a degree of moaning as well? Let's call that bonus points.
Now let's talk about taking his chances when he's been presented with them.
The Merseyside derby, Newcastle, Barcelona, Wolves in the FA Cup. When Origi has been given the chance, he's usually taken it.
You can't deny him of that.
Then we look at how he's played when he's been given those chances, goals aside.
He's been hungry, direct, willing and shown so much desire it's been refreshing. He realises perhaps that he was slightly fortunate to be a Liverpool player come the close of the last summer window, but that seems to revitalise him.
Take into account all of the above, and the fact that you can see his teammates clearly have a lot of time and respect for him, and what you've got in Divock Origi is the perfect Jürgen Klopp squad player in the flesh.
He's selfless, humble and hard-working. He's willing to take risks and improve his game. He's willing to wait for his chances and then grab them with both hands.
Liverpool could arguably do with a few more players like him. Daniel Sturridge clearly isn't cut from the same cloth, thus perhaps explaining why Klopp regularly chooses Origi over him when he looks to his bench.
It's these endearing characteristics that Klopp is drawn to, and when he sees these characteristics in a player, he'll hold them in higher regard than someone with more talent but a terrible attitude.
It's how he's built this squad with the tight-knit bonds that you see all over the pitch. These boys will die for each other, and Origi is no different.
He's willing to play out of position and still give it his all. He's just what we need and just what Klopp loves.
If he can unearth a few more gems like Origi this summer, Liverpool will be laughing.
But that doesn't mean Origi should be moved on. After that Barca game, heck – give him a life-long contract.