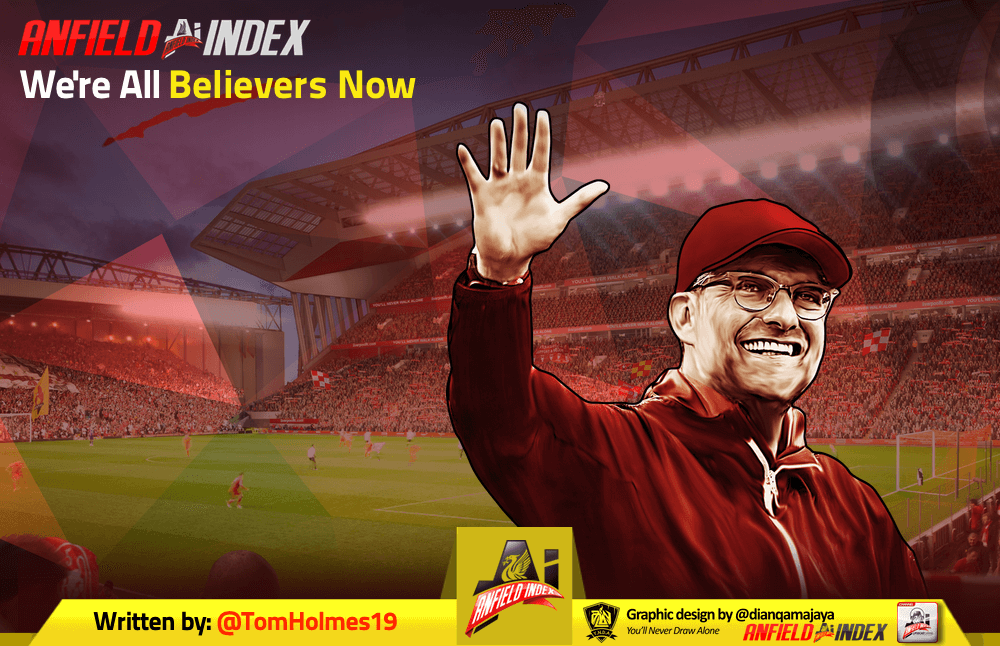 We're All Believers Now
The concept of belief is a funny thing.
Very close to the end of Liverpool's incredible, awe-inspiring, death-defying 4-0 win over Barcelona, the question was asked whether there were any Liverpool fans who believed that their team would be in that position, hanging on (if you could call it that, the result was almost never in doubt by the end) to a 4-3 aggregate lead.
And I guess everyone has their own story. For me, I was about to board a plane in Amsterdam Airport, when I got the Joyce notification confirming that Firmino and Salah were unavailable, quickly followed by another notification, as Klopp pointed out that Liverpool needed to score four goals against arguably the best club in Europe, without two of the world's most elite forwards.
No shit Jürgen.
And I just had a moment of almost zen like understanding. I felt strangely calm, and if anything, bizarrely, I felt more confident after hearing the news that we were sans Bobby and Mo than I did beforehand. Because the more the odds were stacked against us, the more I felt that we had an answer. This felt like another Dortmund moment.
It wasn't until about the 80th minute, as I saw Liverpool actually defending a four goal lead, that I realised that I was actually nervous. That this could actually happen. That there was actually something on the line.
But if anything, it was almost the opposite. I was so utterly transfixed on what I was watching, each goal bringing me more composure and belief, that actually when Liverpool were 4-0 up, my reaction wasn't: oh my god, we might win this, but actually, oh my god, we might not win this. It took the game to be on the line for my belief in this jaw-dropping, unbelievable, impossible team to waver.
But we're all believers now. If there were any left who still doubted Jürgen Klopp, it's all but impossible to imagine they still do. Turning doubters into believers was one of the first things that Klopp espoused to Liverpool fans, and three and a half years into his reign, and we have the game that epitomises that more than any other.
Klopp didn't need to tell Liverpool fans to believe, after all, this is a team and stadium that have lived miracles before, especially in Europe and often at Anfield. Anfield would have been up for this game whatever happened, would have made it a special night whatever happened, and would have believed whatever happened.
But the difference, and the belief begins with Klopp himself. In his post-match press conference, visibly emotional, Klopp recanted that he told his Liverpool team that it was impossible, but he believed in them.
And they believed in themselves. Klopp hasn't just installed his philosophy of believing and not doubting into the fans, but deep into the DNA of this Liverpool squad. Anyone who doesn't subscribe has been moved on, which is why Phil Coutinho was slouching and hauled off after less than an hour, having had absolutely no impact over two legs against his former club.
These Liverpool players firmly believed that they could make the impossible happen. It was obvious, both from their superhuman efforts on the pitch and their reactions afterwards. This is a team who know that they're that good, that have the confidence and swagger that elite teams need, but remain, somehow, humble.
They might well have believed that it was possible, but that belief was turned into something tangible by Klopp, and, of course, by the absolutely electrifying atmosphere at Anfield.
It was a night where time seemed to stand still. 90 minutes is a long time in football, but rarely has it felt longer than it did for Liverpool 4-0 Barcelona, and it would have seemed even longer than that for Barcelona, whose victory lap turned into a waking nightmare.
For Luis Suarez, whose determination to show his old club his best self, and whose snide behaviour forced Andy Robertson off at half-time, only for the man Liverpool brought on, Gini Wijnaldum, whose belief was more evident than most, to score two incredible goals.
For Phil Coutinho, a man who forced his way out of Liverpool to win the Champions League, has seen his former club get further in the competition than his new club twice.
And for Lionel Messi, the greatest player of all time, who had seemingly produced the moment that could not just define this tie, but Barcelona's season, who had all but wrapped up his 6th Ballon D'or, seeing everything slip through his fingers in a blur of Red as Virgil Van Dijk and Fabinho showed him no respect, no fear, and nothing but belief in their own abilities.
It's incredibly important to note that belief is far from the main or only reason Liverpool won this game. Tactically, the Reds were exceptional, and their pressing was not just a matter of energy, or belief, but intelligence and skill. To a man, Liverpool outperformed Barcelona on the pitch, the crowd played a huge part, Barca themselves once again demonstrated huge issues of mental strength – issues that it seems almost unimaginable once affected this Liverpool side.
But there'll be millions upon millions of tactical pieces, Barcelona perspectives, and such. And there'll be plenty of emotional ones too. About how far this Liverpool team have come, about throwing off their shackles and about putting ghosts to bed.
But honestly? Fuck all of that. The reason that the first leg result hurt so much for me was that I didn't need to see Liverpool play Barcelona to know that they could match them blow for blow, stride for stride. We didn't even need this, the most extraordinarily superlative night of football, to know that this Liverpool team were capable of it.
And whilst Klopp will have doubtlessly meant that turning doubters into believers was about changing the mentality of a club that was long-suffering, by getting the fans to believe in the team whatever happened, he also knew that the only way to do that was to construct a team where belief wasn't just possible, but arrogance.
I believe in Liverpool Football Club because right now, they've put together the best football team I've ever seen for us, and one of the best teams of my lifetime period. And amongst the pride, the sheer emotional weight of what Klopp was saying post-match, there was more than just a hint of steel too. When Klopp says that this is the best bunch of lads he's ever stuck on a football field, it means something. It means that this team are just that good.
And Klopp has absolutely turned doubters into believers. And "The Barcelona Game" will stand the monuments of time as the moment that that statement really meant something. And not just because this is a club that believes. But because this is a club that is starting to expect again.
This is a team, where belief is not just possible, but tangible. This game was almost impossible, but like Klopp said, with this team, it absolutely, definitely was possible.
And the possibilities for this Liverpool team? Well I believe that they're endless.