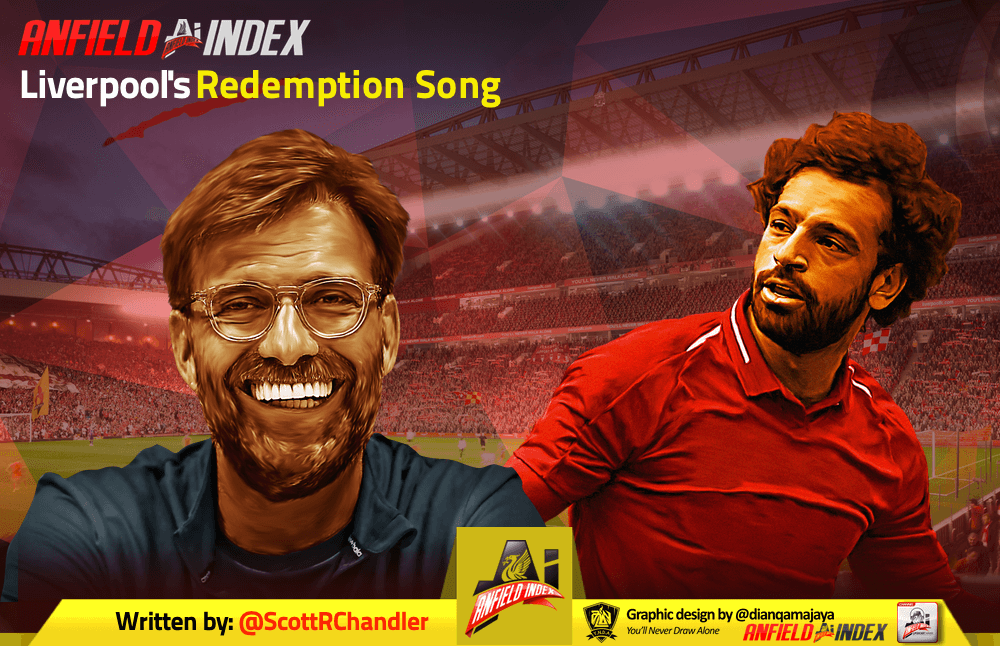 Liverpool's Redemption Song
In the immediate aftermath of Liverpool's heartbreaking defeat to Real Madrid in last year's Champions League Final, Reds around the world could be forgiven if they were downbeat and disappointed. Liverpool had reignited its love affair with the Champions League in spectacular fashion, beating Porto, Manchester City, and Roma on the way to the Final in their first time back in the competition since 2009, only to see their dreams crushed in cruel fashion. Yet, while many supporters' heads may have been down, Liverpool Football Club was focused on the future.
Frankly, it seemed odd at first to see videos of Jurgen Klopp the next morning having a laugh and singing songs about how Liverpool would keep on being cool while Real Madrid had all the luck. For so many of us, these matches mean the absolute world. The victories, the exciting moments, and yes, the trophies, are why we wake up early, why we travel cross country, why we follow a team from half a world away when our families wish we would be spending time with them. So when your favourite team loses, it can ruin your day and weekend. That's why it's always hard to be reminded that for the professionals, these matches are often not life and death. But what Jurgen was doing the morning after the kick to the teeth in Kiev was actually epitomising the very words that define Liverpool. "When you walk through a storm, hold your head up high, and don't be afraid of the dark. At the end of a storm, there's a golden sky and the sweet silver song of a lark. Walk on, walk on, with hope in your heart."
And while Jurgen looked to the future and the positives around Liverpool Football Club, the architect of the current squad, Michael Edwards, sought to make sure the team would have the reinforcements it needed to ensure that golden skies would be ahead in the next season. The football world was still reflecting on Sergio Ramos's shamelessness and Gareth Bale's moment of brilliance when Edwards struck without any warning or rumours to sign the defensive midfielder that Liverpool had lacked since Mascherano's exit to Catalonia. On May 28, 2018, two days after their season ended in Ukraine, Liverpool's plan to get back to the Champions League Final started with the shrewd signing of Fabinho. Liverpool's 2017-18 Champions League run was not going to be a one-off trip. This proud club meant to not only keep its place in Europe but to push forward.

Since then, this Liverpool team has been on a mission to get redemption for falling just short of taking its rightful place amongst European royalty, including the champions of old that hailed from Merseyside. After drawing a tough group with PSG, Napoli, and Red Star Belgrade, Liverpool opened their European campaign with a thrilling 3-2 victory over PSG at Anfield thanks to a late winner from Roberto Firmino in the 92nd minute. Liverpool would go on to lose all of their European away matches, but when they needed a win versus Napoli at home on the final matchday to seal progression into the knockout phase, Liverpool and Anfield answered the call with a tense, but thrilling 1-0 win against the Italians. Liverpool were determined to keep going, and they simply would not be denied on that night. When Alisson produced once of his saves of the season to keep Liverpool in the competition, it was easy to see how the power of European nights at Anfield could be harnessed and manifested the team needed it most.
Liverpool's group stage performances left a lot to be desired, but that night at Anfield was a harbinger of things to come. A tough Round of 16 draw against Bayern ended in joy after Liverpool put in a masterclass performance at the Allianz, walking away 3-1 winners. A repeat encounter with Porto in the quarters gave Liverpool a fantastic opportunity to progress into the semis for the second year running, and they did not let it pass by. However, two comfortable wins over Porto merely set up the draw of the tournament: Barcelona vs. Liverpool. If the Reds were to get back to the final, they would have to go through one of Europe's giants and the greatest player in the world. Camp Nou is an intimidating place to go when Barcelona are in form, but Liverpool would get a chance to lay down a marker and also get revenge against a club that had spent the past 10 years poaching some of Liverpool's brightest talents.
What unfolded in Barcelona was an absolute sucker punch. For large stretches of the match, Liverpool not only were the better side, but they took it to the Blaugrana. In the second half, even despite being without one of their key components in Bobby Firmino, who was on the bench, Liverpool dominated Barcelona on their home turf in a manner rarely seen. Yet, the football gods proved cruel when Barcelona not only scored the opener but then put in a second against the run of play. Liverpool had further chances but were both unlucky and lucky at the same time to walk out of Spain only down 3-0, especially when a 3 v 1 chance at the death ended with Barcelona wasting a golden chance to make it 4-0, albeit largely in part to some incredible defending by Andy Robertson. But in that moment, where Liverpool could have crumbled on an unjust evening, the Reds showed their true character. They would not go quietly and would not roll over to send Messi & Co. to their coronation as European champions. Liverpool were down, but returning to Anfield, they had a chance.
That set the stages for Tuesday night, which will go down in Liverpool's storied history. Only one club in world football could possibly have a chance to mount that big of a comeback against this Barcelona team. Only Liverpool, with its history, its supporters, and the power of Anfield, could have a chance at beating Barcelona 4-0 to make the Champions League Final. Prior European campaigns under Klopp had been marked by epic victories at Anfield, including the determined comeback against Dortmund and the manic destruction of Manchester City. When the team needed a big European result in the past, Anfield had answered the call time and again. The odds were still long with both Firmino and Salah missing out due to injury, but the players and the supporters had no choice but to give everything they had on Tuesday and to hope it would be enough. And on that night, it was.
Barcelona simply could not cope with the sheer force of will of Klopp's team or the wall of sound from the stands. Even the ballboys contributed to bringing down the mighty Barcelona. Luis Suarez's antics were irrelevant. Philippe Coutinho was an afterthought. All that mattered was the determination of a club to seize an opportunity to make history. An absolute fervour built from before the match on the streets outside Anfield and into the stadium at kickoff. It carried on from Origi's opening goal to after the final whistle. When Liverpool needed heroes, the passion and belief from inside the grounds summoned new ones in Trent Alexander-Arnold, Gini Wijnaldum, and Divock Origi. That same emotion from the crowd humbled even Lionel Messi, one of the all-time greats, and completely took his teammates out of their game. Barcelona simply could not rise to the occasion.
On May 7, 2019, just under one year after losing to Real Madrid in Kiev, Liverpool exorcised many of those demons by punching their ticket to a second consecutive Champions League Final. The importance of the accomplishment and what it meant to the players was evident from their tear-stained faces as they stood arm-in-arm belting out "You'll Never Walk Alone" in front of the Kop. After the triumphant victory over Barcelona, Jurgen Klopp admitted in an emotional press conference that Liverpool had to get back to the final because they could not let last year's result against Madrid stand. Jurgen said he was happy that Liverpool had an opportunity to get things right. Total redemption for the loss to Madrid will only come if Liverpool can get their hands on the trophy that they should have claimed in 2018. But the journey that the Reds have taken since Kiev is incredible in its own right, regardless of whether Liverpool lose in Madrid to Spurs or return home with Ol' Big Ears.
For too long after Rafa Benitez stepped down as manager, Liverpool FC was lost in the wilderness, trying to regain its identity. Jurgen Klopp has restored not only that sense of pride, but he has instilled a belief amongst the team and the supporters. As Jurgen said on Tuesday night, his team is a bunch of "fucking mentality monsters." It's that mentality and determination to get things right this time around that has them back in the Final. On its day, this Liverpool side is capable of accomplishing anything. They can right the past wrongs and can achieve new glories. Not every day will end in victory. Not every competition will end with a trophy. But this Liverpool will never stop fighting. The fans will never stop singing. And eventually, this team will find its redemption.