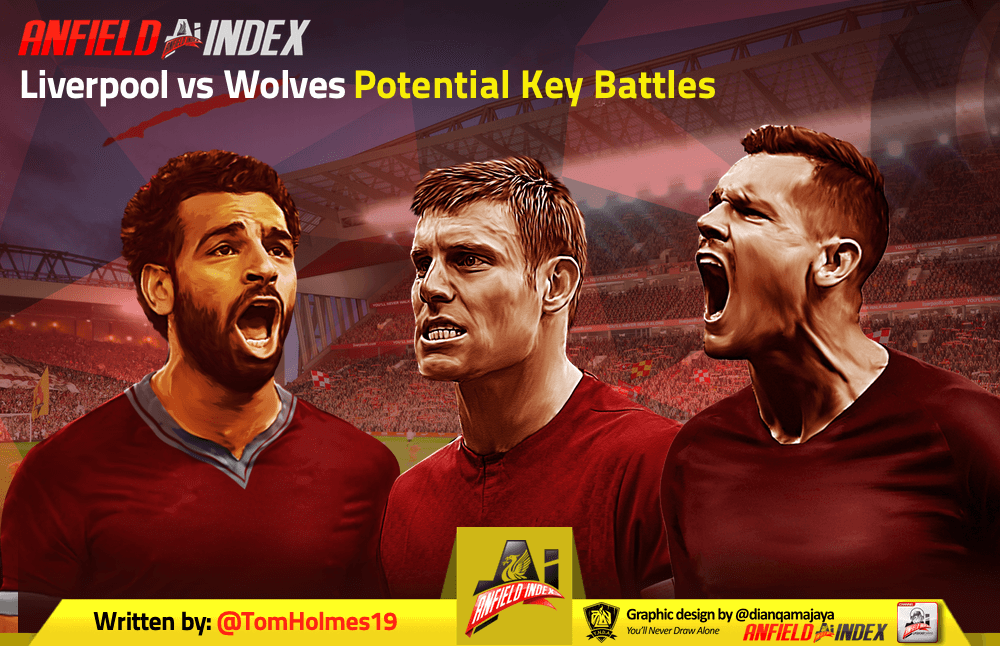 Liverpool vs Wolves - Potential Key Battles
And so, it all comes down to this. Liverpool need to win on the final day of the Premier League season and hope, beyond hope, that Man City will finally drop some points. But whilst their title fate is still outside of their hands, barring circumstances more extraordinary than the ones seen in midweek as Liverpool saw off Barcelona 4-0 at Anfield, Liverpool will need to win to have any shot of winning the title. So what are some of the potential key battles for their final league game of the 2018-19 season, at home to seventh place Wolves?
Mo Salah vs Willy Boly
Wolves have one of the best defences in the league, having conceded just 44 goals this season. They were really strong against Liverpool in December, and it took an incredible performance from Mo Salah to break them down, which means that the Egyptian, who is back after missing the Barcelona game as a precaution after suffering a mild concussion against Newcastle, will be absolutely vital again.
Wolves also play a back three system, which is one that Liverpool are particularly strong against, as it means that Salah will be able to isolate Boly and hopefully cause him some real problems. Nevertheless, Boly has demonstrated all season that he is more than capable of meeting most challenges. Mo Salah, however, is not most challenges, and you would expect him to cause Wolves a lot of problems.
Dejan Lovren vs Raul Jiminez 
With Matip featuring heavily in midweek and Lovren becoming a more regular fixture in the Premier League around the last few UCL games, it wouldn't be at all surprising to see Lovren start, which would give Liverpool a big problem against the incredibly dangerous Mexican. Jiminez has 20 PL goal contributions, with the highest xG and xA on this Wolves team. His pace in-behind and delightful movement make him a real, real threat, and whoever is partnering Van Dijk will absolutely have to be extremely alert to deal with him and Jota. Factor in Lovren's last two performances and Liverpool could find themselves with a real issue on their hands.
James Milner vs Matt Doherty 
With Andy Robertson unable to play the second half against Barcelona through injury, it would be extremely surprising to see him start against Wolves, which puts the pressure on auxiliary left-back James Milner. Milner has largely been strong when deputising in the full-back positions for Liverpool, but Matt Doherty is a consistent threat for Wolves, with four goals and five assists this season making him their third highest goal scorer and goal contributor.
But whilst Milner might have his work cut out defensively, there's plenty of scope to get at Doherty and support Mané and cause Wolves a lot of problems down that left flank. Wolves, as with any team that plays with wing-backs, need to win their one-on-one battles on the wings, and that means Milner vs Doherty will be a big one, as it's Wolves strongest full-back vs Liverpool's weaker option.