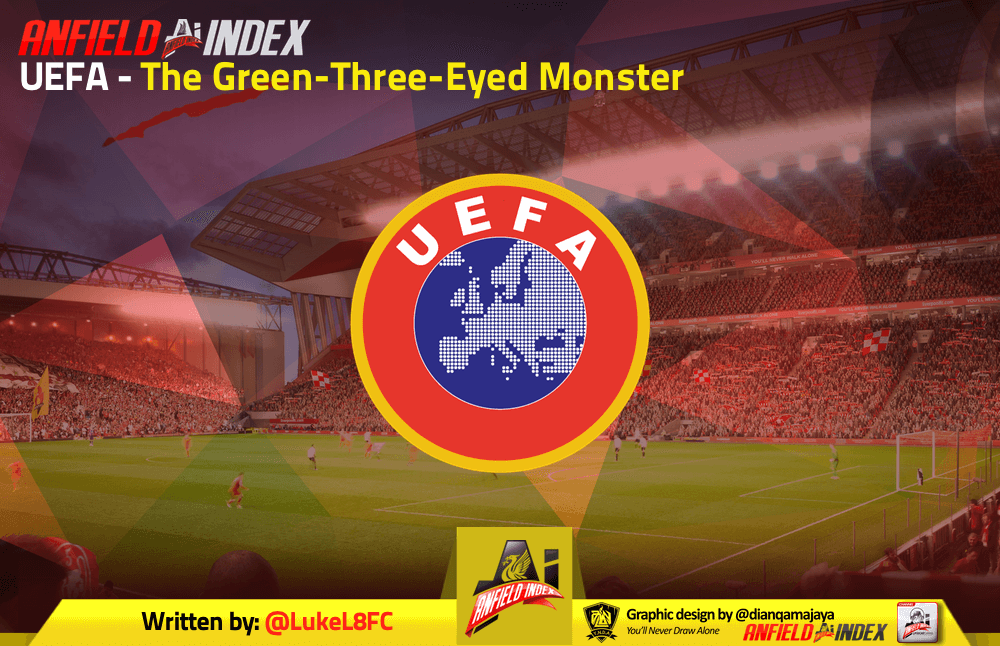 UEFA - The Green-Three-Eyed Monster
"It is time for Liverpool Football Club to go to yet another European Cup Final".
Yet, many have been priced out and many are left without tickets.
In a few weeks, there will be a mass exodus from the banks of the River Mersey to get to Madrid for our ninth European Cup final. Fans are still looking around planning the cheapest and most reasonable routes due to the spike in flight costs and hotel prices in Madrid. Hotel and flight prices have risen by up to 840%.
This is nothing new, we've seen it all before.

Bus-loads of Reds made the journey last to Kyiv last year due to the prices of accommodation and flights into Kyiv. However, they came back with great stories to regale and swollen ankles. Some, like myself, bit the bullet and paid through the nose for a day trip. Others found their way there via other European cities, spending nearly a week away.
And here we are again, in the same predicament.
Coach trips are being planned, as are trains in from the likes of Seville, Valencia and Bilbao via France, Belgium, Germany.
Many people who had hotels booked in advance have now had their rooms cancelled, only for the hotels to go and resell the rooms, knowing the going rate for that weekend is upwards of £1000 for a night.
A measly allocation of 16,613 each for Liverpool fans and Spurs fans does not even cover 50% of the stadium, which is the Wanda Metropolitano, which holds 68,000. The occasion is much to be celebrated by both clubs, and the men in charge want to fill the ground with their chums and associates who will be more interested in the crab platter they will be tucking into before the game and will no doubt be quaffing the finest champagne Madrid has to offer.
UEFA will drink in the atmosphere of fans around Europe to market the competition over social media and advertisements but when it comes to the biggest stage, they aren't celebrating the game, the final, the pinnacle of football. They are celebrating their financial and commercial successes over the campaign.
Adding to the confusion, greed and stupidity of UEFA's decisions is the fact that there is a bigger stadium in Madrid, the Bernabeu, which holds 81,000.
Fans who have gone to every home game in all competitions are set to miss out on the biggest game of the season, some being fans who have travelled across Europe on other people's season tickets/fan cards.
Those lucky enough to have tickets face paying anywhere between £60 and an eye-watering £500. Tickets are also being flogged on sites like StubHub for thousands of pounds. No doubt these tickets are part of the allocation UEFA give to their cronies, who are now latching onto an opportunity to make a profit out of fans.
Here we have fans emptying their pockets for the chance to see their team lift the biggest trophy up for grabs in club football, all at the expense of lining the pockets of the UEFA mafia.
Spirit of Shankly and Tottenham Hotspur Supporters' Trust have put out a joint statement calling an end to "cashing in on fan loyalty". Both groups set out the following objectives of putting caps on ticket pricing, transparency over allocation and consumer protection measures to halt prices being forced up exponentially, and to stop the practice of repricing existing deals.
The statement also says: "For many, the final is not a one-off event. It is the culmination of a season-long journey for fans, who have spent thousands of pounds already travelling to support their team, bringing the spectacle and atmosphere that is a key part of the game so prized by television."
The green-three-eyed monster that is UEFA, airline companies and accommodation suppliers have priced out most fans, all for their own benefit.
Chelsea and Arsenal fans face an even grimmer headache. Each club have been allocated 6,000 tickets in a stadium that holds 68,700. The final is being held in Baku, Azerbaijan, which is quite literally the arse end of Europe.
Jurgen Klopp said in his press conference ahead of the last league game of the season that the decision to have the final in Baku is "irresponsible".
The German continued: "Madrid is unbelievably expensive but who decides Baku for a European final? Or Kiev? I don't know what the people who decide these things have for breakfast."
But still, Madrid will be covered in a sea of red. Planes, trains and automobiles will get us there.
Are we stupid for giving in to the demands of the bureaucrats and lining their pockets? Logically, yes. A famous flag that follows the Reds around Europe states, 'Passion Beyond Reason'. That is the explanation as to why we do it. UEFA know this, hoteliers know this and Airline companies know this.