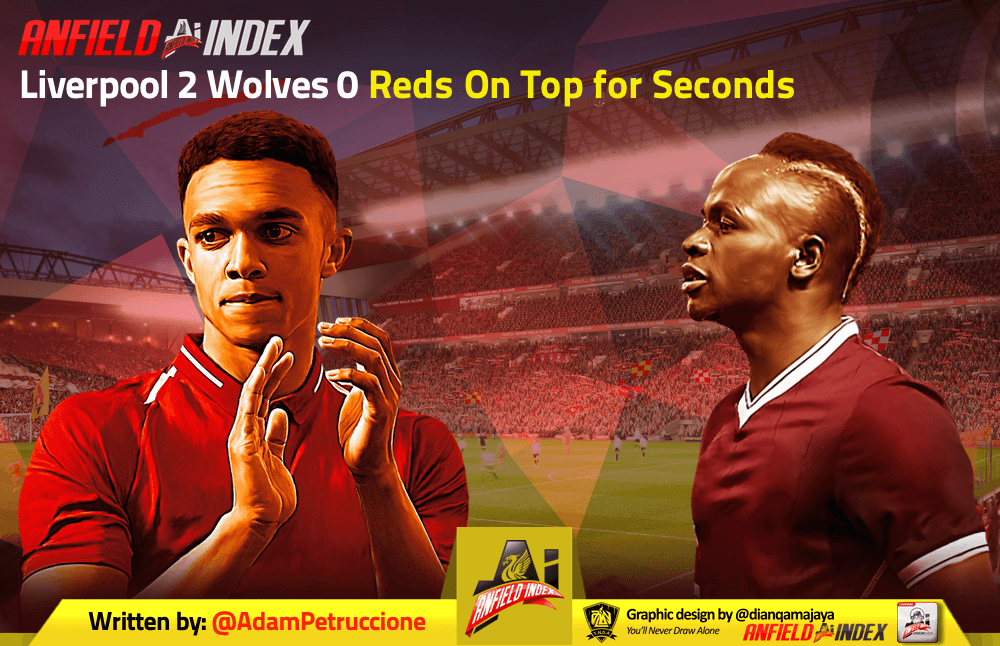 Liverpool 2 Wolves 0 - Reds On Top for Seconds
And then there was one. One last Sunday to say our prayers and hope Manchester City open the door for Liverpool. It had been eight straight wins since a 0-0 draw at Goodison left just enough slack for City to overtake The Reds. The consensus was then that we would have to win out. A win against Wolves would accomplish that, but City have not cooperated. The only pause in their pursuit of a four trophy season has been in the Champions League and perhaps we should be thankful for that.
Jurgen Klopp came out with a strong lineup, clearly having used abundant quantities of horse placenta on the injured limbs of Jordan Henderson and Andy Robertson. Divock Origi started up front, and the rest of the eleven picked itself.
The first moment of note was a gorgeous Matip overhead in the 3rd minute that found Origi who fired smartly, but right at the 'keeper from the right side of the box. Remember when Matip was just they guy Klopp would bring on for the last 30 seconds of matches?

Not long after that a cruel rumour spread throughout the ground that Brighton had scored. Surely that wasn't possible.
Anfield going mental, but Brighton haven't scored. As Carra says, God help the fella who started the rumour.

— Empire of the Kop (@empireofthekop) May 12, 2019
While onlookers were checking their phones, trying to figure out what was going on down south, Mané scored from the centre. A fortunate deflection from a Trent cross made it 1-0 with the score still 0-0 in Brighton.
The race for the league was on, he golden boot in play, Liverpool's assist lead up for grabs.
On 27 minutes a roar swelled up through the Anfield crowd as word spreads of a real, bonified Glenn Murray goal.
https://twitter.com/indigolfc/status/1127581536658837506?s=21
The ancient one combined with Gross to put Manchester City under serious pressure, but by the everyone had hit refresh, Kun Aguero had already equalized at the other end. Back to business against a game Wolves side.
https://twitter.com/sammcguire90/status/1127581202435706880?s=21
With Liverpool struggling to put Wolves away, City restored their spot atop the table with a goal from Aymeric Laport, an open header via Riyad Mahrez. Tough to appreciate what Liverpool are accomplishing, heading towards 97 points, the third highest total ever, while City are banging them in.
That may well be that. Quite the ten minutes or so there.

— Andrew Beasley (@BassTunedToRed) May 12, 2019
Oh god no! After a series of dummies from Wolves left Liverpool defenders all over the shop Doherty struck a ball sweetly from the right side. The rocket beat Alisson but mercifully glanced off of the bar and over.
As the whistle blew, Jurgen Klopp sprinted down the tunnel with the urgency of a man who still believed there was unfinished business to attend to in the season's remaining 45 minutes.
We're certainly not looking like The Reds are going to close the goal-difference gap on the final day, but if Glen Murray has another miracle strike in him Liverpool still have work to do to keep Wolves at bay.
The second half became more of a congratulatory send-off as word came through of more City goals, 3-1 and 4-1 through Mahrez and Gundogan. At least that allowed us to focus back on our incredible Reds. This wasn't a performance for the ages, more like some of those grind-it-out classics from earlier in the season.
The boys were still fighting though and there were still many individual honours to settle.
In the 81st minute, who else would combine for a goal, but Trent Alexander-Arnold and Sadio Mané? The assist gave Trent an even dozen on the season in the league, one ahead of Andy Robertson, tied with Eriksen and behind only Hazard and Fraser. The goal gave Sadio Mané 22 in the league, tied with Mo Salah and, after his brace today, Aubameyang. Mané and Alexander-Arnold have taken 2019 by storm after still impressive, but inconsistent starts to the season. Another clean sheet for Liverpool. Another clean sheet for Alisson and our incredible back line.
Sadio Mane and Mo Salah sharing the Golden Boot #LFC pic.twitter.com/dWR07jINBB

— James Pearce (@JamesPearceEcho) May 12, 2019
Have I mentioned United lost to Cardiff 0-2 to finish off their campaign? That's fun. They finish 31 points behind Liverpool.
The match ended with Van Dijk hitting the woodwork and Oxlade-Chamberlain coming on to thunderous applause. It's a strange one. Liverpool put in one of the best performances in the Premier League's history and will watch another club take home the trophy. So many things have been decided by fine margins. Goals that would have been with just a few millimeters worth of momentum. Penalties that should have been, but we've been fortunate many times as well.
Both Liverpool and Manchester City are poised to dominate again next season. Even with possible FFP sanctions, City can put up seasons like this without any additions to their squad. Liverpool will have to find a way to get over that last hump, artificially enlarged as it is.
On to Madrid where The Reds will face a Spurs team that struggled against Everton today in a 2-2 draw.
97 league points and a sixth Champions League title is still a possibility and that's still a helluva thing.
Up The Reds!
Anfield greets the end of a season in which Liverpool have bottled their way to 97 points. pic.twitter.com/4AHhDZ5PKg

— Rory Smith (@RorySmith) May 12, 2019