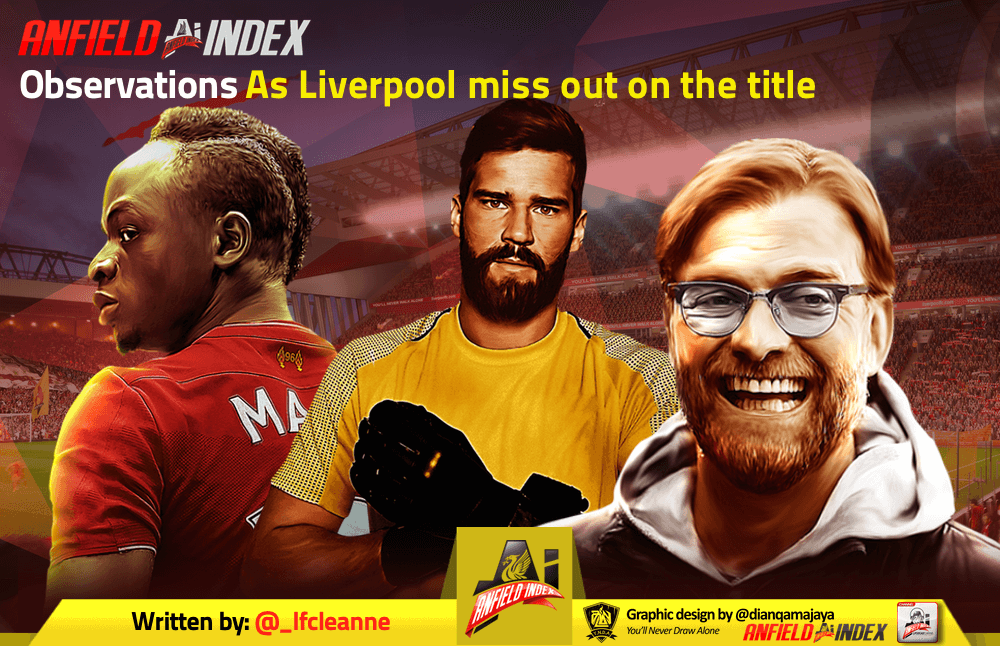 Observations as Liverpool Miss Out on the Title
This was grace in defeat, going down in the most beautiful way.
Liverpool pushed and pulled and forced their way to 97 points, they made City work for the title. Amassing more points than the Invincibles and any United side managed by Sir Alex Ferguson, there could be no shame in not winning the most coveted prize.
Sadio Mane signs out with a bang
A team encapsulating so many attacking riches, Sadio Mane has stood up to become No.1 so many times for The Reds. The forward, who was electric while Roberto Firmino and Mohamed Salah withered in the middle of the season, ensured he signed off his best season to date with a bang. Bagging two goals, he was a constant menace in and around Wolves' box, forcing the defenders out of position and creating space for those around him. The awareness and movement to finish off tidy chances typified what he has done all season.

It's the hope that kills you
For ten minutes, we were Champions. We had delivered, Glen Murray had scored and we had ended the 29-year wait. It was nothing more than this team deserved.
It was making the impossible possible all over again. This team continues to dazzle, continues to amaze as the balloons are thrown and the party starts in Manchester. A cruel way to end an unrivalled campaign, eyes will now fixate on another European final – another chance for silverware.
Alisson bags the Golden Glove
Few could've imagined he'd have this kind of an impact. While Virgil Van Dijk has rightly stole the headlines in a season where Liverpool's defence has transformed and their foundations look far steadier than what had come before, Alisson deserves huge credit for his part. 21 clean sheets over a 38 game season is a phenomenal record, but when you consider the manner of some of the saves it looks all the sweeter. The Jesse Lingard. The Andre Gomes. The Napoli save that keeps Liverpool in the Champions League. All huge, all season-defining moments.
The Brazilian represents the club's transformation since Kiev. Having overcome heartbreak, Liverpool have forced their way back to hold a seat at the table – one they look set to keep for the foreseeable future. His influence and awareness is a small piece of that puzzle, but an imperative one nonetheless.
We're going to Madrid
So much has been said about this record-breaking side and yet it seldom seems enough. It's impossible to put into words the amount of thrill they have delivered, the points tally amassed and the incredible journey undergone. Liverpool's trip to Madrid is now firmly in the minds – it never really left – and this side will have their chance to win the golden apple, to write their place in history for being the phenomenal, impenetrable side we've seen all year.
It's little more than they deserve. We're going to Madrid!