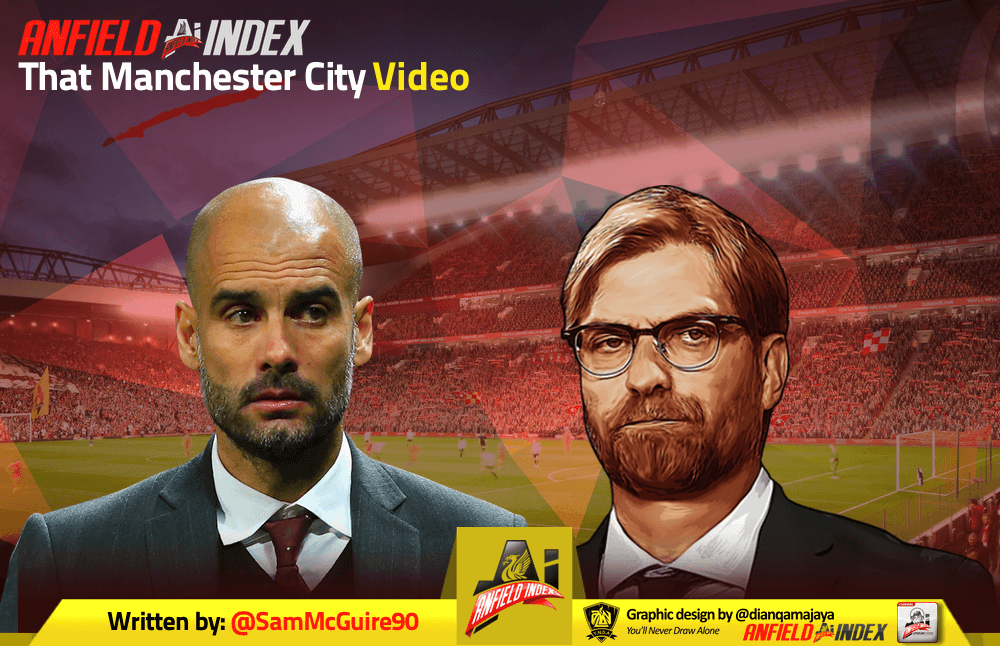 That Manchester City Video
I never used to consider myself to be a victim. But recent incidents have made me rethink that.
To put it bluntly, being a Liverpool fan means I'm treated differently. If I'm ever offended it's because I'm a victim. If I feel something is unjust I'm a victim. State an opinion someone disagrees with and, yep, you guessed it, I'm a victim.
It shouldn't be the case but I've almost become numb to it on social media. In the past, the victim shouts would trigger me. The Hillsborough comments would rattle me. But this is just how it is on Twitter and Facebook. People want reactions. Trolls clamber for retweets and likes. But because these shouts are now so overused, they simply no longer have the same impact.

This in itself is an issue. Can you imagine someone walking round in real life making jokes about 96 deaths? Yet social media gives people the anonymity and the confidence to do exactly that.
We've all come to expect it from fans or rivals clubs but hearing it from rivals players was jarring. The video of the Manchester City players singing their fans' version of Allez, Allez, Allez isn't something you expect to ever see the light of day.
These players are role models to the masses. The song they're singing references Liverpool supporters being 'battered in the streets'. It mentions a fellow professional being injured. It even mentions a phrase many associate with the Hillsborough disaster.  
Yes, they've just won the Premier League. They've had a bit to drink and they're in a celebratory mood. They're behind closed doors so allow their masks to slip. Allowing for all that, I still struggle to understand why exactly they opted to sing that song. Even if there's only a one per cent chance it manages to leak, is it worth the potential blowback?
It isn't a song you can randomly just start singing, either. Meaning that potentially wasn't the first time that group has sung it. They even went out of their way to change a part of the song to Vincent Kompany injuring Mohamed Salah as opposed to Sergio Ramos doing the deed. This subtle change means they know exactly what they're saying. Any claims of innocence go out of the window because of that.
City fans are adamant the 'battered in the streets' line is in no way connected to Sean Cox. The club even mention this specific line in their statement: 'Any suggestion that the lyrics relate to Sean Cox or the Hillsborough tragedy is entirely without foundation.'
Perhaps the most alarming part of that is that they didn't apologise. Manchester City, as a club, are giving off the impression that having their staff sing about fans being assaulted is fine so long as Sean Cox isn't namechecked.
Truth be told, it's hard to prove the chant is about him. But the connotations are there and you can't blame fans for immediately making that link. Likewise, the 'victims of it all' line is thrown in there as a dig about Hillsborough, regardless of what their fans claim.
Let's face it, the word 'victim' when levelled at a Liverpool fan is a dig. It's a jibe associated with what happened at Hillsborough and 99 per cent of football fans know this. It's why they're so quick to say it. They can act dumb, but football Twitter isn't averse to getting creative with insults. Yet the usual suspects are stuck on a shelf and the victim shout is given an airing whenever anything is linked to Liverpool.
I commented on the video yesterday and found Sheffield Wednesday, Leeds United, Aston Villa, Newcastle United, Arsenal, Tottenham Hotspur, Everton and Manchester United fans in my mentions calling me a victim amongst other things.
All because I felt players from the Premier League champions singing questionable lyrics was unprofessional. These same fans, however, are seemingly offended by the actions of Liverpool fans throughout the years.
They were quick to bring up the man pushing people into the fountain in Barcelona. Even quicker to justify the City players singing that song by bringing up what happened to the bus last season. Some mentioned Heysel. Some had screenshots of random Liverpool fans saying things they shouldn't be saying.
It'd be just as easy for me to find examples of idiot fans. I could claim City's bus deserved to be attacked because of how City fans acted at Wigan Athletic that time. But I wouldn't do that because I'm not an idiot. And that isn't the point anyway. The point is these are professional players singing songs that fans shouldn't even be singing in all honesty.
What would the reaction be if Liverpool players were caught singing a song about the Manchester City fan who was assaulted by Schalke fans? Or if they mentioned Kevin de Bruyne picking up an injury while joking about City's failure to get beyond the quarter-final of the Champions League? It's unprofessional and, because it's Liverpool, supporters of various clubs would combine to make sure we knew it. They'd then never let us forget about it.
Because the rules are different for us and will continue to be so. They have been for a long time now and the fact City don't have enough respect for us to acknowledge why this has caused offence means clubs now realise that too. They don't need to react normally because Liverpool fans are 'offended by everything and ashamed of nothing', right?