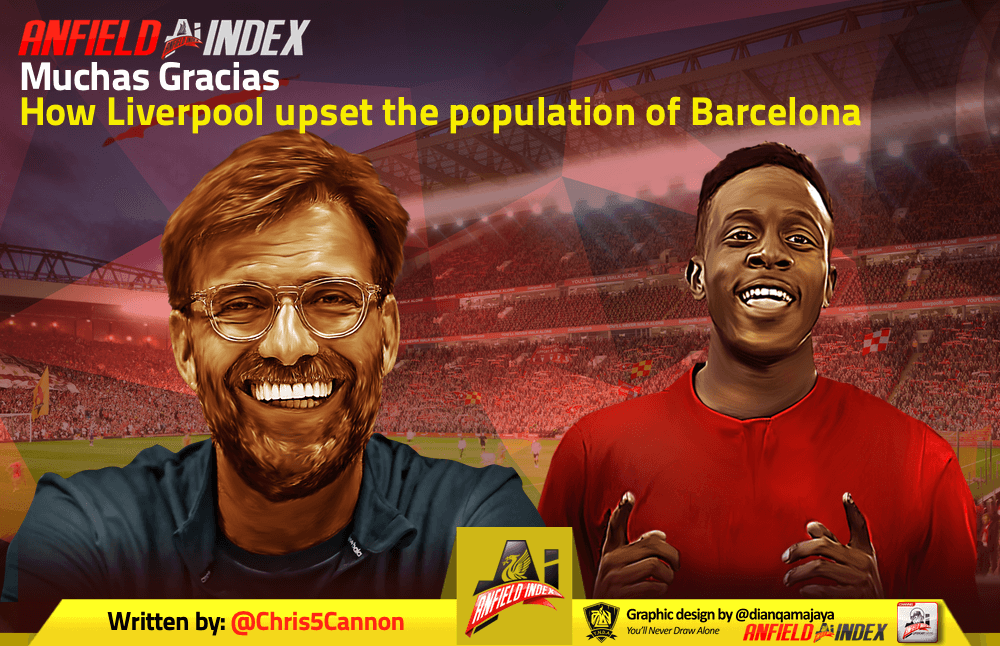 Muchas Gracias - How Liverpool upset the population of Barcelona
Three days after Liverpool emphatically turned around a three-goal deficit to reach the Champions League final, I arrived in Barcelona for a short trip still ecstatic from the result.
What I learned just moments after getting off the plane was that this result hasn't just hurt Messi and the rest of the team it's hurt a whole city. Getting into a taxi outside the airport the driver immediately noticed my Liverpool jersey before venting his frustrations in a Spanish slur.
The comments continued throughout that day in the city from unhappy locals, so much so that I decided to leave the Liverpool jersey in the suitcase for the rest of the trip. Barcelona have experienced many great nights over the years and when Messi mesmerised in the Camp Nou in the first leg of the tie many of the locals were expecting yet another Champions League final for this side.

Truth be told nobody gave Liverpool a chance to reach the final, many believed they would score, but there was also the constant argument that so too would Barcelona meaning it was nigh on impossible that the reds would progress any further.
However every now and then Anfield can produce special nights. This has been a constant for years and is something that Klopp has managed to carry on in his reign. This side have managed to build a knack of producing upsets when least expected, showing real character. A trait that had become so associated with the club in Brendan Rodgers' tenure is now one that is actually apparent.
Jurgen Klopp has taken massive amounts of criticism from opposition fans regarding the fact that he is yet to win a trophy in his spell as manager. But Liverpool fans know that there is no better man to be in charge of the club at this time and he has taken us right back to where we need to be as a club. Three successive top-four finishes, as well as three European finals in four years, is a feat that hasn't been achieved by any Liverpool manager for quite a while.
All this has been achieved with the club having a very low net spend but Klopp and Michael Edwards have carefully and precisely assembled this side. Despite all the fine work that has been done in the transfer market Liverpool entered the game without two of the preferred front three and also minus Naby Keita who had impressed in recent weeks. This was another hurdle that sucked belief from the fans, it was clear in the away leg at Camp Nou how badly Firmino was missed. Gini Wijnaldum was thrown into an unknown central role and just couldn't link the play or press in a manner as effective as Firmino. Mohamed Salah being forced out was an even bigger blow, the reds most productive player in terms of goals and assists and one who rarely misses many games.
One thing that has been evident in Klopp's time at Liverpool is that he pours belief into his team, and that's including the full squad. Divock Origi and Xherdan Shaqiri would have never expected to start the semi-final at Anfield but through injuries, Klopp had no choice but to give both the nod. Before the game, an optimistic fan would argue that Origi's pace could cause problems and that Shaqiri could provide a real threat with his wicked delivery. But realistically both are big downgrades on Salah and Firmino.
To the surprise of many Origi bagged two goals and Shaqiri an assist in a historic night in Anfield, one that won't be forgotten for years to come. And that was what seemed to anger the people of Barcelona the most. Liverpool were not at full strength, in fact, they were arguably three players off their strongest starting side. Barcelona knew that they would come as heavy favourites to go through, they knew it would be as good a chance to beat Liverpool over two legs as they were going to get. But they melted under the pressure and collapsed in the big occasion, the camera panned to Messi after the fourth goal who showed a look of shock and frustration and he was now the one mesmerised to how his side had managed to throw away a three-goal lead.
Hunger and passion didn't win this game for Liverpool though. It may have helped them along but it was the tactical astuteness of Klopp that got the side over the line. Firstly starting Origi off the left and Mane as the central forward was an excellent move as it allowed a lot of pressure to be taken off the Belgian front-man but also made Mane the key facet in this new look attack. And how well it did work with both players putting in tremendous shifts but also being effective where it mattered.
Another sign of Klopp getting things right was his handling of Shaqiri on the night. The powerful Swiss attacker had a poor first-half by his standards but came out a much more positive player after the break and mustered up a vital assist. Many managers would have taken him off at the break but Klopp persisted and showed belief in his player which eventually paid off.
Lastly, the decision to move Milner to left-back and bring on Wijnaldum was a masterstroke when the team looked hampered by the injury of Andy Robertson. Joe Gomez was an option at that time but Klopp went attacking minded and gave Wijnaldum a free role in midfield, unlike the one we have seen him play all season. The Dutch maestro said he was angry at the manager after the game for not starting him and he proved a point with another big game performance scoring two massive goals and helping the reds on to the Champions League final.
Few people would've believed it was possible to reach this far in the competition but it has become a reality. The journey to Madrid lies ahead and hopefully, we leave Spurs fans feeling the exact same way Barcelona fans feel now, shocked, frustrated and defeated.