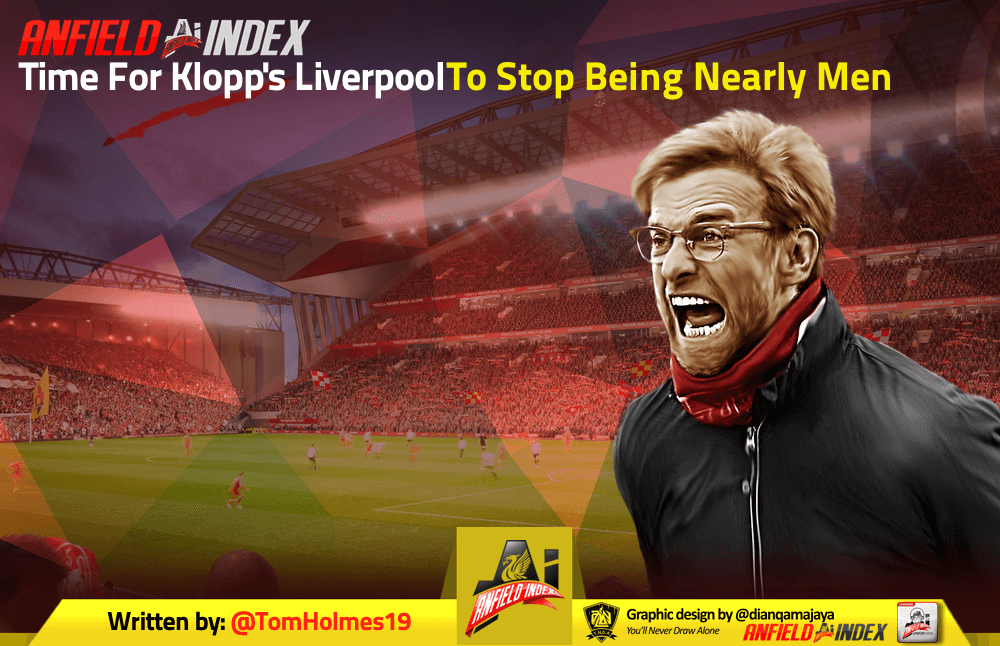 Time For Klopp's Liverpool To Stop Being Nearly Men
In Jürgen Klopp's first season as Liverpool manager, his team reached an excellent two cup finals, losing the League Cup final on penalties to Man City, before throwing away a 1-0 lead at half-time to Sevilla in the Europa League final, a competition that included sensational wins over Man United, Villareal and most notably Borussia Dortmund.
Now at the time, and certainly with hindsight, Liverpool fans certainly felt that these cup finals were the Reds ahead of schedule, and not finals that the Reds had any right to be in. Klopp was getting every inch out of his squad and reaching two cup finals before he'd had a summer window to improve the squad was a testament to his ability as a manager.
Over the last three and a half years, Klopp has improved every aspect of this Liverpool team. But there have been some really exciting moments along the way, moments where the Reds have really shown what they are capable of.
And yet, when Liverpool reached the Champions League final in Kiev last year, once again it felt like we were a step ahead of where our development indicated we should be. We weren't yet ready to challenge for the Premier League title or top silverware, and yet Klopp led the Reds to a Champions League final, only to be valiantly and frustratingly beaten by one of the best Real Madrid sides of all time.
Not that that stopped the narratives of course. Liverpool are bottlers. Klopp can't win cup finals (Klopp's final record is notoriously bad but not without serious mitigations to be made). Liverpool haven't won anything.
It seems baffling, but I had a long conversation with a Man United fan a few months ago about whether Klopp needed to win a trophy this season, and what would happen when we didn't win anything (when from his perspective). And for me, in the middle of the best Liverpool season in my lifetime, it just seemed like an odd question.
But that has been what has raged on all season. No matter how well Liverpool were doing, no matter where they were, the question of what happened without a trophy hung. Even a month ago, when we were in with a serious shot of the double, the questions were still being asked.
Now I understand the modern obsession with trophies has consumed all else, and Liverpool are a club with a long, deep and rich history, as well as millions of fans of other clubs wanting to stick the knife in, but the relentless onslaught of garbage around Klopp needing to win a trophy has been senseless.
And yet, here we are again. The Premier League season is over, and Liverpool once again under Klopp found themselves falling just short. That's not a criticism since I personally don't think we could have asked for any more and definitely couldn't have expected any more than the 3rd best Premier League points tally of any club, and easily Liverpool's best league campaign since they last won it. But it is a fact.
There can be no denying that City are superlative and possibly unbeatable. Liverpool will go again next year for sure and give another sterling account of themselves, fuelled with a terrific young team that has done nothing wrong for the last twelve months, and led by a manager who has revitalised a dying football club.
But then there's the small matter of the Reds' second Champions League final in 12 months. To reach back-to-back UCL finals is a terrific feat, and as sure a sign as any of Liverpool's return to the top of European football. But to be blunt, the excuses are gone. The Reds are no longer punching above their weight, they're no longer a step ahead of their development.
Liverpool need to win.
It's genuinely amusing that every other team in Europe wants what Liverpool have, a Champions League final. Juventus, Barcelona and PSG could all lose their managers having failed in their pursuit, whilst Bayern haven't been in a final in 6 years and Man City haven't ever, despite it being what they hired Pep to win.
And whilst to an extent, it won't make up for the disappointment of not winning the Premier League, there's no denying that securing Number 6 in Madrid would certainly shut all the talk of Klopp not winning anything up for at least a few minutes, though probably not more than a day or two.
Nevertheless, whilst I'm not particularly bothered about the narrative, or the social media idiots, or even the disgusting chants that the Man City team themselves have engaged in, what does bother me is that this club wins trophies. It's a club that needs to win trophies. Klopp has done an incredible job at this club and built Liverpool into a position where they look like they can start to enjoy their best period of performance for decades.
But now that Klopp has put us in that position, it's time to start delivering. He will, of course, sooner or later, but I think that the sooner is now. Playing Spurs in the final, a team that Liverpool have done the double over this season and know how to beat means that there are no excuses that we're playing a team we can't be expected to beat, and no reasoning that this team are slightly ahead of where they should be.
This is where Liverpool belong. And it's time to prove it. It's time to stop being nearly men. It's time to win a trophy under Klopp.