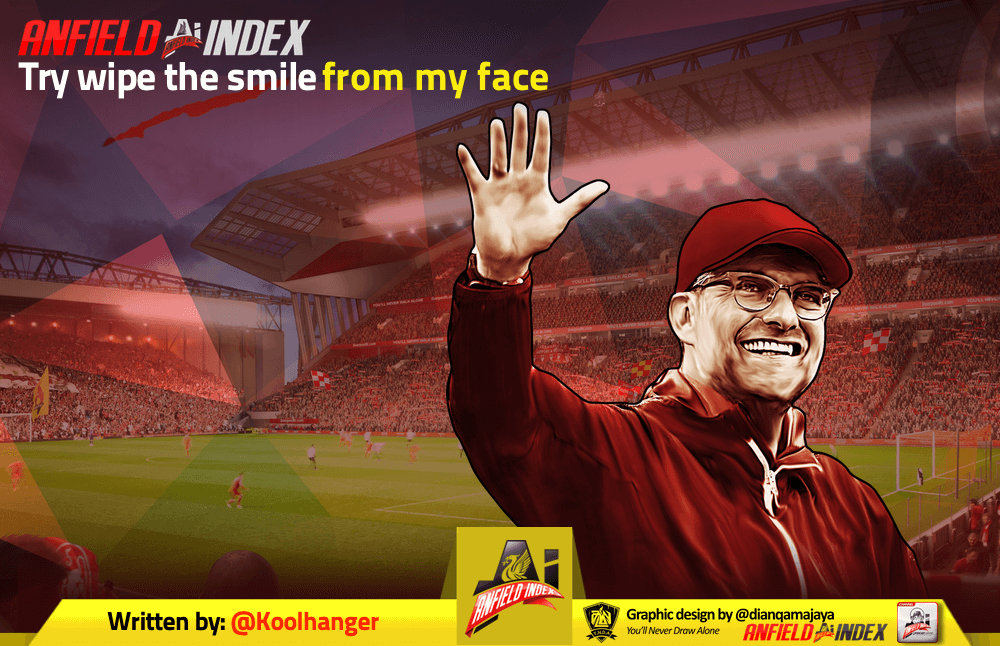 Try wipe the smile from my face
Grinning at the wall as I stand at a urinal. It's the litmus test for happiness – male happiness, at least.
Not only was I trying to engage the lavatorial tilework in a joyous staring contest, but I was also making eye-contact with other men in this den of iniquity – trying to engage them in conversation about a football match. That's unheard of, in my life, at least. It's normally a case of getting in, doing what I've got to do, and getting out. The less human interaction, the better. Yet, this pub toilet – "restroom" is far too posh a word for where I found myself – bore witness to my cheer.
It was the night of Tuesday, May 7th and I wasn't the only Liverpool fan on this blue planet of ours who forgot every worry he had in the world. For the hours, no, days, following The Reds' 4-0 trouncing of Barcelona, everything was a-okay.
The following Sunday, we watched as our team kept their part of the bargain with a win over Wolves. Unfortunately, Brighton, despite going in front, failed to uphold the 'contract' I had created in my head. Manchester City were crowned Premier League champions again.
It was another title challenge in which Liverpool had come up short – just.
In 2008/09 and 2013/14, we recited the 'always the bridesmaid' lark because that's what we believed, and rightly so at the time.
Rafa Benitez couldn't work to his full potential under the Hicks & Gillett nightmarish regime and Liverpool limped to 7th in the season following that 2009 challenge.
Luis Suarez disappeared to Camp Nou in 2014 after taking a chunk out of Giorgio Chiellini at the World Cup finals in Brazil that summer. With him went Brendan Rodgers' side's attacking verve and unerring self-belief.
Now, though. Now it's a different story at Anfield.
This is a club being run smartly within its means by Fenway Sports Group with talent-spotters and data analysts like Michael Edwards behind the scenes.
Not only that but Liverpool also have their most charismatic and confidence-instilling manager at the helm since Bill Shankly. Jurgen Klopp isn't making any noises like he's leaving either.
Teams fear Liverpool – teams and their fanbases. No other club dominates the Twittersphere like The Reds. They hate Liverpool Football Club because we're a threat again.
As someone pointed out on the tweeting platform a couple of weeks ago, Liverpool's best starting eleven, when all are fit, has a younger average age than that of Ajax. Yes, a younger team than the youthful Amsterdam side who won us all over as they progressed in the Champions League this season.
Jurgen Klopp's mighty Redmen entertained us this season, as they did the season before, and for some of the season before that too. And they're not going away like Rafa's or Rodgers' Reds.
These men have made it to two Champions League finals in succession while closing the gap between City and us from 25 points down to just one.
One solitary fucking point. Just one defeat all season but it was one too many as it turned out. Our defeat to City at the Etihad meant that one point, one place, one defeat, was enough to ruin our title hopes. So, there's frustration – 100%. There's enough frustration to fill a warehouse. But there's happiness, happiness and optimism. And yes, as sick as I am of hearing that "doubters to believers" quote Herr Klopp made in October 2015, he really has done just fucking that.
These players believe and know they're good enough for glory now. They know. This team unit is a different animal to anything we've seen at Anfield for many years, even decades.
Us fans believe, too. I went to the pub on May 7th, with my team 3-0 down to Lionel Messi's Barcelona, and I didn't feel the tie was over yet. That's not the right way to be, surely? If it's the hope that kills you, then I've been dead a long, long time. But it was right. It was so right.
Klopp's Reds are going nowhere. Trophies will come. Starting in Madrid on June 1st.