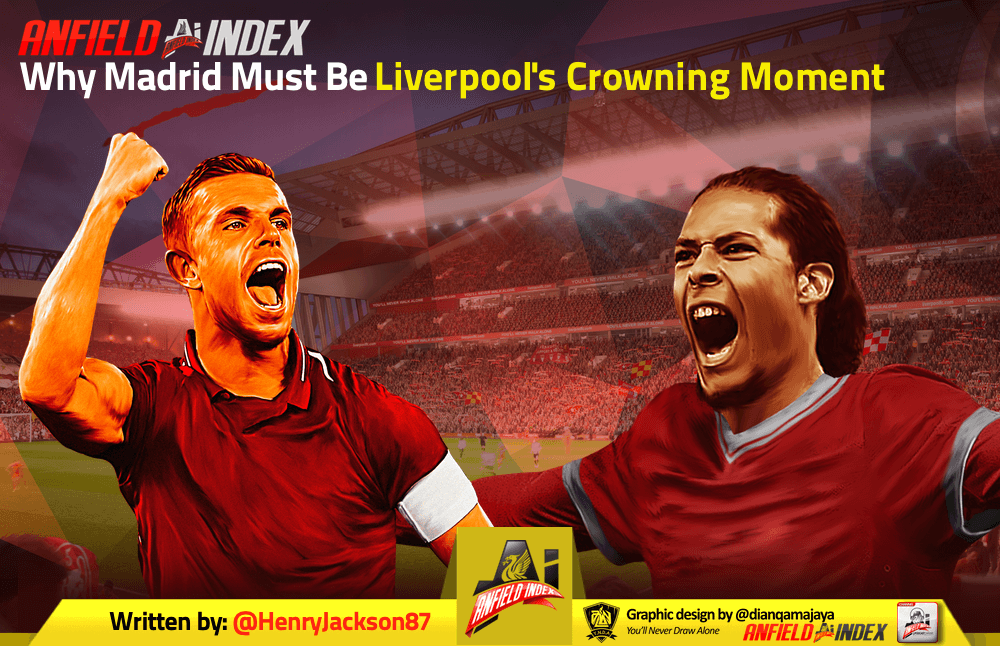 Why Madrid Must Be Liverpool's Crowning Moment
This Liverpool team has to be remembered.
This has been the main thought going round my head in recent weeks, during what has been one of the most emotionally draining seasons in memory.
For anyone under the age of 40, I doubt I'm alone in saying a Reds side hasn't felt this special before – none have left you feeling so connected and in love with it.

There have been some top class teams since the glory days, but this bunch, whether it be Jurgen Klopp, his collection of talented, likeable individuals or the rich playing style on show, puts them a cut above the rest.
Missing out on the Premier League title to a once-in-a-generation Man City side is nothing to be ashamed, and unfortunately, Sunday's action had a horrid feeling of predictability about it.
There was that bizarre one-minute spell between City going behind at Brighton and Sergio Aguero swiftly equalising that saw heads fall off, but it never felt like Liverpool's day in the sun.
To even get that close was an admirable effort, though, considering Pep Guardiola's men won the title by 19 points last season, and have got no worse.
Fortunately, the miracle that occurred against Barcelona the previous Tuesday has left Liverpool with another pop at glory, as they look to clinch club football's biggest prize.
Anyone who knows me or has read past work of mine will know that the 'winning is all the matters' and 'trophies are everything' brigade drive me to distraction.
Both are hugely important aspects of football, but seasons can still be successful and noticeable progress can be made without lifting a piece of silverware during the campaign.
As a random example, were Arsenal really better when they won three FA Cups in four years during the end of Arsene Wenger's reign, compared to when they went trophyless between around 2005 and 2009 and were challenging for league titles?
Did their fans really enjoy the latter period more, just because they won an increasingly meaningless trophy a few times in a short period?
I have my doubts.
Despite winning being far from everything, the upcoming Champions League final against Tottenham is the most Liverpool have needed a trophy since Klopp took charge. It feels like the most pivotal game of his tenure.
It would be a travesty if the season came to an end and such a wonderful side were swiftly forgotten about by the footballing community. That's where major trophies do help – they stick in the mind and cement your place in history.
And Liverpool deserve to go down in history as one of the best Reds teams of all time. It is sometimes easy to be romantic and assume past teams were better, but this lot are the real deal. Not many to grace the Anfield turf have been superior.
To acquire 97 points in the league – more than 116 of the previous 119 English champions – and reach a second Champions League final in a row, only to fall short, would feel deeply unfair.
You would have to start wondering if the Reds really did use up all their luck in Istanbul 14 years ago.
The main reason for winning in Munich being so crucial, however, is because of the effect that defeat could have in a psychological sense.
Liverpool have only won one trophy since lifting the 2006 FA Cup, which was a penalty shootout victory over Championship-playing Cardiff City in the 2012 League Cup final. It's not a good look.
If you want to feel really bleak about it all, the Reds have lifted silverware once since Trent Alexander-Arnold was seven years of age.
There is no hiding the fact that trophies must start returning to Anfield, especially for Klopp, who is doing a wonderful job but will know full well that Liverpool managers are ultimately judged by winners medals.
He, as much as anyone, needs to win a final, too.
It's now six defeats on the spin in showcase events, with three lost at Liverpool, against City (League Cup), Sevilla (Europa League) and Real Madrid (Champions League).
Clinching glory against Spurs would be the most almighty monkey off Klopp's back and it would surely pave the way for more trophies coming at a steady rate for the rest of his tenure.
As for the players, the majority tasted the agony of losing out in Kiev last season and the thought of experiencing another crushing blow doesn't bear thinking about.
There is added pressure, too, because Liverpool are the clear favourites this time around, having earned 26 more points in the league than Spurs, beating Mauricio Pochettino's team 2-1 home and away.
The Reds feel like they have it all to lose, which while a horrible thought for any supporter, is the brutal truth.
Not winning the title felt hard to take but there was also a feeling of 'what more can you do?' about it all. Sometimes, you simply come up against a remarkable football team.
But there can't be any excuses if Liverpool fall short this time. The mocking that will be aimed in their direction would be more merited than usual, even though getting to another final is a great effort in itself.
This is the moment that could define this Liverpool outfit, one way or another.
Losing won't break it and lead to them falling down the Premier League table next season, but so much belief would be lost and the drought would go on.
This season has been so special, due to the unbelievable consistency shown by City and Liverpool, and if there is any justice, they should both finish the season with a major trophy apiece.
City have done their bit, now it's down to the Reds. There has to be something to show for these unforgettable last nine months.
A defining night in Madrid awaits – winning will catapult Liverpool to another level, but losing would make for a summer of despondency.