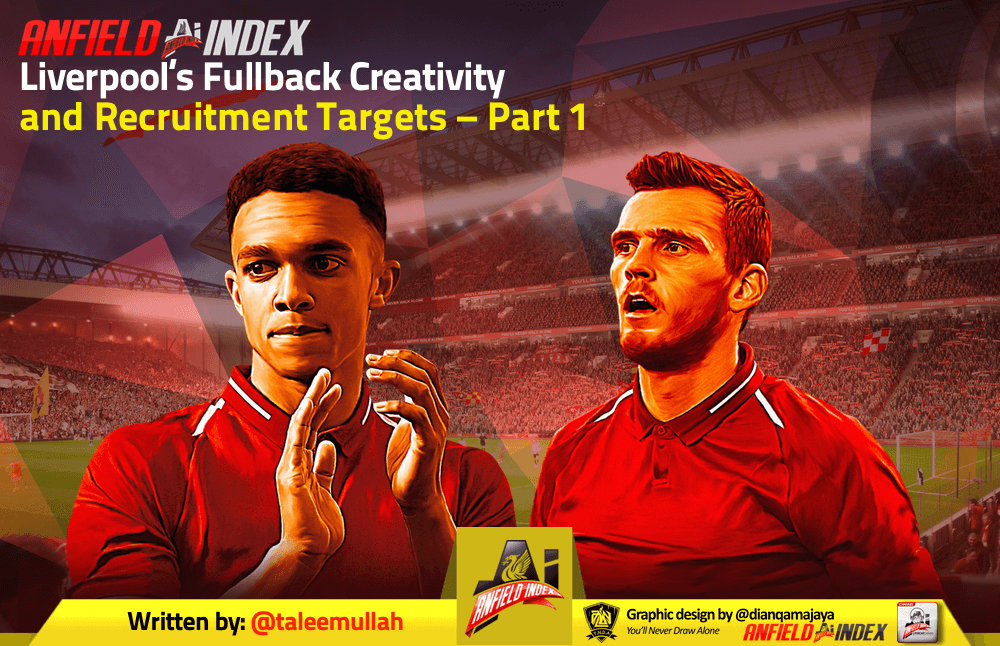 Liverpool's Fullback Creativity and Recruitment Targets – Part 1
Liverpool's Fullback Creativity and Recruitment Targets – Part 1
An analytical deep dive to profile Liverpool's fullback creativity and answer the question – is it sustainable?
This season, Liverpool consistently lacked a midfield set-up that tasked a player to be a high performing creator and goal threat. That meant the absence of a midfielder to carry the ball past defensive lines, complete creative passes into the box and take dangerous shots from inside the box, all at a high level. This is because of significant injuries to Oxlade-Chamberlain (posterolateral corner) and Keita (thigh, back) and absences due to training time spent integrating midfield players such as Keita, Fabinho and Shaqiri, into our pressing system. Due to injury and likely an unsuitable skill set for Klopp's evolving team, Lallana has not been a valid solution throughout the season. With only 10 goals and 9 assists from open play from our midfielders, how did we compensate?
We saw a greater reliance on set pieces for goals. Liverpool ranked first in the EPL with 20 set piece goals, overperforming their set-piece xG by over 5 goals and being +9 on the previous season. Historical trends show this unpredictably fluctuates season to season but Liverpool will hope the mercurial dribbling of its front 3 in the box, new set piece threats (van Dijk, Alexander Arnold and Shaqiri) and set-piece coaches (e.g. throw-in coach, Thomas Gronnemark) will mean they execute more shots on direct freekicks, create chances from throw-ins and exploit spaces of defensive weakness on attacking corners. Shot models may understate set piece value if it is structurally important to a team's attack but sustainability is yet to be achieved in the EPL.
In open play, we saw Liverpool double down on 3 key methods of creativity:

The consistent elite front 3. Firmino, as the complete false 9, continued to interlink attacking moves with his dribbling and passing in the half-spaces and opposition box. He scored a variety of goals and forged space for the individual brilliance of inverted forwards Salah and Mane to create or score at an elite clip.
Ongoing use of aggressive group counter-pressing to turn possession wins into transitional shots on target and set-piece situations to threaten from.
Increased creativity from overlapping fullbacks using dangerous crossing deep in the final 3rd to score and high risk vertical passing from wide midfield to liberate the front 3.
The first two dot points are not new. But the enhanced creativity from Salah as a central forward, matched by Mane's goalscoring resulting in a career-high, is a nice permutation of the dynamic. Moreover, a general trend in increased pressing efficiency and gegenpressing leading to shots has been backed by @AIUnderPressure's data – and player radars show the impact of Keita on this as he has become a relayer and defensive presser while Fabinho has become a more purist destroyer.
However, the third dot point is new for Liverpool under Jurgen Klopp. So how do Liverpool's fullbacks profile and how do they use them?
Liverpool's fullbacks share inherently great athleticism, are highly coachable and are lethal crossers. Together, they have learned to quickly recover and defend in transition, participate in group pressing and challenge dribblers or passing options out wide in a medium-to-low block. Both advance the ball forward quickly. Robertson is an outlet who drives with the ball into the opposition half or box during counter attacks or as the free 3rd man after sustained passing plays. In contrast, Alexander-Arnold is more ball-playing and can execute short, tight passes or dribbles during build-up play in the central right and far right areas around the halfway line or when trying to penetrate the box from the right halfspace. He's also far more prodigious at switching play and playing incisive vertical passes in-towards midfield or down the wing.
Robertson creates chances by either taking up free crossing and passing areas in the left halfspace, sometimes as Mane or Firmino drop deep, or by making penetrative runs into the left-hand side of the opposition box where he can provide a low cross. Alexander-Arnold is much more involved in wide right and inside-right build-up play with other midfielders and Firmino, playmaking in transition and staying wide right to provide a dangerous crossing outlet in all situations and areas in the final 3rd. As they advance, Robertson is covered by the left-sided midfielder and Alexander-Arnold is covered by the right-sided centre-back and both are covered by the counterpress and Fabinho.
They rarely take shots on target (Robertson's 0.1 p90 versus Alexander-Arnold's 0.3 p90) and do not dribble past players frequently (Robertson's 0.8 dribbles p90 @ 62 per cent success rate versus Alexander-Arnold's 0.5 dribbles p90 @ 50 per cent success rate). Neither are dominant in the air but in reconciling on-ball defensive actions (tackles won, interceptions and blocks), they are both similar and respectable with 4.3 and 4.4 actions per 90 for Robertson and Alexander-Arnold respectively, as per data from WhoScored.
Furthermore, from the excellent articles written by StatsBombs' data analysts James Yorke (@jair1970) and Derrick Yam (@YAMiAM9), we gain a better appreciation for Liverpool's passing and how our fullbacks fit into this. Liverpool ranked first in the EPL at the number of high passes made into the box at more than 18 per game, with a completion rate between 25 and 30 per cent, and their fullbacks rank highly in terms of completing unique passes p90 based on a model that values "short passes high in the air or high passes into strange areas on tight angles, long ground passes whipping across the pitch and low driven passes on interesting angles." These passes are also much harder to complete.
To compare the two players' crossing for Liverpool in the league this season, I've created graphs below based on data from WhoScored.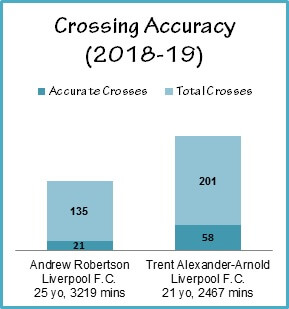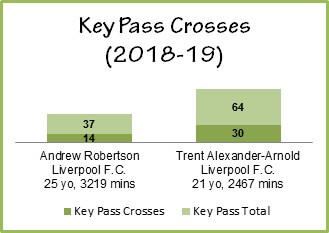 Alexander-Arnold is the higher volume crosser and higher accuracy crosser. His accuracy is 28.9 per cent versus Robertson's 15.5 per cent on 66 more attempts, though it is worth noting that both players were in the top ten defenders in the league for cross attempts. Given the above, it isn't surprising that there is a stronger bias to crossing being a larger proponent (46.9 per cent) of Alexander-Arnold's key passes that lead to shots compared to Robertson's (37.8 per cent). However, you could argue that Robertson is the more dangerous or opportune crosser as 66.7 per cent of his crosses result in shots on goal compared to Alexander-Arnold's 51.7 per cent.
So how does this manifest in the important element of output? Utilising personally collected data and data from Understat and WhoScored, I've collated an output table for our fullbacks.
Looking at the league only, Robertson outperformed the model to finish with 11 assists – of these, there were 4 cross assists with another 2 cross assists in the Champion's League. Final tally – 13 assists. Alexander-Arnold outperformed the model significantly to finish with 12 assists – of these, there were 4 cross assists with another 3 cross assists in the Champion's League. Final tally – 16 assists. The 2nd placed player in both xA and xA p90 was Lucas Digne of Everton. To put this in context, across the top 5 European leagues, only Joshua Kimmich at Bayern Munich was better (xA 11.21, 10 assists, xA p90 0.40) and only two others were comparable in Jordi Alba at Barcelona (xA 7.24, 8 assists, xA p90 0.24) and Danilo D'Ambrosio at Inter Milan (xA 5.61, 5 assists, xA p90 0.22). That is a testament to our system of attack and our fullbacks' abilities to execute in this system. Reconciling xGChain and xGBuildUp p90 numbers only tells us that our fullbacks are heavily involved in our better-attacking moves but these models do not give a good sense of a player's individual creativity.
Goals scored from crosses are the ultimate reward. These can occur from various types of crossing styles and situations and our fullbacks were hugely influential to that process. Compared to any other team in the league, Liverpool scored the most headed goals (19) and at a higher clip (0.5 p90) with 9 of these from open play. Of the 9 headed goals scored from open play, 6 of these were assisted by Robertson and Alexander-Arnold who provided 3 each. Mane topped the list scoring 6 headed goals (5 from open play), Firmino scored 4 headed goals (3 from open play), van Dijk scored 3 headed goals (0 from open play), Origi scored 2 headed goals (0 from open play) and Matip, Fabinho, Wijnaldum and Keita scored 1 headed goal each (with Keita's the only one being from open play). To add to this, I've broken down all of Robertson's and Alexander-Arnold's assists this season to get a qualitative understanding of their crossing versus non-crossing assists and the headed and non-headed goals they have provided. I've then subjectively rated their sustainability on a case by case basis.
Here they are.
Trent Alexander-Arnold's Assists (2018-19 Season): 
  (Southampton @ Home). High corner kick to Matip's head. Unknown sustainability.
  (Fulham @ Home). Receives a quick throw from Alisson. Plays a vertical, low, bouncing pass from inside own half on the right-hand side of the pitch, during a counter-attack. Pass is to Salah who dribbles infield to the centre edge of the box and scores smoothly. Sustainable.
  (Newcastle @ Home). Low cross from deep inside the right-hand side of the box to Shaqiri who finishes easily with his left foot. Sustainable.
  (Watford @ Home). High cross from wide outside the box to Mane's head, in space between the centre-backs. Unknown sustainability.
  (Watford @ Home). Medium height cross from right halfspace to the centre of the box, bypassing the defensive offside trap. Mane makes a straight run, controls and backheels to score. Unknown sustainability.
  (Watford @ Home). High freekick to van Dijk's head from wide right outside the box. Unknown sustainability.
  (Southampton @ Away). Collects a previous medium-height cross played by Robertson behind the defensive line to Salah who misses a diving header. High cross finds Keita's run and his head – delivered from very deep at the byline outside the box. Sustainable.
  (Porto @ Home). Makes run made deep into the right-hand side of the opposition's box. Low cross played to Firmino's right foot behind the defensive line for an easy finish. Sustainable.
  (Porto @ Away). Receives ball just inside opposition half on a counter attack. Plays a flat and incisive through-ball from right-side of midfield towards central area just outside the box to Salah who finishes smoothly. Sustainable.
  (Cardiff @ Away). Low bouncing corner kick to find a free, approaching run from Wijnaldum who finishes smoothly with his right foot. Unknown sustainability.
  (Huddersfield @ Home). Long and high vertical pass from right-side halfway line is played over the defensive line as Salah makes a run to meet it at the right-hand side of the box. He chips over keeper first time. Sustainable.
  (Newcastle @ Away). High corner kick to van Dijk's head. Unknown sustainability.
  (Newcastle @ Away). High cross from deep to Salah's feet to finish with right foot low volley from the centre of the 6 yard box. Unknown sustainability.
  (Barcelona @ Home). Group counterpress regain. Plays a flat, bouncing cross to pick out Wijnaldum's run. It takes a slight deflection but he is able to sidefoot it under the keeper's dive. Sustainable.
  (Barcelona @ Home). Bouncing quick corner kick to Origi who tucks away a difficult right foot first-time finish. Unknown sustainability.
  (Wolverhampton @ Home). One-two passing move with Henderson. Plays a low bouncing cross from wide right just outside the box's midway point to Mane's right foot and he finishes smoothly. Sustainable.
Andrew Robertson's Assists (2018-19 Season):
  (West Ham @ Home). Low cross from deep in the left-hand side of the box to Salah's left foot after fast transition, vertical passing move. Sustainable.
  (Leicester @ Away). Holds off 1st defender, nutmegs 2nd defender, short flat pass to Mane's feet from wide left edge of box for him to touch-control once forward and finish strong with left foot. Sustainable.
  (Paris Saint-Germain @ Home). High cross from wide left in front of the box to Sturridge's head, in space between the centre-backs. Unknown sustainability.
  (Red Star @ Home). Makes a run to the byline just inside the left-hand side of the box. Plays a low, flat cutback cross/pass to Firmino who controls to his left and finishes with his left foot. Sustainable.
  (Fulham @ Home). Failed corner from the opposite side. Back pass received from van Dijk near corner flag. First time high cross from wide left near edge of the pitch. Cross to Shaqiri with first time left foot finish on volley. Unknown sustainability.
  (Man City @ Away). Makes run deep to left-hand side of box near byline just wide of the keeper's post. Receives long diagonal switch from Alexander-Arnold. First time volleyed, angled pass to far post for Firmino's diving header. Sustainable.
  (Crystal Palace @ Home). Fantasy assist. Receives long throw from Alisson after making run into opposition half unmarked. Plays one-two with Mane at 10-15 yards inside the opposition half before falling over. Mane does the hard work with a long dribble from outside to inside the box to finish. Unknown sustainability.
  (Bournemouth @ Home). Group press from Robertson and Mane on Ibe dribbling backwards to find space but he turns possession over from wide left outside the box. Robertson receives short pass from Mane and plays a quick cross to Wijnaldum making a run to the left-hand side of box. Chips over the keeper. Sustainable.
  (Watford @ Home). Fantasy assist: Plays pass from the left halfspace to Origi at the wide left area next to the side of the pitch – Origi dribbles past defender, continues dribble holding off defender towards inside left-hand side of box – curled low finish. Unknown sustainability.
  (Watford @ Home). After a failed set piece situation, Robertson and Henderson are still stationed at left-hand side half space and he plays a high cross to van Dijk's head. Sustainable.
  (Tottenham @ Home). High cross from left halfspace to Firmino's head, in space between centre-backs. Unknown sustainability.
  (Huddersfield @ Home). High looping cross from wide left outside of the box to Mane's head, in space between the centre-backs. Unknown sustainability.
  (Huddersfield @ Home). Robertson makes a run into the left-hand side of the box behind the defensive line and receives a through-ball from Shaqiri who plays it from the left halfspace. Plays a low flat cross on the ground to Salah for a left-footed tap in. Sustainable.
Summary:
This season, Liverpool's creative midfielders faced extended spells on the sidelines due to 1) injuries and 2) time spent on tactical integration to improve our pressing, defensive solidity and ball movement. This placed an unprecedented emphasis on wide creativity from the fullbacks via unique passing plays in offensive build-up, overlapping runs deep into the final 3rd, crossing low and high in great volumes from the wide areas of the opposition box and halfspaces, and in Alexander-Arnold's case, contributing to set piece goals. In terms of attacking output, Robertson and Alexander-Arnold can boast being in the top 5 defenders in Europe with a large proportion (61 per cent) of their assists coming from crossing. Mane and Firmino have played a crucial part in scoring headed goals from open play, with van Dijk leading the team on headed goals from set pieces. Subjectively, 15 of their 29 total assists (52 per cent) appear sustainable with the remaining 14 being of unknown sustainability due to low sample size and situational unpredictability. As a result, Liverpool should continue to work on open play crossing moves, offensive corners and crossing freekicks to make them a sustainable source of goals, but, may very well require their creative midfielders to contribute a minimum of 14 assists to the team to cover for a potential downturn in their fullbacks' output next season.
Reports from journalists Paul Joyce (The Times) and David Ornstein (BBC) seem to suggest Liverpool will not be looking to sign as many first-team players this coming window, despite the club making record profits that will allow them to expand their wage bill and transfer outlays.
At left back, Moreno is set to leave after his contract expires and Robertson played a very high level of minutes with minimal rotation or rest. There is a vacancy for a rotation left back, further backed by Milner being increasingly relied upon in central midfield and at risk of soon leaving the club in his career's twilight. At right back, Camacho has emerged as a transfer target for Sporting Lisbon and may be unhappy in that role as a self-proclaimed winger. Although Hoever has made a promising step up to the first team development squad and Joe Gomez can fill in for Alexander-Arnold, uncertainty in their quality and reliability remains. In Part 2, I'll outline potential recruitment targets who can meet our depth needs and tick boxes on the club's philosophy, eye and analytics tests.
References:
1. Yorke, J. 2019. An Overview of Pass Heights In the Premier League, English Football League and Scottish Premiership. StatsBomb. 15th May 2019. <https://statsbomb.com/2019/02/an-overview-of-pass-heights-in-the-premier-league-english-football-league-and-scottish-premiership/>.
2. Yam, D. 2019. Modelling Passing Uniqueness. StatsBomb. 15th May 2019. <https://statsbomb.com/2019/04/modeling-passing-uniqueness/>.
3. Understat. 2017. xG stats for teams and players in the TOP European leagues. 15th May 2019. <https://understat.com/>.
4. WhoScored. 2019. Football Statistics. 16th May 2019. <https://www.whoscored.com/Statistics>.
5. Liverpool FC. 2019. Videos. 16th May 2019. <https://www.youtube.com/user/LiverpoolFC/videos>.