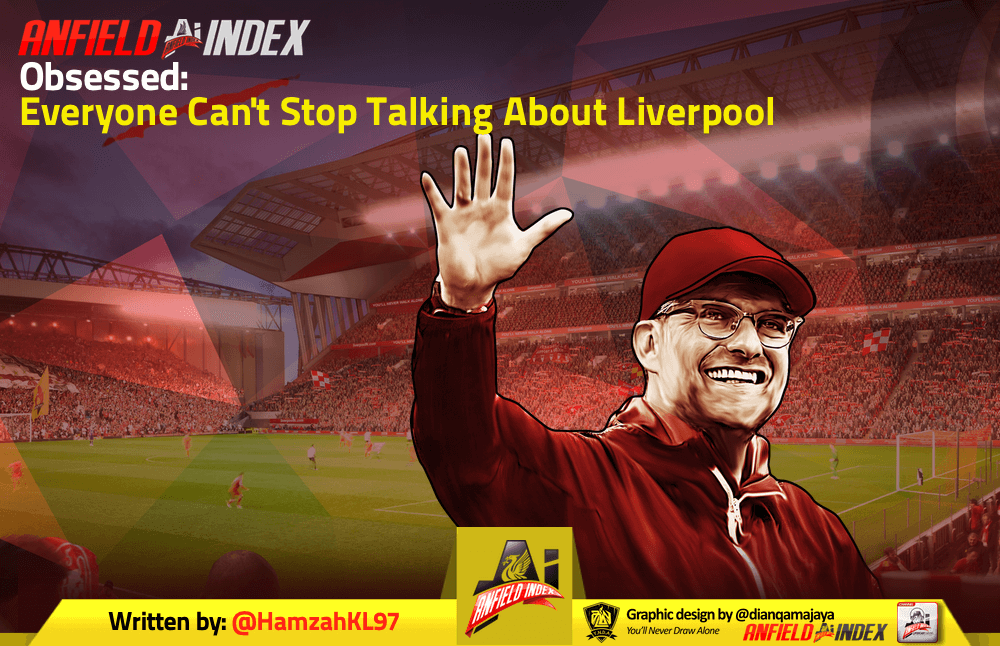 Obsessed: Everyone Can't Stop Talking About Liverpool
"People don't like winners."
Pep Guardiola was remarkably defensive but also equally defiant at his press conference. He would go on to state that his club simply does not get the same respect afforded to Liverpool. It's probably true.
Over the past few months, he has likely faced as many questions about Liverpool as Jürgen Klopp. Liverpool is the team that simply refuses to go away. Unshakeable, and impossible to throw off, Liverpool took Manchester City all the way until the last game of the league season, to a place no other side has been before.
There are a few people to thank for this unyielding and undying streak associated with Liverpool: Divock Origi is probably the name that springs to mind for most people, considering his goal contributions against Everton, Newcastle and Barcelona. The man who is really responsible though, is the manager, Jürgen Klopp.
The metamorphosis of the club from having aspirations of qualifying for the Champions League to becoming a serial Champions League finalist is something pinched straight from my Football Manager saves, when I was too stubborn to accept defeats, and restarted the game after I lost a match. It's one thing for a thirteen-year-old with Football Manager Handheld to go to the Champions League final in consecutive seasons, but to do it for real? Klopp and this Liverpool side is a class apart from the rest. It's no wonder that Guardiola bemoans the media for talking about Liverpool and Klopp.
It's not just the media though. It's everyone. They're all obsessed with Liverpool.
Everyone wants Klopp. Everyone wants to be like Liverpool. They can't stop talking about us. They sing about us at their stadiums. They call radio stations about us when on their way to work. They tweet about us from their homes.
Every single fan in the country is jealous to see Klopp marshalling the touchline within the confines of the technical area. They're even more jealous when he springs out of the technical area, and onto the pitch to celebrate with his players.
They'll talk about it for months.
They found it hilarious when Liverpool drew 2-2 with West Bromwich, and Klopp wanted to thank the fans. It wasn't so hilarious when Anfield carried the side to a legendary victory against Borussia Dortmund.
It was the highlight of their season to see Liverpool outplay Barcelona, and fall to a 3-0 defeat. The glee-filled orcs emerged from their caves, eager to get their say on Liverpool. By the 80th minute of Liverpool's match against Newcastle a mere three days later, the obsessives had multiplied exponentially. My phone wouldn't stop buzzing. Twitter was flooded with updates. Liverpool. Liverpool. Liverpool. 
Minutes later, they were silent. By the end of the second leg of the Champions League semi-final on Tuesday night, they either hid away or faced up to the reality that Liverpool are just phenomenal.
Jealously and spite drives these obsessives. Everyone wants what they can't have. And this Liverpool is everything they want.
They're hooked on us.
They can't get enough.
Every single Facebook post about Liverpool is swarmed upon. Each newspaper column is shared. Every little detail that goes Liverpool's way is decried as a conspiracy.
Where does this all come from?
It's a deep-seated insecurity. They can't accept that Liverpool is great. They can't deal with Liverpool being special. They hate to confront that Liverpool is the best.
Once proud fanbases were cheering on their own rivals just so Liverpool couldn't win a trophy.
Chelsea fans happy to see their team humiliated 6-0.
United fans foregoing their regard for their own club's future in the hope that Liverpool didn't secure the league.
It was, and still is, a sorry state of affairs.
Look what Klopp has done to them. And he's only just begun…
As I said before, everyone wants what you can't have.
But nobody else has this.
Even as Manchester City secure the FA Cup, their fans, manager and players just can't seem to stop talking about Liverpool.
Why? Because Liverpool is magical.
It's a shame that despite City securing a domestic hat-trick of trophies, nobody is talking about them. All the talk is still about Liverpool.
It's driving Guardiola crazy, and it's no wonder, as Oscar Wilde famously said, 
"There is only one thing in life worse than being talked about, and that is not being talked about."
People just can't keep Liverpool out of their minds and mouths.
If you're a Liverpool fan, enjoy it, drink it in. We're witnessing something truly spectacular, and we're the envy of the world. Everyone else can talk about us as much as they want. We'll just keep winning.