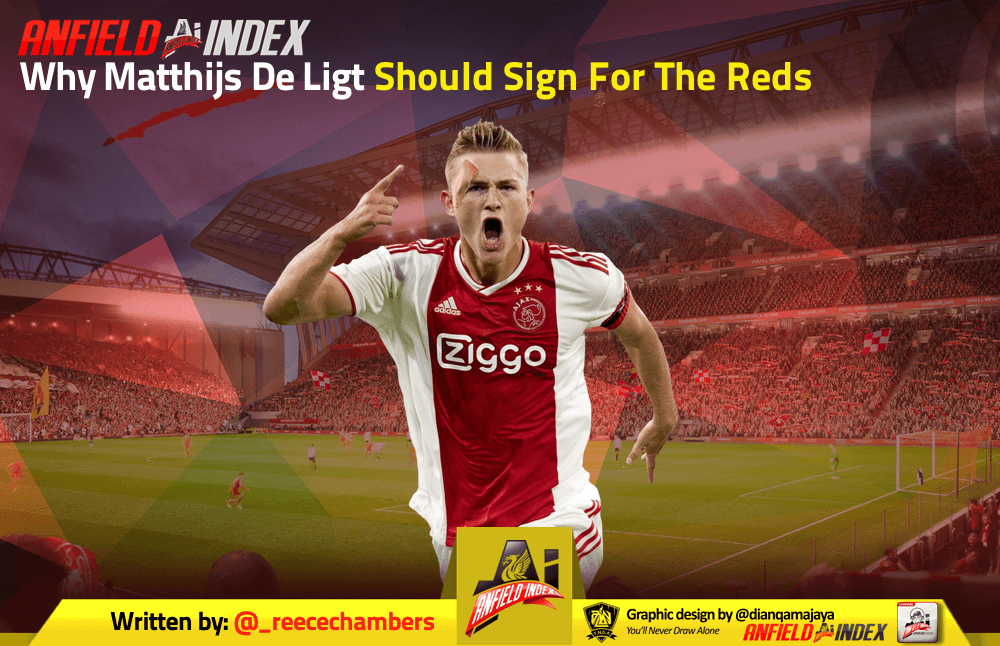 Why Matthijs De Ligt Should Sign For The Reds
The race to sign 19-year-old Matthijs De Ligt has been widely debated already in this summer transfer window.
Liverpool, Barcelona and others, have been reportedly interested in signing the highly-rated Dutch centre-back. As with any other transfer window, speculation and rumours on social media have complicated the situation with journalists, pundits and fans unsure of where De Ligt's future lies.
Even within the last few days, it has been reported that the centre-back is set to join Barcelona, without any official announcement yet to be made by the Ajax or Barcelona. As a result, it is worth bearing in mind that this transfer speculation could carry on for some time over the transfer window.

Reports out of Liverpool have suggested that Jurgen Klopp will look to utilise current centre-back options at the club, rather than trying to sign De Ligt. However, when the chance to sign a world class player such as De Ligt comes along, Liverpool should be doing everything they can to bring him to the club. It has been reported that Liverpool enquired about De Ligt over 18 months ago, but they are yet to reignite their interest in the 19-year-old.
With De Ligt's infamous agent Mino Raiola involved, there will certainly be complications over personal demands for both player and agent. And, whilst it currently looks as if Barcelona is De Ligt's next destination, the young defender may be making a mistake if he chooses not to join Liverpool this summer.
One of the most glaringly obvious attractions of joining Liverpool, for De Ligt, would be the opportunity to play alongside Netherlands teammate, Virgil van Dijk. It is probably impossible to do van Dijk justice in words, but playing alongside one of the best centre-backs in world football should enter De Ligt's thought process.
At club level, van Dijk and De Ligt have arguably been the two best centre-backs in the world football this season. Their sheer presence and leadership on the pitch cannot be matched by many others, and the opportunity to see them play together in a Liverpool shirt would be fantastic.
It is important to remember that, despite his incredible maturity, De Ligt is still only 19 years old. As a result, he still has a long way to go in his personal development on and off the pitch. Therefore, playing alongside a player such as van Dijk could provide De Ligt with a mentor through a key stage of development in his career.
A move to Barcelona may lead to more silverware, but would De Ligt fulfil his full potential anywhere other than Liverpool? The presence of van Dijk at club level and for the Dutch national team could convince De Ligt to move to Anfield.
Furthermore, it has been reported that De Ligt's reluctance to sign for Barcelona is due to the fact that he won't be guaranteed a starting place in the Catalonian side. However, at Liverpool, it could be suggested that he would be much more likely to start than at Camp Nou.
Indeed, Liverpool's defensive options are vast with the likes of Joel Matip, Joe Gomez and Dejan Lovren able to play alongside van Dijk. However, the opportunity to sign a world class player such as De Ligt should be capitalised upon. If Liverpool are to challenge Manchester City next season, they will need to add further world-class quality, just like Guardiola's transfer policy.
Overall, an addition at centre-back may not be the biggest priority for Klopp and Liverpool's recruitment staff this summer, but the opportunity to sign De Ligt for a reported €60million should be heavily considered.