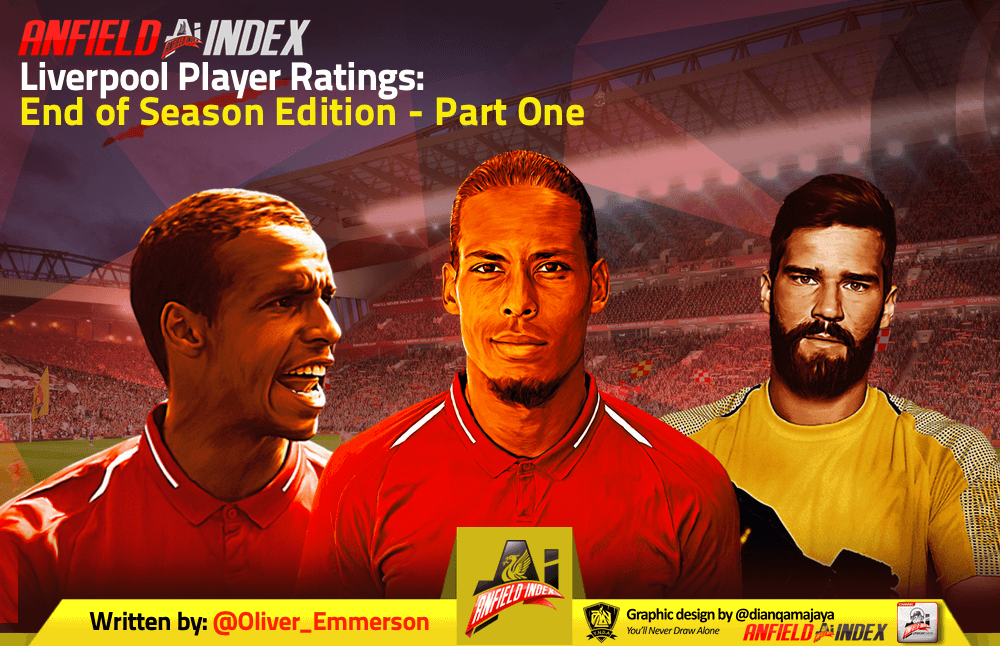 Liverpool Player Ratings: End of Season Edition - Part One
It's that time of year again, a time for reflection. A memorable domestic campaign drew to a disappointing end for Liverpool as a ninth straight league win wasn't enough to prevent Manchester City from a successive title, but there were a string of positives – one of which being qualification for another Champions League final.
Whilst we're still a couple of weeks from finding out if the Liverpool squad can make themselves heroes by bringing home number six from Madrid, it seems a suitable time to look back at each squad member and grade their season.
This won't be one of those pieces where we work out each player's average weekly rating and offer a table. As interesting as those pieces are, Alisson Becker's consistency in getting 7/10 each week in goal shouldn't really mean his season is a 7/10, and so on.

In addition, I'm going to be nice and include Moreno and Mignolet but if you think I'm getting into the nitty gritty of Rafa Camacho, Curtis Jones and Nathaniel Clyne's combined 134 minutes* you're more of a fool than United fans thinking they've got a chance of Mbappe.
*absolute guess
So with that in mind, on we press with part one…
Alisson Becker:
A stunning first season from the Brazilian. Coming in after a string of calamitous goalkeeping recruitment from the Reds, our new main man eased fears immediately with a string of assured performances. Whilst he was prone to the occasional bit of tomfoolery in the distribution department, more often that not he dazzled and amazed. Some crucial saves and an all-round calming presence on the defence, you'd hope for more of the same next season.
Highlight: A huge save from Arkadiusz Milik in the dying moments against Napoli kept Liverpool from being knocked out of the Champions League.
Lowlight: Letting the first goal he conceded be as a result of giving the ball away against Leicester.
Rating: 9/10
Simon Mignolet:
Two games, two defeats. Unfortunately it really wasn't Simon's season as Alisson displaced him and early domestic cup exits left the Belgian watching on from the bench. Still, he's been hailed as a model professional and should get himself a decent move this summer, potentially with a Champions League winners medal in his travel bag.
Highlight: James Milner being nice to him in the papers the other week. Best bit of PR he's had since that pear incident.
Lowlight: Rejecting so many chances to leave that Liverpool let Karius go instead, consigning him to a year on the bench.
Rating: 5/10
Trent Alexander-Arnold: 
What more is there to say about everyone's favourite Scouser? Continued his development into one of the world's finest full-back's with some dazzling performances. Broke the record for Premier League assists by a defender, broke the net with a free-kick at Watford away and broke Barcelona hearts at Anfield. Still improving defensively but he'll get there and I probably wouldn't swap him for another right-back in the world, given he's so suited to Klopp's style.
Highlight: THAT corner against Barcelona. Shove your records, shove your hat-trick of assists, your free-kick's. It's the corner.
Lowlight: Probably being dropped for the Barcelona first leg, to be honest. Although with Liverpool's finishing that night I don't think even Trent could have saved us.
Rating: 8/10
Joe Gomez: 
Ah, lovely Joe. Such an impressive Autumn before a winter leg break curtailed his campaign until the final months. Still, what a run of form he gave us. 50% of the best central defensive partnership we've seen at Liverpool in a decade with records tumbling in terms of goals conceded, or lack of, in that first few months of the season. Great to see him fit again ahead of next season.
Highlight: Being so good that people aren't really arsed over whether Liverpool are in for Dutch prodigy Matthijs De Ligt.
Lowlight: The leg-break against Burnley let Matip back into the side, meaning Gomez will likely start the Champions League final from the bench.
Rating: 8/10
Joel Matip:
When one door closes, another opens and that was certainly the case when Gomez's injury saw Matip get a prolonged run alongside Virgil van Dijk in the Liverpool defence. Solid week after week from January onwards and I've no qualms about him lining up against Son, Moura, Kane or whoever in Madrid.
Highlight: Every-time a meme is posted on Twitter in relation to his giraffe-light legs.
Lowlight: Missing six weeks after being on the end of a proper shitehouse challenge against Napoli.
Rating: 8/10
Virgil van Dijk: 
Oh captain, my captain. Not technically but you know what I mean. Premier League Player of the Season, Balon d'Or candidate, my figurative father. The best defender I've ever seen in Liverpool red. An absolute giant that chewed up opposition attackers and spat them out week after week without breaking a sweat. Give him a 46 year contract.
Highlight: Bayern Munich away. Assists Mane with a ping to end all pings before slamming in a header of his own. First Liverpool player to score + assist in an away knockout European tie since 2007 you know.
Lowlight: That six day period where people didn't think he was good enough to silence Lionel Messi.
Rating: 10/10
Dejan Lovren: 
One sniffle too many combined with the stellar form of his colleagues at centre-back made this a difficult season for Dejan. Okay at times when he was afforded a chance in the team, he still flattered to deceive on too many occasions.
Highlight: Coming on in the 89th minute as Liverpool looked to hold onto their 2-0 lead in the Champions League final. Hopefully.
Lowlight: Manchester City away. Lets Aguero in for the first goal and doesn't cover himself in glory with the second. Could it have been different if Matip or Gomez played?
Rating: 5/10
Andy Robertson: 
The 'best left-back in the world' shouts are becoming more prominent after another strong season in which Robertson became Scotland captain. It'd be nice to buy a lad Klopp trusts so that we could rest him every now and again, as March/April saw a few defensive lapses that we haven't come to associate with him.
Highlight: Spending most of the season ahead of TAA in their assist competition.
Lowlight: Bottling the assist competition at the last fence.
Rating: 8/10
Alberto Moreno: 
Yes, he still exists! If I'm including Mignolet I'm including Alby, who can perhaps feel a little aggrieved that he wasn't allowed to leave last summer. He played a couple more games than Mignolet to be fair, but wasn't on the bench as much as the Belgian. I'm clutching at straws, here.
Highlight: Contributed to a 4-1 win over Cardiff that made Neil Warnock unhappy.
Lowlight: Being too upset about being out of the team to Segway around with his mad dog.
Rating: 5/10
End of part one – keep your eyes peeled on the Anfield Index website for part two!