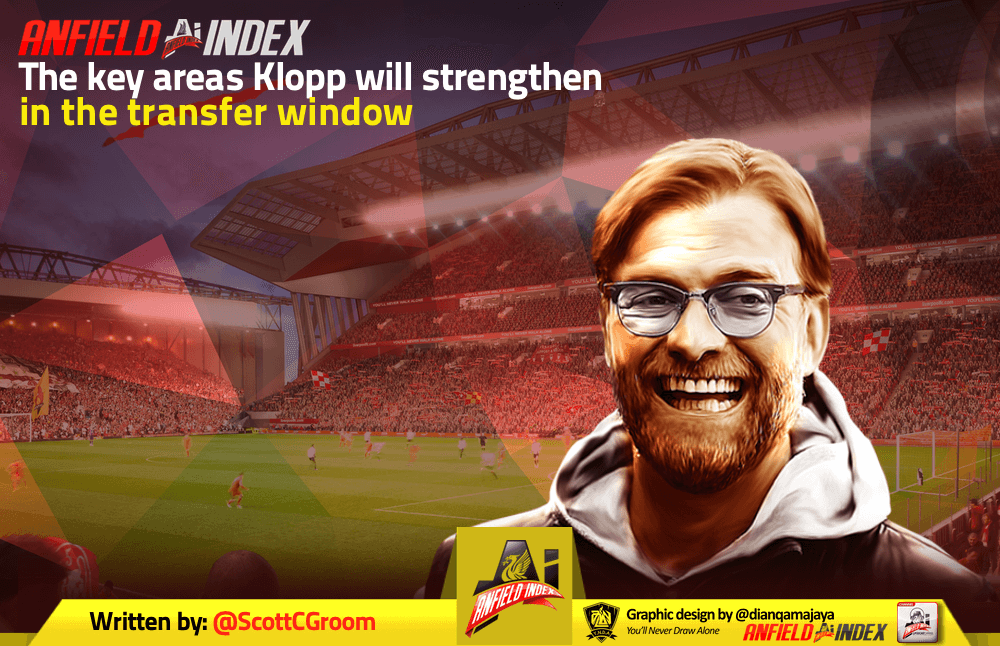 The key areas Klopp will strengthen in the transfer window
Alas, it's here: silly season. The transfer rumour mill is in full swing and the window hasn't even been open for a week.
It will undoubtedly be another crucial window for Jürgen Klopp and Liverpool, as they look to cement their place as contenders to Manchester City's Premier League throne.
Rumours are already rife about who will and won't be joining the Reds over the coming weeks, and whether it will or won't be a busy window again this year.

It's fair to say that it'll have to go some way to beat last season's transfer window, when Liverpool added the services of Alisson Becker, Alex Oxlade-Chamberlain and Xherdan Shaqiri to their ranks, in addition to the signing of Virgil van Dijk in the winter window that came before it.
But with a squad that is already competitive and bursting with talent, where should and will Klopp strengthen this window? For me, it'll be in four key areas.
A new back-up goalkeeper
Alisson Becker's arrival signaled the end to Loris Karius' time as Liverpool's number one, and demoted Simon Mignolet to making sparce appearances in cup competitions.
Karius is enjoying his time in Turkey with Besiktas, but Mignolet will be looking to get more first team football and can probably do some with relative ease at a lower-end Premier League club or elsewhere in The Championship.
So that leaves Klopp rather lacking when it comes to a back-up to Brazilian Becker.
It will be likely, then, that a new deputy is sought over summer, as Liverpool's only other options are but teenagers from the academy.
There's no harm in relying on them, but there needs to be some form of experience there should Alisson pick up an injury that rules him out for a period of time,
While Liverpool's defence is far more rigid now than it was, you can only shield an inexperienced so much.
A new left-back
Alberto Moreno was never good enough for Liverpool really, when we look at it.
He's not even good enough to be anything close to a back-up for Andy Robertson, who has well and truly excelled himself since his arrival from Hull City last summer.
Moreno has let himself and the team down time and time again when called upon under both Brendan Rodgers and Jürgen Klopp and will certainly be moving on in the summer to whoever will have him, quite frankly.
So that once more leaves Klopp a little short on reinforcements in that area.
James Milner has deputised there well on a number of occasions, but the 33-year-old isn't going to last forever and he certainly isn't an ideal candidate every time we need someone to fill in at left-back.
If anything, we need someone to keep Robbo on his toes as well, to push him to be better, because Moreno certainly isn't doing that. But predominantly, we need someone as cover.
Imagine if Robertson tears his hamstring and is out for three months. We'd be in trouble, wouldn't we.
A new centre-back
Virgil van Dijk has made the most significant difference that I have ever seen any new signing for Liverpool ever make.
He's improved those around him, brings an air of class and assurance at the back as is simply world class.
Yet should he get injured, we'd start worrying a bit. Joe Gomez and Joel Matip would do a decent job between them, but if we have to start relying on Dejan Lovren, we're staring down the barrel.
Not only is Lovren prone to moments of madness and a compulsion to make errors every so often, he's also incredibly injury prone. At 30-years-old, that's not going to get any better for him.
I like Lovren as a person and he always gives 100 per cent for the team, but I think it's time for him to move on and make way for an upgrade in that department. If we've got four good quality centre backs, it breathes confidence through the rest of the side knowing that the defence is in safe hands.
A versatile attacking midfielder/attacker
There's no doubt that, at times, the impact of Alex Oxlade-Chamberlain was certainly missing for Liverpool this season.
He really proved himself to be the driving force of Liverpool's midfield before he suffered that cruel, season-ending knee injury against Roma. His direct runs broke the opponents lines, he was able to pick defence-splitting passes and generally just caused problems for his opponents.
While Jordan Henderson has grown into a similar role in the latter part of the season, there is certainly a lot left to be desired in that position in terms of depth.
Xherdan Shaqiri has gone off the boil somewhat, and Naby Keita has had a bitty season, and without those two and Oxlade-Chamberlain it has been a bit of a problem area.
To have someone with a bit more flair in that position to throw into the mix (what with Lallana due to be offloaded soon, too) would be an ideal signing.
It allows Klopp to experiment with someone in the 'Coutinho role' in behind the front three, but also gives him cover should one of those three get injured.
If this player can double up as a central striker or a wide forward, it gives Klopp further wiggle room in terms of shuffling the deck and mixing things up a bit in terms of tactics
These are the areas that Klopp will, I think, look to strengthen in the summer – with any further additions a luxury.