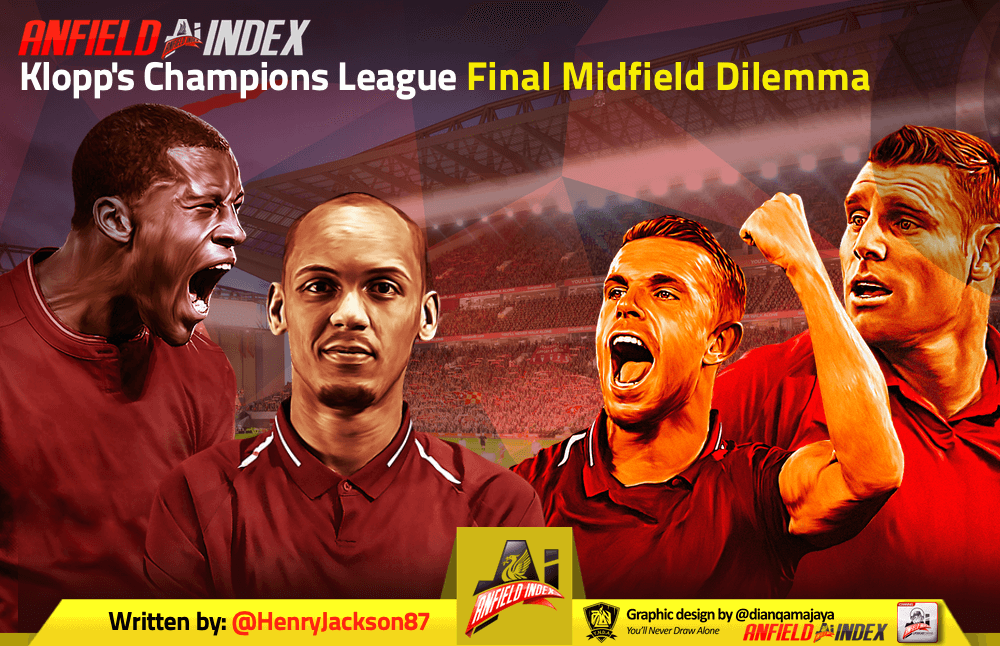 Klopp's Champions League Final Midfield Dilemma
Who else is suffering from both unrivalled levels of excitement and nerves ahead of the Champions League final?
This one really does feel like a must-not-lose, doesn't it?
In truth, Jurgen Klopp finds himself without too much stress ahead of the clash with Tottenham on June 1st, with a fully fit squad to choose from and legs well rested.

There is no drama affecting matters away from the pitch, meaning sole focus is on securing European Cup number six and one of the most significant achievements in Liverpool's history.
While Spurs have doubts over exactly how ready Harry Kane will be, whether or not Mauricio Pochettino will go with three at the back or if Lucas Moura retains his place, you can almost pick the Reds' starting lineup.
Alisson walks into the side after an imperious first season at Anfield, during which time he has cemented his status as one of the top three or four goalkeepers in the world.
Trent Alexander-Arnold, though left out in the first leg away to Barcelona, is also a shoo-in – he will become the first player under the age of 21 to start two Champions League finals – as is Andy Robertson, now firmly established as one of Europe's premier left-backs.
Meanwhile, Joel Matip's immaculate end-of-season form means he is guaranteed to partner Virgil van Dijk at centre-back.
The crucial return from injury of Roberto Firmino also means the world-class front-three of the Brazilian, Mohamed Salah and Sadio Mane will be reunited, as they look to wreak havoc one last time this season.
If those areas of Liverpool's side pick themselves, the midfield is an entirely different proposition.
For the sake of this article, Alex Oxlade-Chamberlain and Adam Lallana are not being considered, due to a lack of match practice and lacking any kind of substance, respectively.
Klopp has collected a group of five top players – Fabinho, Jordan Henderson, Gini Wijnaldum, James Milner and Naby Keita – who have rotated with one another throughout the campaign, as their form and fitness has fluctuated.
Every Reds supporter has one or two that they treasure more than the other from those five, but ultimately, the quintet have proved their worth plenty in 2018/19.
They all offer some different, and such is the ugly, unenviable task that they are often made to perform in Klopp's system, they can all sometimes receive less credit than they deserve.
So who does Klopp go with in, arguably, Liverpool's biggest match since Istanbul?
Keita looks the most likely to have to make do with a place on the substitutes' bench, due in part to a lack of game time having not played since the defeat in Barcelona.
The Guinean had found comfortably his most influential spell of form before injury struck him down at the Nou Camp, however, and he is the one midfielder with the ability to continually break the lines and offer some magic in the final third.
Were he 100 per cent fit, Keita would be right in the mix to start, but it would be a surprise if Klopp opted for him at Atletico Madrid's Wanda Metropolitano Stadium.
Then it gets really tough.
Klopp has shocked fans in occasionally leaving Fabinho out of high-profile games, but the Brazilian's influence is too invaluable for him to be left out in a game considered the biggest in club football.
He showed how vital he has become at home Barca, producing one of the best midfield performances by a Liverpool player in the last decade. He was the definition of colossal.
Fabinho has made that No.6 role his own, and up against a similarly combative Spurs midfield, it is imperative that he begins proceedings. He will.
Gini Wijnaldum is a strange player in many ways, with his ability to be understated in his brilliance occasionally let down by simply being anonymous in other matches.
The 28-year-old has been fantastic on the whole this season, however, and he is someone whose tactical discipline, selflessness and intelligence are all treasured by Klopp.
There had been a period when Wijnaldum's legs looked to have gone late in the season, but if there was every any doubting his form, just look at what he did off the bench at home to Barca.
The final midfield spot is a toss-up between Henderson and Milner, and it is the skipper who merits a starting berth.
He has been transformed since Klopp unleashed him from the deep-lying role that saw him become so divisive, flourishing with more freedom to express himself.
Henderson has returned to being the player he was back in 2013/14, when his box-to-box energy and underrated quality in the final third were so vital.
Perhaps most important is his leadership, though, and the 28-year-old has grown into the job as captain superbly. He might not be close to Steven Gerrard the footballer, but he is proving to be every bit the skipper, albeit it in a different way.
Leaving Henderson out would be a crushing blow for him, and while there is no room for being sentimental in such a monumental game, the thought of him not starting makes little sense currently.
This is nothing against Milner,  who has done little wrong this season.
Klopp so often manages to find a place on the pitch for the veteran on the biggest occasions, but this time it may be too hard to justify.
For all the experience and industry that Milner brings to the team, it is easy to forget that he is 33, and Spurs are a high-octane side who will match Liverpool's fitness levels.
Milner doesn't quite have the dynamism of Fabinho, Wijnaldum and Henderson, and it is also important to remember that his know-how could make him an ideal first substitute in Madrid.
So there you have it.
Such is the subjective nature of football, there are sure to be those who disagree, with some keen to find a place for Keita or Milner.
While the aforementioned trio of Fabinho, Wijnaldum and Henderson looks a little on the one-dimensional side, it is still the most balanced unit, especially with Keita not at full tilt. He can shine as a substitute if required.
This is one of Klopp's biggest decisions in terms of team selection – will he spring a surprise or does the midfield pick itself?