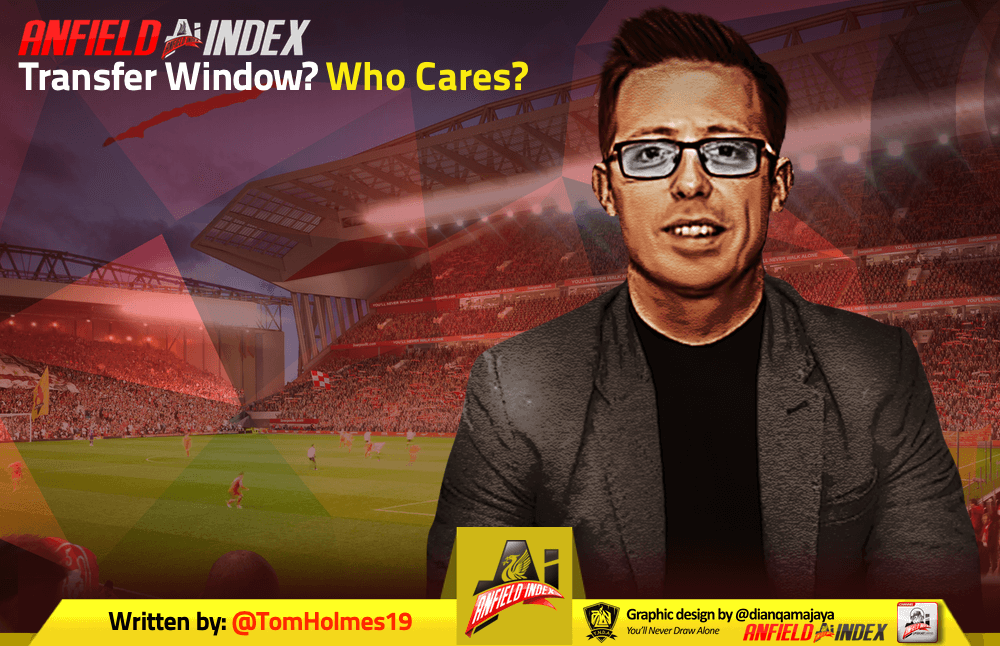 Transfer Window? Who Cares?
The transfer window is open, speculation has already started, clubs have already started wheeling and dealing, and Liverpool have been linked with…
Well okay, to be fair, the picture has changed somewhat around Anfield over the last couple of years. Leaks don't tend to come out of the club at all anymore, which means that whilst some of the unreliable sources will link us to any player that looks like they'd fit the bill, tangible links to players are few and far between. It also doesn't help that there's still the small matter of the Champions League final preventing real transfer talk from fully taking over the Liverpool consciousness.
But nevertheless, those that are around the club are suggesting that it will be a lean summer for the club, with more major outgoings than incomings. That makes sense, this squad still has a decent amount of deadweight and opportunities to make some money, and it also makes sense that other than replacing the likes of Alberto Moreno, Simon Mignolet and Daniel Sturridge, Liverpool are unlikely to dip too heavily into the market. This is a team that made a 97 point season, and it's fair to argue that for the majority of players in the squad, they're either playing not quite at their best or are at their best but in such a way that it's likely to be sustainable.

Midfield has been the biggest problem area this season, but Alex Oxlade-Chamberlain is back there and Naby Keita can only improve into his second year, meaning that Liverpool will have a plethora of explosive and progressive options in the middle of the park at their disposal.
The other area of concern has been centre-back, with three of Liverpool's four central defenders very injury prone, but given it's unlikely Dejan Lovren will be moved on, Liverpool will once again just have to hope that they get lucky in that area and to be fair, Fabinho was only asked to play there on a couple of times in 18-19 and he was terrific on those occasions.
Truthfully though, the quality of our team isn't the main reason, or at least, not the only main reason, that I'm not that enthused about the transfer window.
In the interests of fairness, I hate the transfer window anyway. I find the three-month-long tedium of listening to speculation about players incredibly uninteresting, and I hate that it completely dominates social media at a time when really, it's nice to be able to talk about and enjoy things other than, and to be honest just briefly forget football. I love Liverpool but sometimes, especially after a long season, it can be exhausting and having to care about transfers every day between the season-ending and the new season starting is just draining.
That being said, part of the reason that I'm entirely ambivalent on this year, in particular, is that Klopp and Edwards have earned my trust, and I don't foresee us making any big mistakes in the transfer window.
What I mean by this is that anyone we do sign, I'm sure that they'll be dead, dead good. The track record that Liverpool have built up over the last few years has been absolutely impeccable, and even signings that haven't quite worked or that I wasn't sure of, like Karius, Ox, Shaqiri and Matip, have still all proven to either be good value for money or still have potential to work out.
It's hard to remember the last genuine flop that Liverpool have signed (no it's not, it's Christian Benteke) and certainly, I don't think they've made a single dud signing in the Klopp/Edwards era. So with that in mind, I find it extremely unlikely that Liverpool will make a signing this summer that even if I won't be 100% happy with, will be an outright mistake.
Even seeing other players that we were linked with or that I really wanted us to sign end up moving to other clubs, such as Julian Brandt, doesn't bother me, because there's a real sense that if Liverpool wanted them, then they'd come to Anfield, and if they don't want to, then that's no real big loss. It feels hard to see any transfer story this summer that will genuinely upset me.
The big worry, of course, at least in terms of incomings, is that there won't be any and that the club will leave themselves short. But I'm increasing of the opinion that this isn't a big deal. Every single summer we complain that Klopp hasn't signed enough players, but by now we know that he prefers a smaller squad, and it's unrealistic to expect him to change the tactics and patterns that have taken us to an incredible season. I do think that Liverpool still needs two or three players, but I suspect it's unlikely we don't sign anyone at all.
Of course, the only real danger in this transfer window is that Liverpool lose a big name, but not only do I find it extremely unlikely, but I think that the club are in a position where they could just about adequately replace a major superstar if they needed to. Say for example, that Sadio Mané goes to Real Madrid. Liverpool would make £150m plus and be able to reinvest that straight back into the squad, and would almost certainly be able to go out and buy someone like Havertz, Sancho or better. The team are in a place right now where any big name players they sell will bring in enough cash to mean nobody is off the table, and Liverpool are an incredibly attractive prospect for just about any player right now.
So yes, okay, the prospect of selling Salah and buying someone like Mbappe would certainly make this transfer window worth watching, but I'd put the chances of Liverpool selling any big names as very slim, given that FSG are under no obligation to sell, meaning the prices will put off any prospective buyers.
Either way, if it came out tomorrow that Mo Salah was heading to Real Madrid in the summer, I'd be upset, but I wouldn't be panicking. This club is big enough now and strong enough to absorb almost any hit (Klopp being the only person who realistically we cannot let go at all costs and there's less than zero indication he'll be leaving any time soon).
So yeah, another year, another transfer window, and I honestly don't care. We'll probably sign one or two people, they'll probably be really, really good or at least decent and we'll be challenging across multiple fronts for major silverware next year almost whatever we do. So, you know, up the Reds.