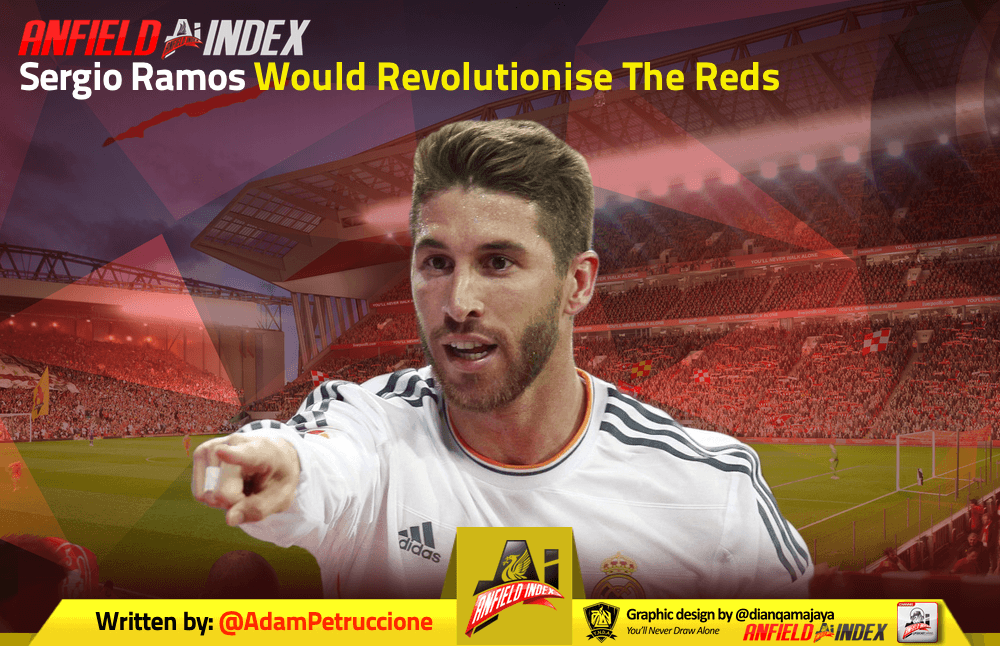 Sergio Ramos Would Revolutionise The Reds
Sergio Ramos Garcia. To Liverpool.
Okay, before you click to close the window and burn your laptop in a barrel in the back yard, let's remove the name and take a closer look. A 34-year-old centre-back with the ability to play right-back who has piled up four Champions League titles, four La Liga titles, a World Cup title and a myriad of other awards, cups, trophies, badges, etc. He is as skilled as anyone at the position and is a massive threat in the opposition box, scoring 6 in the league and 15 overall for club and country this season.
If Joe Gomez is to maximize his talent, Van Dijk is to extend his career deep into his 30's and Matip is to develop that sharp edge that vaults him to the next level, who better than Ramos to school them on the dark arts? There is no better manager than Jurgen Klopp, full stop. However, our manager would tell you himself that he's always learning, always trying to improve, and if there's an area where his teams could push on it would have to be the psychological aspects of big matches where Sergio Ramos excels.

Liverpool play fair, and that's all well and good, but if we're going up against a juggernaut that cheats financially, surely we need to figure out how to scrape an extra yard each match by other means. Where else can Liverpool really improve if The Reds are to overtake Manchester City? Figure that Mo Salah and Firmino split the difference between this season and last in 2019/20, Oxlade-Chamberlain returns to his rampaging ways and Trent puts together a whole season like the last six months. There's still every chance Manchester City pips us to another title, 103 to 102 this time.
The presence of Sergio Ramos, the conning of the refs, the head games with opposition strikers, the mastery of late match situations… Even if he never steps on the pitch it would be incredible to have a species like that injected into the middle of a squad who too often play it exactly by the book. To have Ramos at Melwood would revolutionise the mindset of the team. Can you see Liverpool bailing out of cups to middling opponents with Ramos in the team?
Obviously, the signing of a player this controversial would not be considered without permission of the leaders within The Reds' changing room, including and especially Mo Salah. Assuming that isn't a hurdle, critics would point to Real Madrid's poor defensive record this past season. Carvajal, Varane and Ramos with Casemiro in front of them should perform better even with Marcelo effectively playing as a winger.
Is that down to Ramos? To be sure he owns a share of the blame. But again, the Spaniard was Real's third top scorer in the league with only 28 matches played and more trophies he's had a personal hand in winning than most clubs do. If the man is physically diminished, just having him around the squad would be worth a big wage. Squeeze a season out of him and how much more do Liverpool's young players grow in that 12 months? We're not Chelsea, a team well versed in sh*thousery who just aren't very good. Liverpool are world class in every area except for the dark arts. Think about how mad you were going up against Suarez in the away leg in the Camp Nou. Now, what if Liverpool had the skill to blow you away fair and square and that extra edge to drag us over the line whenever the football gods didn't cooperate?
In recent windows, Liverpool have made overkill signings to clear up weak areas. Barely legal WWE moves, late-game shenanigans… cheating is the logical area where Klopp's team should look to improve over the summer. Scoff if you will. @ me if you must. Sergio Ramos would be a massive signing for Liverpool.