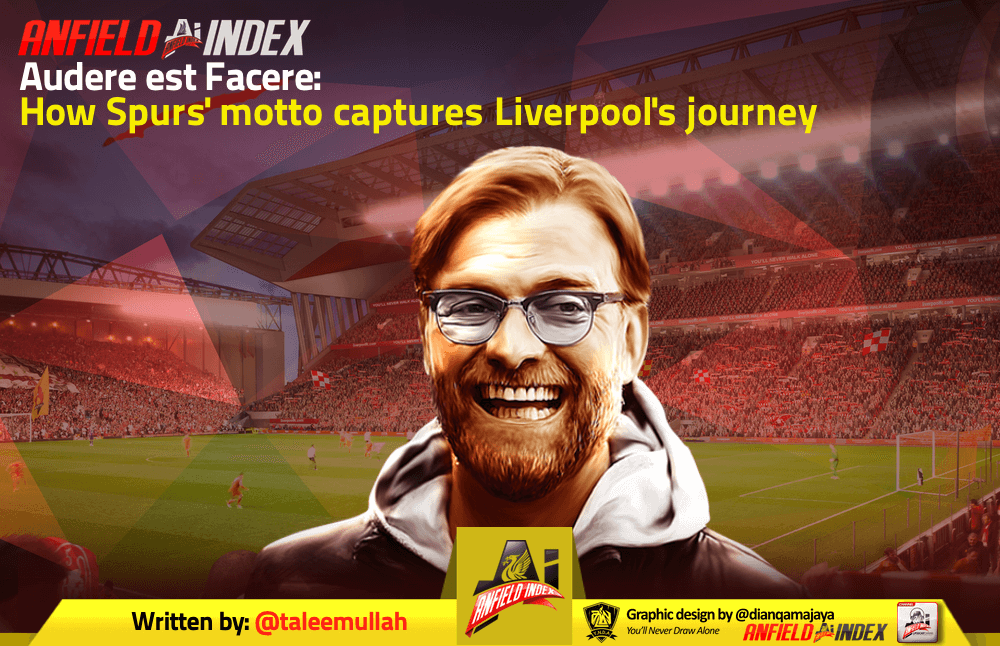 Audere est Facere: how Spurs' motto captures Liverpool's journey
Over the past decade, the Liverpool country has faced so many false and painful dawns. Cultured Hodgson, the European tourist, settling on Merseyside to push us above the British tropes of non-football. The King's stabilising touch, pulling reveries from past decades to raise the dream of Cup wins upon Cup wins. Rodgers' reckless abandon in attacking the title quite literally. The reality? "If you are in the relegation zone, then you are in a relegation battle." "He didn't ask to be manager; he was asked to assume the role. He did so because he knew the club needed him." "It's been a constant rebuilding here." And so the twilight moments of a dark, cold night continued to stretch on…
The result of this has been us collectively wearing a mask that appears both intelligently cautious and courageously flippant at every turning point. It is firmly not our year next year or any year, we say. We're only doing well in this moment, so let's wait and see what happens. But also, we're tired of people making us think we should be embarrassed to believe what we believe. We can beat anyone on our day and it could be our day every week. We've worn this ambivalent mask to hide a pressurised bubble of true desperation and true yearning. A bubble that reconciles a glorious labour history with an eclectic entity struggling with the Pandora's box of modernised football. It swells and bursts over and over again making you sick with anticipation, anxiety, joyous belief and disappointment.
This week, however, it feels as if the mask is off. With true desperation and true yearning, the Liverpool country is living and loving the want and need to win. In all our vulnerability, we are okay with saying it and with you knowing.

It's easy to say there is a burning narrative of redemption. For Jurgen Klopp, to extinguish the perennial final losses of his career. For Salah, who was in a moment of pomp and then robbed of a fair chance to compete for two of football's highest honours. For the players, many of whom have only ever painfully been that close to winning something special. For the club staff, who radically sparked a phoenix rebirth of the Liverpool vorstand with Edwards, Moore and Breglec to fight football's richest juggernauts. For the fans. Oh, for the fans.
But that is not it. More sincere than that, there is a burning narrative to reap what we've sown and to earn. The Champion's League final symbolises the process of the Liverpool country being locked in; of being ambitious commercially, of being innovative in the data analysis of play and players, of being excellent in preparation, execution and fulfilling a playing philosophy. After a slow decade of tumult, this season and this final is not the journey of an arduous climb to a mountain peak. We did that in the 1970's and 80's. It is the harder journey of coming down the other side. Tripping every now and then but not falling. Parched lips. Bloody spit. Twangs of pain reverberating from every rough stone to the very inside of your knees. To labour towards glory as we did to get here. So, would winning the final mean taking that last step onto the flat? I think we all know reaching ground zero is something else entirely. This is standing somewhere on the side of that steep incline and pricking up to hear a sweet silver song. It is knowing once again, the forlorn but real constancy, that from false dawns the sun does rise because you now see it with your own eyes.  Audere est Facere. As we make the long descent to reach home.