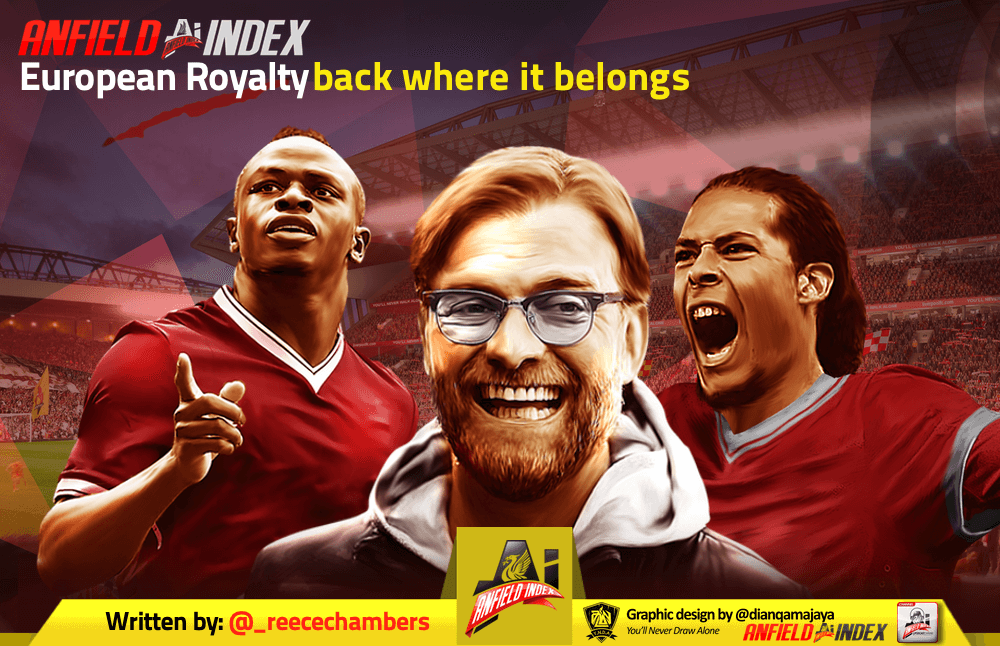 European Royalty back where it belongs
Pack your bags, we're going to Madrid. It's the biggest stage of all in club football, and the Reds will be hoping they can go one better than last year in Kiev. A place in Liverpool folklore waits for the current squad.
This year's UEFA Champions League road to the final in Madrid has proven that Jurgen Klopp's Liverpool are back where they belong. Not just another English side making up the numbers in Europe, but one of the most feared forces in club football.
With Firmino, Mane and Salah running the line, Liverpool are one of European football's most potent threats. This season has seen the addition of balance to Liverpool's play. With Alisson and Fabinho adding invaluable Champions League experience, Klopp's side doesn't look out of place.
After the heartbreak in Kiev last season, there is perhaps an added sense of anticipation heading over to Madrid. This is it. This could quite possibly be the best opportunity the Reds will have to add to their illustrious European Cup history.
It's two final losses in a row since the Miracle of Istanbul. The Reds failed to defeat AC Milan for a second time in three seasons, losing 2-1 in Athens. Nobody needs reminding of Kiev. But, if there is one thing to take from last season, it is that cup finals are an anomaly.
Spurs are a terrific side, and what Pochettino has done at the club is impressive. But if you were to offer a Champions League Final against Spurs to Liverpool fans at the start of the campaign, nearly all of them would have taken it. It's a golden chance for Liverpool to get that much-awaited sixth European title that has ghosted them since 2005.
Klopp has, ever since his first day in charge at Anfield, spoken of emotion in football. Liverpool are a club steeped in glorious tradition, and with that comes a responsibility to provide magical moments to a fan base accustomed to footballing brilliance.
If any Champions League season was to encapsulate such magic, it would have to be this campaign.
The magical nights under the Anfield lights. The Anfield roar when the players walk out of the tunnel. Everything about Anfield makes it a magical place on Champions League matchday, and very few places in world football can rival it.
Indeed, the 4-0 comeback in the semi-final against Barcelona was one of the best Champions League comebacks of all time. The belief within the squad makes this Liverpool side more or less impossible to rule out. Overturning a 3-0 deficit against Lionel Messi's Barcelona shows that this is where Klopp's team belongs.
The entire campaign has been one built on magic and belief. It looked at one stage that the Reds might fail to emerge from the group stages, they overcame that. It looked like a trip to Munich in the last 16 would see Liverpool eliminated, they overcame that too.
This campaign feels different to last year's final. The Reds have been far more balanced in attack and defence, they look more assured. The confidence of the squad runs right from Alisson, all the way up to Salah. If anyone is feeling nervous ahead of the biggest game in club football, it won't be the players.
The belief that Klopp has installed in his players over the last few years have been clearly shown this season. Wins over PSG, Bayern Munich, and of course Barcelona, were all built on a never-say-die attitude.
Such a belief seeped into the Anfield stands, and beyond. You only have to look as far as Jamie Webster's BOSS Night shows in Barcelona and Munich to see how much this run has meant to the fans. Even Reds legend Jamie Carragher joined Webster on stage for a tribute to Virgil.
This is a European journey that has grabbed the attention of European giants, and Liverpool are back where they belong alongside them.
If there is one thing to remember before 8PM on Saturday, it is that nothing will faze this group of players.
The fact Liverpool go into this game against a side who finished 26 points behind them in the league will not distract them. A sixth European title is there for the taking.
After heartbreak in 2007 and 2018, it could well be third time lucky.