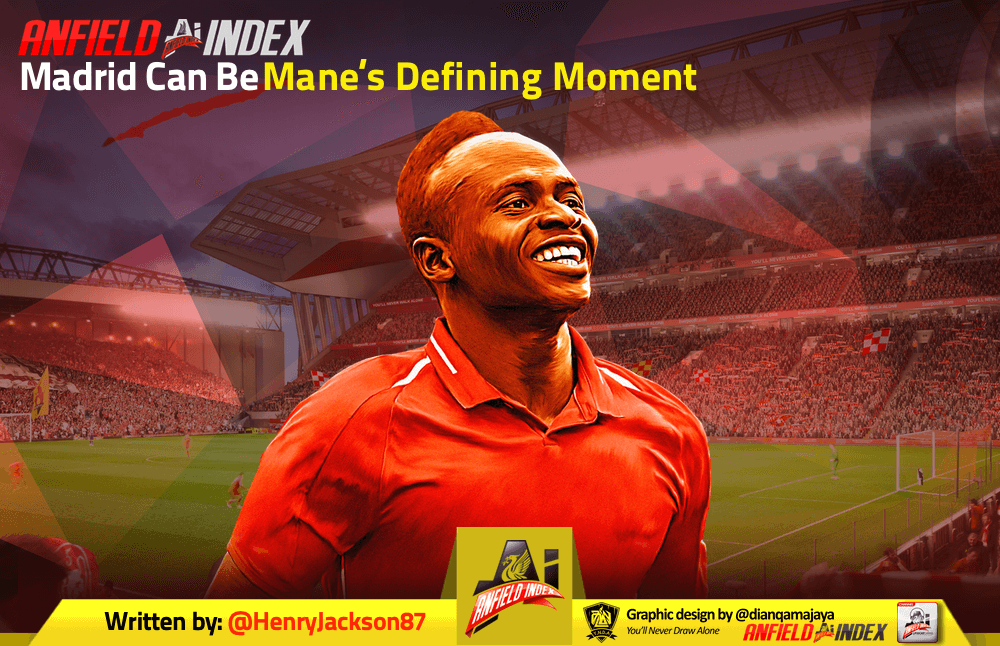 Madrid Can Be Mane's Defining Moment
The legendary 4-0 win over Barcelona will be remembered for so many reasons by Liverpool supporters.
The impact of Divock Origi and Gini Wijnaldum will rightly be at the top of the list when the game is looked back on in decades to come, following their heroic double apiece.
Similarly, Trent Alexander-Arnold's outrageous assist for Origi's tie-clinching strike will go down in legend for its audacity and speed of thought.

Alisson's expertise in the Reds goal helped keep his side in the contest, while the colossal midfield performances of Fabinho and Jordan Henderson earned many deserved column inches.
There was one man who didn't get too much of a mention, however, which can often bizarrely be the case, relatively speaking.
Sadio Mane was magnificent on one of Anfield's most famous nights, producing an influential display when tasked with being Liverpool's main man.
With fellow front-three destroyers Mo Salah and Roberto Firmino both sidelined through injury and all hope seemingly lost, the Reds' No.10 delivered admirably.
Sure, he didn't score or register an assist, but he scared the life out of Barcelona and often looked the most dangerous player on a pitch also containing Lionel Messi and Luis Suarez.
It summed up what an all-conquering footballer Mane has become, and also the special character he possesses, and he is worthy of a place in back-to-back Champions League finals.
With kick-off against Tottenham fast approaching, talk will unsurprisingly surround Salah, Harry Kane's fitness and the returning Firmino, while Son Heung-min and Lucas Moura will get a mention, too.
Mane goes into the game as Europe's most in-form attacking player, however, and it should be the Senegalese earning the most focus and praise ahead of the match.
He never does, however, even though plenty of accolades do come his way, before I make this sound like too much like a sob story. The point is, he merits even more love, such is his brilliance.
After an up-and-down first half of the season by the 27-year-old's high standards, his impact since January has been astonishing.
Mane is level with Salah on 26 goals in all competitions – even more impressive when you consider he doesn't take penalties – and he is in his richest vein of form yet in a Liverpool shirt.
Nobody was more key as they did battle with Man City until the final day of an all-time great Premier League title race, with big goals scored against Chelsea, Burnley and Wolves, to name but a few.
Had it not been for the consistently unrivalled displays of Virgil van Dijk, Mane may even be the newly crowned PFA Player of the Year.
We haven't even mentioned his Champions League exploits yet, as he again shone on club football's biggest stage.
Having found the net in every single knockout tie last season, as well as bagging the equaliser in the final against Real Madrid, the speedy wide man has continued in similar fashion in 2018/19.
A superb double away to Bayern Munich particularly caught the eye, with his opener in the second leg at the Allianz Arena a truly great Liverpool European goal.
Porto again felt his wrath in the quarter-finals, albeit slightly less than in the last-16 meeting in 2017/18, before Barcelona loomed.
As mentioned, a goal didn't come his way in either leg, but he excelled in both ties against the Catalan giants, occasionally toying with them in the Nou Camp, despite the unjust 3-0 scoreline on the night.
Having played a major part in Liverpool reaching Madrid for a mouthwatering clash with Spurs this weekend, there is no reason why this can't be Mane's defining moment.
Since joining the Reds in the summer of 2016, he has been one of, if not the best, wide man at Anfield since John Barnes, proving to be an immense purchase.
It is still so easy to forget how crippling his absence was midway through 2016/17 when he left for the Africa Cup of Nations, effectively ending Liverpool's title bid in the process.
Quite why he doesn't get the universal love of other continues to prove baffling, but he is up there with the very best in world football right now.
Salah has had a sensational two years at Liverpool, but Mane remains the more polished, complete footballer of the two, in terms of his all-round game.
While he may not possess Firmino's aesthetic subtle brilliance, his level of intelligence is up there with the Brazilian's, and he has pace and movement that his teammate can only dream of.
Speaking to Spurs fans as the days run out before the final, Mane is the one they are most fearful of, due in part to the poor form of right-back Kieran Trippier.
The Senegal superstar is a player with ice in his veins who couldn't be further from the stereotypical image of a modern player, with image and personal glory an irrelevance to him.
He simply gets on with his job and wreaks havoc week in, week out and he deserves his moment in the sun on Saturday night.
It would be a fitting end to a wonderful season for Mane to score the winner, further cementing his place among the great players of the current game.