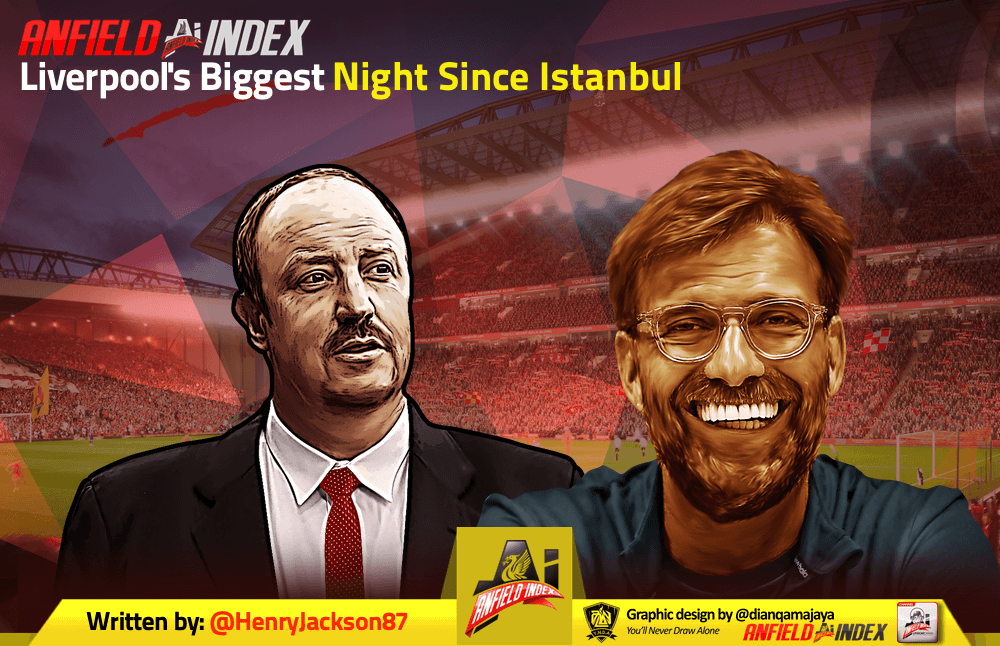 Liverpool's Biggest Night Since Istanbul
What stage of your life were you at on May 25th, 2005, when Liverpool enjoyed the most famous night in their great history?
On a personal note, I was on the verge of taking my A-Levels, and can confirm that the following day was not spent in exam mode, but instead spent suffering from the most severe hangover imaginable.
Adrenaline was through the roof, new heroes were made in an instant and anything felt possible during the hours after Jerzy Dudek denied Andriy Shevchenko from the penalty spot.

You will all have your own story about that most glorious time to be a Red, no doubt at varying stages of your lives, with the achievement in Istanbul an experience we will forever treasure, whatever part of the globe we are in.
Fast forward 14 years and we find ourselves in the present day and on the cusp of watching Liverpool in yet another Champions League final.
It's easy to forget that the Reds have now been in four in the last 14 years, going to show just how much they thrive in the competition. The pair are a match made in heaven.
Despite the magnitude of the rematch with AC Milan in Athens in 2007 and last season's defeat to Real Madrid, not to mention the Europa League loss at the hands of Sevilla, the weekend showdown with Tottenham is Liverpool's most significant match since 2005.
Some occasions feel huge, while others simply feel monumental and perhaps even generation-defining. This is the latter.
Just think about how much has gone on in your life since that world-class Milan side were stunned midway through the last decade. Some of you may not even be able to remember it, which feels unfathomable.
Think about how many Liverpool matches you have sat through in that time, whether it be memorable wins, forgettable draws or heartbreaking defeats.
There have been hundreds, yet this is top of the pile.
Nothing feels as big as what we are about to witness, as Liverpool look to secure a first trophy since 2012, Jurgen Klopp's maiden piece of silverware as Reds manager and European Cup number six.
The reason it is so pivotal in comparison to various other heart-stopping European nights and nerve-jangling Premier League affairs is that this has the sense of being the most defining.
Athens had the feel of a free hit about it in some ways, for example, coming just two years after the most dramatic evening of them all.
Meanwhile, the finals against Sevilla and Real Madrid came out of nowhere, rather than Liverpool being expected to get that far. They were pleasant bonuses at a time when Klopp was still a way away from perfecting his squad, particularly in the case of the former.
Liverpool went into this season fully believing they were one of the top two or three teams in Europe, though, and winning a major trophy had to be the primary aim.
Had it not been for a freakishly brilliant Man City team, the Reds would have cantered to Premier League title glory, as would have been the case in so many other seasons, having racked up 97 points.
The chance of domestic glory cruelly passed Liverpool by, but they have one last shot at crowning a memorable season in style this weekend.
No trophy win since Istanbul would be as significant as this one, while on the horrible flip side, no defeat will be tougher to take if Spurs prevail at the Wanda Metropolitano Stadium.
The result won't definitely make or break this Liverpool outfit, but it is also impossible to deny how big either outcome will feel.
Jordan Henderson lifting the trophy aloft on Saturday night could spark a run of silverware coming the Reds' way – getting over the finish line for the first time under Klopp is so vital.
The winning mentality and belief it would instil in these players could take them to enormous heights, especially if the irritatingly brilliant Pep Guardiola gets tired of Manchester and trades it for Turin in the near future.
There is always bound to be a bit of bias because we are in the here and now, but there is a different feel to this occasion compared with the rest since 2005. You can feel the anticipation, nerves and excitement all at the same time.
The magnitude of it cannot put into words – I'm doing my best to! – and Klopp and his players are tantalisingly close to becoming instant legends.
If destiny really is a thing, Liverpool will get the better of Spurs on Saturday, in what would be one of the most deserved trophy wins during a Reds season. It doesn't feel possible for this side to go trophyless.
Were it not for the Reds' penchant for heartbreak in recent years there would likely be more confident about the outcome in Madrid, but there is no disputing that they are favourites.
An ugly win, a 5-0 drubbing, a penalty shootout victory – anything will do.
It might be longer than 14 years until Liverpool have another match as big at this.