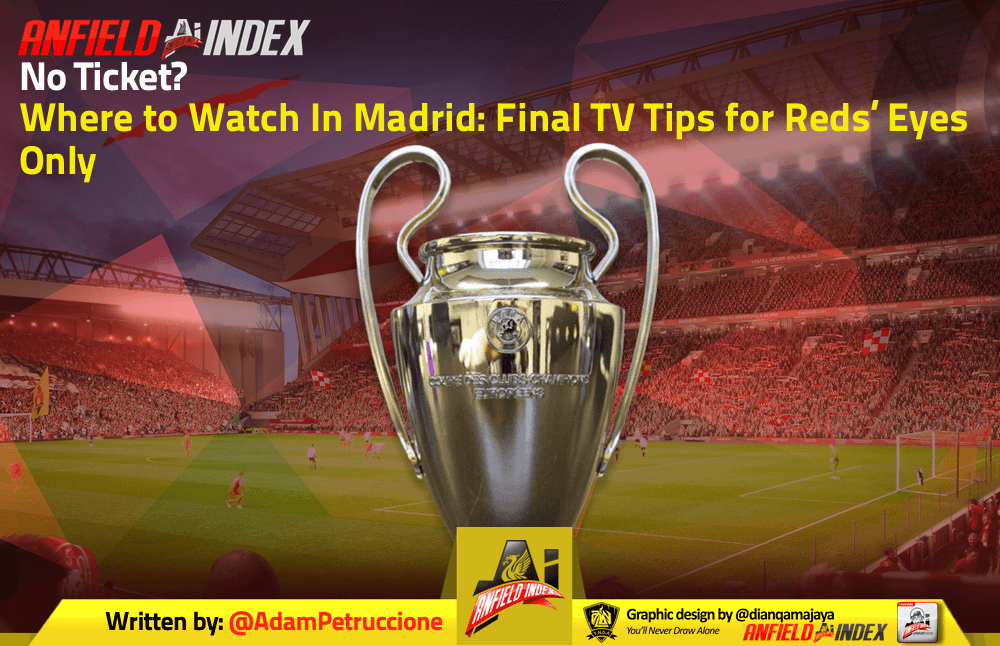 No Ticket? Where to Watch In Madrid: Final TV Tips for Reds' Eyes Only
Madrid is my city. I've lived here for four years after a combination of circumstances allowed my wife and I to choose essentially anywhere to live. There's no better place for a weekend at this time of year. Unfortunately, there is a bit of panic setting in about what Reds can expect when they descend on the Spanish capital in their thousands. I'm more than a little worried as well if I'm honest.
I'll get into those concerns and they are valid, but one thing I can guarantee is that if tens of thousands of people come to this city expecting chaos, there will be chaos. There are not enough venues to make things simple and easy for those without tickets looking to watch the final, but there just might be enough for us all to have a great time if we go into Saturday night prepared to have a laugh and make the best of a challenging situation.
One of the best things about Madrid is that people here go out often, have a few drinks, a smoke, some tapas and… get this… they actually talk to each other. Their bars and restaurants are not geared towards a television. And while there are more pubs in Madrid than in most cities in Europe, very few have a television.

That wouldn't be too much of an issue if there were screenings of the final in the plazas or any plaza… however, the powers that be have decided not to do that. A change-over in local politicians, media coverage of the fountain situation in Barcelona, previous shenanigans by Leicester supporters and a Champions League malaise with Real out of the competition have made this event somewhat of an afterthought. There are slick events being prepped in the plazas, but critically, they will end at 6:00 pm on Saturday.
Without travelling supporters being aware of their options I fear a situation that could stain Liverpool fans and/or the city of Madrid or both for a generation. Crowds of inebriated football fans panicked that they won't be able to see the pinnacle match of the season in a foreign city… It could be bad.
But look, we can do this. It doesn't have to go bad. We can snatch victory from the jaws of defeat. Madrid has enough TV's if you know where to find them.
START DRINKING EARLY
OK, that might seem like bad advice. What you need to do is to get to the place where you're going to watch the match as early as possible. Bo Finn's on Diego de Leon opens at noon. Finnegan's opens at 1:00 pm. James Joyce opens at noon, but for standing room only. You need to seriously consider getting to one of these locations as they open and making yourself comfortable for a 10-hour bender. If you get all the way to Finnegan's and it's already full, go around the corner to La Taberna de Argensola. They can fit an extra ten or so and the beer selection is on point.
The Hard Rock Cafe is probably going to be Spurs first choice since it's right next to their fan zone, but if you get there early enough you might get lucky. They have VIP packages available for the match as well.
GAMBLE CREATIVELY
More bad advice. Plenty of places are publicizing lists of bars, but a lot of them are small, and they're going to be full early, especially if anyone takes my advice (see above). What venue can fit enough people to make a dent in the throngs of supporters that will be wandering Madrid? The city has several large casinos in the centre. Casino Gran Via is promoting events for the final and I expect others will do the same. There are also small sports-books and even bingo halls sprinkled around the city where you could see the match. What a story it would be if you get bingo on N66 just as Trent whips in the winning assist. The big casinos are relatively formal so keep your pants on, no jorts allowed!
EAT YOUR WAY THROUGH
There are a few restaurants with decent TV's and even somewhere you might be able to make a reservation before they suspect it's to watch the match. Limone on Diego de Leon is a Venezuelan run pasta joint with great wine and a flat screen inside. Cafeteria Colores on Ortega y Gasset is another little sidewalk cafe that has a confirmed TV inside.
Tapas joints are more likely to have a screen than bars in Madrid. Lizarran is a chain that often screens big matches in various locations around the city. The beer is cheap and the food is decent. You could do a lot worse.
Frank and Furt is a German joint that is right on the Liverpool fan zone. If they stay open, contrary to recent reports in the Spanish media, they have several screens and can hold about 30 of us.
SETTLE IN THE SUBURBS
Beyond the choices above, you're looking at a trip to the 'burbs my friend. Madrid is a sprawling city that goes far beyond the 10 block radius that I'm referencing. I just don't have any educated advice on what you'll find when you get there. Godspeed my friend. I look forward to celebrating with you after the match!
That's all I've got folks. I wish I could tell you that this was going to be easy. It's not. It's going to get really weird between 6:00 and 9:00 pm on Saturday. You might end up sitting next to a blue haired abuela at a bingo hall or eating an uncomfortable amount of garlic bread just to see the match but in the end, this is what it's about, right? Number six and a story to tell is really what you want to take home with you.
Madrid is an incredible city. They just don't have TVs. Enjoy my friends.
Up The Reds!