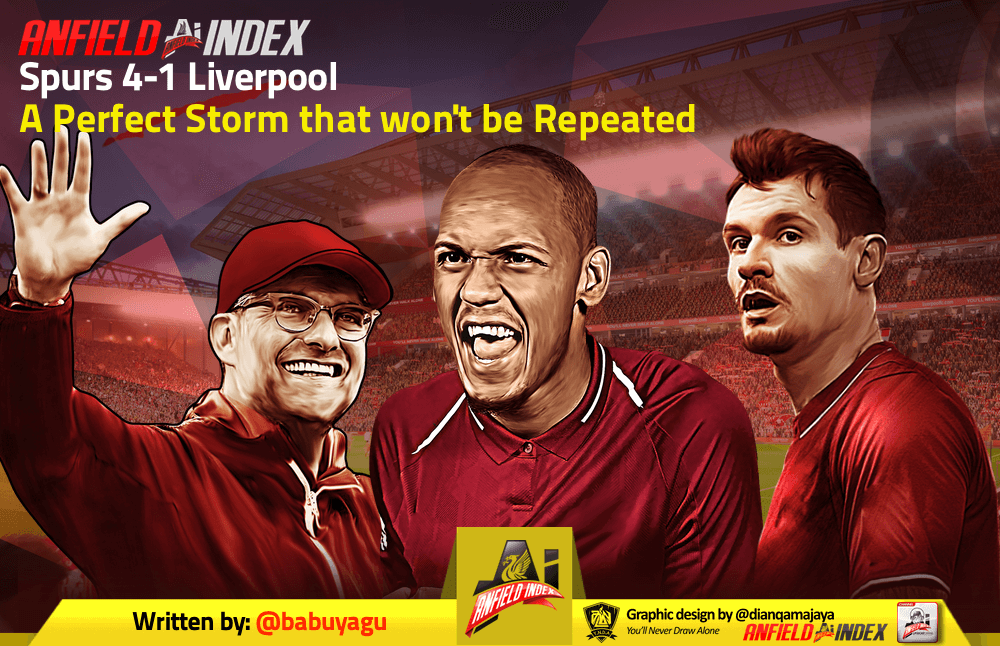 Spurs 4-1 Liverpool - a ­Perfect Storm that won't be Repeated
A lot of fear around the match at the weekend seems to stem from it being a final and anything can happen. Spurs are a dangerous team with many players who can beat you with a moment of magic if you allow them space and time. Kane, Lucas, Son, Alli even Eriksen – they have all been match winners for the North Londoners at times this season. Klopp has lost to them before, and it was a humiliating defeat.
These statements are all true, but I would like to take a moment to analyse that 4-1 defeat from 18-months ago and highlight why I feel it was a perfect storm for us and will not be repeated.
Firstly, many refer to this game as a "Lovren match". To me, this feels like people wanting a simple solution, or a scapegoat, to put all the responsibility of a defeat on. The problem with doing so is it halts all analysis of the game as we already have identified our problem.

As a rule, whenever you have an awful performance, it stems from issues in midfield. Mistakes, or poor performances, in both boxes tends to have the biggest impact on the result. If you have an awful performance though, the first step it to look at the midfield.
Losing the midfield battle
Our midfield that day was Milner, Henderson & Can. Three players who lack press resistance, have a tendency to drift off-centre to get on the ball where there is more space and they aren't pressed as quickly, who dive into tackles often when standing up and delaying would be preferable, that lack the penetration in small spaces to create space for themselves. In terms of an overall tactical level, that is the poorest trio that Klopp has selected during his reign.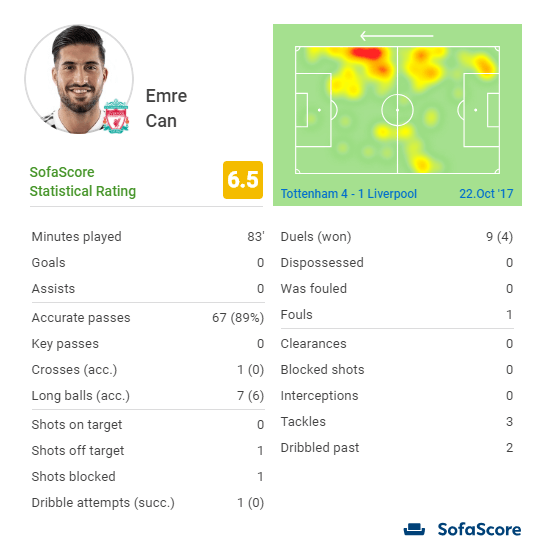 This problem is compounded with Coutinho on the pitch – who was very much a 1-way player in a system built for 2-way players. When Klopp joined the club, Coutinho was by far the most talented player he had. However, he was also a poor fit to Klopp's tactical plan.
I highlighted this on RAWK some time back, but when you looked at our players compared to all players in Europe, Coutinho was the only starting XI player who was consistently in the lowest percentiles across the board in terms of defensive actions who started for Klopp. The two players that subsequently ate up his minutes when he left in 2016/17 were Mane on the left and Chamberlain centrally; two players in the upper 50% in terms of defensive actions.
Essentially, when Coutinho was on the pitch we were effectively playing with 10-men off the ball. When counter-pressing, if the aim is to quickly surround the ball-carrier and suffocate him of space and time on the ball to escape with it, having a weak link is in the issue. You are always giving them an easy escape.
Coutinho was Klopp's best player in terms of individual performances on the ball. However, in terms of team-tactical performances and making the system function, Mané and Chamberlain are both among our most consistently high performers. Hence why as a team, we look much better and harder to play through from front to back since Philippe departed for a sunnier life in Barcelona.
The combined result of that midfield plus Coutinho was a side that would have poor defensive access and be easy to play through as they struggle to stay compact. This allows Spurs too much space and time in midfield. Once they had bypassed our midfield and got into the final third with consummate ease, they faced a back five of Mignolet, Moreno, Lovren, Matip and Gomez.
Can we not just agree it was Lovren?
Let's deal with Lovren first of all. He came into the game with a back problem and was taking pain killers to manage the pain. The first header he decided to challenge for, he jumped and did not even leave the ground. It was as if he tried to push off to get some elevation but there was no strength in his legs to do so whatsoever. From there, it did not get any better.
We quickly went two goals down before pulling one back via Mohamed Salah. Lovren was brought off for Chamberlain. Coutinho moved into central midfield. Milner to right-back, Gomez to centre back and Chamberlain played on the wing.
So we are 2-1 down here, Lovren is off the pitch now so he cannot be responsible for what comes next right? We have Gomez & Matip at centre-half. We have broken up Milderson and added penetration in midfield in the form of Coutinho. We're good here right?
At this point, Chamberlain had been at the club for about six weeks. He was far from in tune with our tactical set-up. Klopp recently said in an interview that with new players he gives them no instructions, first he just wants to see them play.
Ox had yet to start a game for us at this time and the only major minutes he had played were in attack against Manchester City, as a half-time sub, in a game we lost 5-0. This was not the guy that we remember from last spring who was bossing Premier League midfields.
We have also weakened our midfield in replacing Milner with Coutinho in there. Making it even easier to play through. From this point on, we lose the game 2-0. With a lot of the ball, we created effectively nothing, whilst giving up big chances at the other end. In Matip and Gomez, we lacked someone aggressive at the back who would take charge and attack the ball. We were well and deservedly beaten both before and after the Lovren substitution.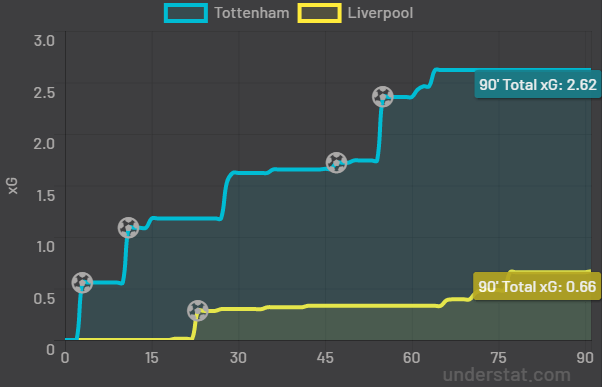 Expected Goals over time chart for Liverpool's 4-1 defeat at Spurs.
Why we say 'never again'
So why should we not use this game as a reference point as to how things may go on Saturday?
Firstly, Coutinho and Can are no longer at the club. As talented as both were, they were poor tactical fits for the system as is shown by how much more robust we look as a unit since they departed. We will also (likely) break up the Milderson combination in midfield and opt for Fabinho & Wijnaldum next to Henderson. Mané will replace Coutinho on the left.
Immediately our team looks far more compact and at a much higher level tactically than what was fielded that day. Which means playing through our side will be a tough ask and where Spurs have already struggled and given up goals to us in trying to do so already this season. Should they get through the front six though, what faces them now is a far superior back-five?
Alisson, van Dijk and Robertson are legitimately talked about as the best in the world in their positions. They have replaced Mignolet, a Lovren who could not jump and Moreno.
Matip v2.0 looks far superior to the guy partnering Lovren and Klavan back then. His more passive nature that sees him let attackers get the ball under control without challenge or allowing the ball to bounce in danger areas is something we rarely see these days. Being next to the Virgil van Dam has really brought out the best in him.
On the right, Trent has replaced Gomez and has become probably the best attacking right back in the world. While he may have some issues with pacey, more physical forwards, he is well on the way to cementing a claim to the title of best full back in world football at the rate he is improving.
This is not the same side that played Spurs that day. Do not let that match feed your fears for Saturday.