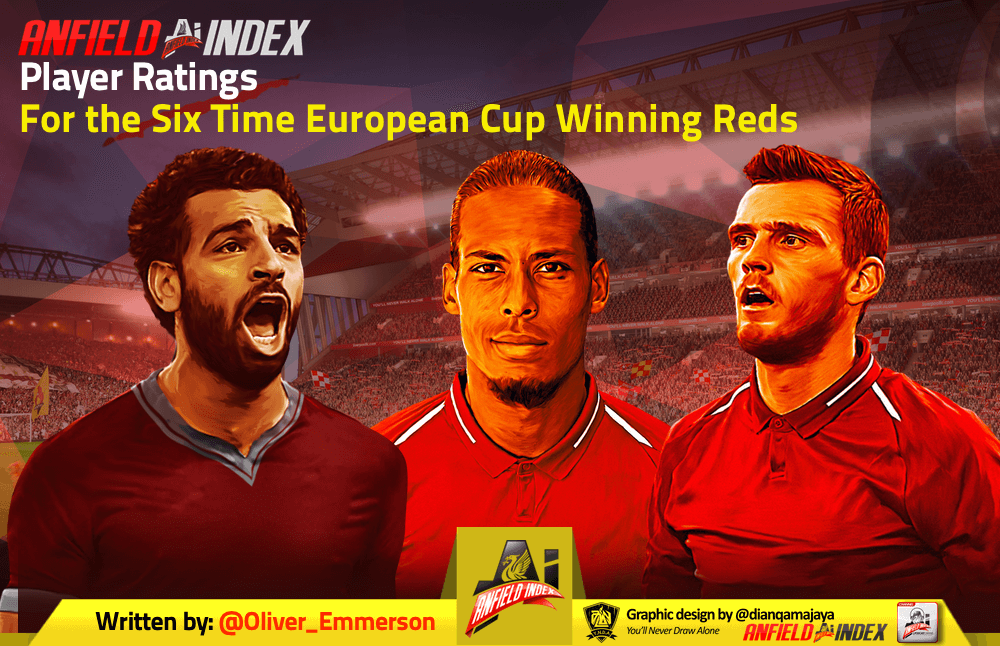 Player Ratings for the Six Time European Cup Winning Reds
Told Gags I'd do the ratings regardless of the result, but come on, thank fuck we won. Just back from the parade myself. Did you make it? Not a big surprise if you did, given there were 750,000 fans of the Reds knocking about. Oh, apologies. 750,000 fans of the SIX TIME EUROPEAN CUP WINNING REDS.
If you think this is going to be anything other than a cluster of 10's and a love letter to each individual that graced the pitch then you're very much mistaken, but do stick with me.
10 for you, 10 for you, 6 for the Reds
Alisson Becker (10): I'm coming off a bad hangover and three hours sleep on a beanbag in my own house. Let my mates kip in my bed, didn't I? Idiot. My point is, do I remember that much of the game? No. Do I remember Alisson saving about 302 thousand shots in the last 15 minutes? Yes. King.
TAA (10): Yes lad. Targeted by Spurs like Bin Laden in a US military operation but dealt with the pressure and became a legend at the tender age of 20. Scouser in the team, the Scouser in the team…
Virgil van Dijk (11): Fucking hell lad how are you so good hahaha, it's actually ridiculous. Marshalls the defence like his life and the lives of everyone he has ever loved depended on it, breaking a sweat once to dispossess the accelerating Son. Couldn't get a glimpse of him at the parade, he's probably avoiding me in fairness given all the comments I've made this season about his massive Dutch cock.
Joel Matip (10): WHAT AN ASSIST! Joel Matip, assisting Divock Origi as Liverpool win a European Cup. Imagine if you'd have said that after we lost 6-1 at Stoke! 6-1, by the way! And people didn't want Rodgers sacked!
Andy Robertson (10): Up and down, up and down, up and down like the kid that gets picked last in PE trying desperately to climb the rope. Robertson harnessed his opportunity for greatness with an accomplished performance and is probably now above Sean Connery in the 'Scotsmen I adore' list.
Fabinho (10): Couldn't pass to save his life, so what? A tackle here, an interception there. Masterclass in shithousery too, of course.
Jordan Brian Henderson, European Cup Winning Captain (10): Don't think I've anything to add to that.
Gini Wijnaldum (10): Knackered after 9 minutes, a European Cup winner after 90. That smile, bloody hell.
Mohamed Salah (10): His ability to be pretty bad at penalties yet bury all the important ones is one of my favourite things in the world. An absolute superstar and a role model at that, he's pretty quiet after the goal but never stops chasing the loose ball, never stops trying. Redemption, at last.
Sadio Mane (10): Maybe the smartest footballer on the planet. Maybe the quickest. Maybe my favourite. 'Oh, gonna put your arm out Sissoko? PINGGGGGG, PENALTY!'. Simple yet effective genius.
Roberto Firmino (10): 10% fit but still in better shape following 60 minutes of elite football than I was after a little sing-song before the game. Battled, did his best, eeked everything he had out of him, no less than a day later was sat off the back of the bus like the coolest bloke in the world.
SORRY, DIVOCK x
James Milner (10): More European Cup's than Man City ahahahahaahahaha
Joe Gomez (10): Yes lad.
Divock Origi (6): KIDDING! 10/10! WHAT A FINISH! IMAGINE BEING THE BELLEND THAT RATED HIS SEASON AS A 6/10! IMAGINE BEING THAT GUY. GAGS HAS ALREADY COMMISSIONED 2910 APOLOGY PIECES FROM ME OVER THE SUMMER.
___________
Liverpool as a team and as a city came together once again to do something special, I hope you all enjoyed it as much as I did. Safe journey's home from Liverpool, Madrid or wherever you spent your weekend. It was a special one.