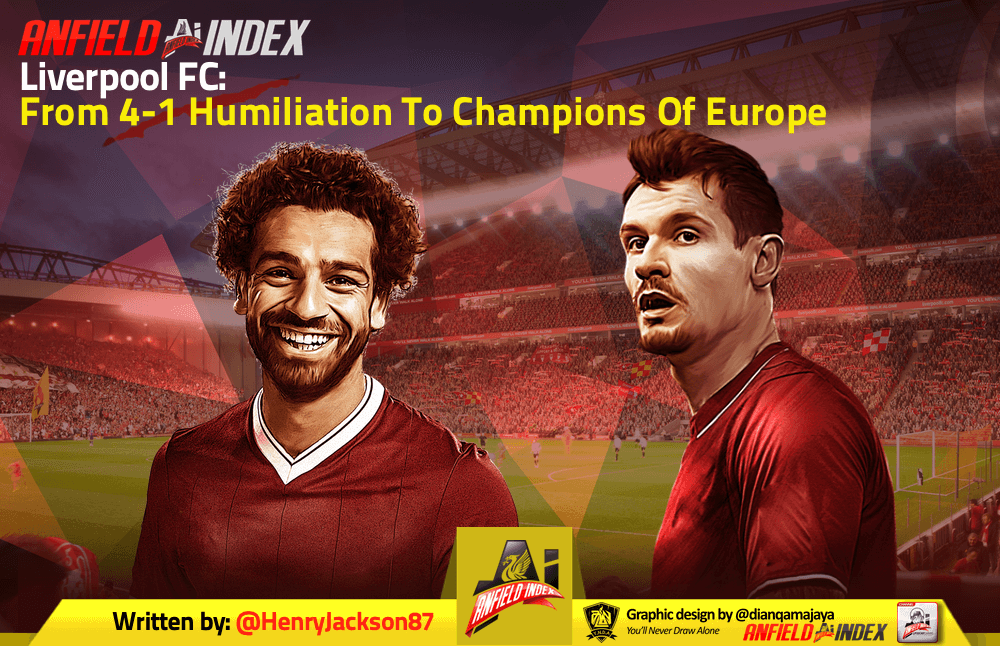 Liverpool FC: From 4-1 Humiliation To Champions Of Europe
Define ignominious: Liverpool's 4-1 defeat away to Tottenham in October 2017.

That dank autumn afternoon was Jurgen Klopp's nadir as Reds manager, at a time when the first few doubts were creeping on about this most charismatic of men.
While he wasn't under the kind of pressure many managers find themselves under at low points, frustration was clear and the German was in a rare fragile position.

The loss at Wembley left Liverpool sitting ninth in the Premier League, with just 13 points on the board from nine matches, already 12 adrift of leaders Man City.
Spurs and Man United lay seven ahead of Klopp's men and Chelsea and Arsenal were three clear, and Liverpool were also out of the League Cup and had won just one of their opening three Champions League group stage games.
It was hard to find reasons for genuine positivity.
The performance against Spurs was woeful, not helped by one of the all-time worst individual displays by Dejan Lovren, and Simon Mignolet seemingly deliberately diving out of the way of goal-bound attempts.
There was almost nothing to admire about what was on show and it felt like a huge reality check, despite some eye-catching football played and positive results achieved in and around the match.
Fast forward just over 19 months and Liverpool are the champions of Europe, after an extraordinary season that will go down as one of the best in Reds history.
The fact that Spurs were the opponents in Saturday's Champions League final makes it all the more fitting.
The north Londoners have come on leaps and bounds in their own right under the likeable Mauricio Pochettino, but they are no match for the monster that Klopp has created since that day at Wembley.
In hindsight, the dispiriting defeat at England's national stadium – a venue where Klopp suffered one of his greatest disappointments with Borussia Dortmund in 2013 – ended up being one of the most important Liverpool have suffered.
It didn't feel like it at the time – it is impossible to think in such a way in the heat of the moment – but the Reds needed a sobering experience to jolt them into life.
After the game, Klopp spoke about the need for being "100% spot on" – something they were far from achieving that day – with genuine success only arriving when everyone is flourishing as a cohesive unit at the top of their game.
At that point, Liverpool were incapable of matching Klopp's demands week in, week out, not least because the individuals on show simply weren't good enough in general.
Among the starting lineup against Spurs were Mignolet, Joel Matip – a very different player to the one currently thriving alongside Virgil van Dijk – and Alberto Moreno. Jordan Henderson and James Milner were in midfield, at a time when they were far less effective and far more divisive, alongside a talented but occasionally cumbersome figure in Emre Can.
It was hard to have too many qualms about the front-three of Philippe Coutinho, Mohamed Salah and Roberto Firmino, but even then there wasn't the balance that now exists (Sadio Mane was unavailable).
That team would be dismantled by the one Klopp has now assembled – a team that has every right to be thought of as one of the top two in Europe, and one of the finest English sides of the 21st century.
The addition of Van Dijk has clearly been the catalyst behind Liverpool's meteoric rise in less than two years.
He is playing at a level few centre-backs have found anywhere in the world in the past decade and he has the potential to go down as an all-time great of the game. The 27-year-old's ability to improve everyone around him is almost unrivalled.
It is easy to be romantic and harp back to the past, treating former greats as God-like figures, but I'm not sure I have ever seen a defender play with such staggering authority and influence.
It is no great surprise that such a special footballer has made the difference he has, but the other tweaks made by Klopp have been masterful.
At the time of the Spurs game in October 2017, Andy Robertson had just three starts to his name and there was no great affection for him whatsoever. Meanwhile, an 18-year-old by the name of Trent Alexander-Arnold had only begun proceedings five times in a Premier League match.
The duo are now unquestionably Europe's most potent full-back pairing, with their athleticism, quality and team ethic epitomising everything good about what Liverpool have become. Let's not forget Joe Gomez either, who was imperious before the injury and who can become a future Reds great.
Fabinho has been a wonderful signing, arriving at the club completely under the radar straight after last season's final defeat to Real Madrid and making the No.6 role his own.
Liverpool's "lighthouse", as Pep Lijnders referred to him as, is the player the Reds have been missing in front of the defence since Javier Mascherano.
Then, of course, there's Alisson, who like Van Dijk, cost a huge amount of money but has swiftly shut down any mocking surrounding his price tag.
After Loris Karius' disaster in Kiev, Liverpool's goalkeeping fortunes flipped a full 180 in Madrid, as Alisson made several key saves late on.
He has an aura that has made the Reds an even more commanding force and he has shown how priceless having one of the best goalkeepers in world football between the sticks can be. He be even the best.
Henderson, Milner and Gini Wijnaldum have been maligned at times, but they have all gone up a level and will now always go down as true heroes.
It's worth remembering that this has all been achieved without Naby Keita yet hitting top gear and Alex Oxlade-Chamberlain being injured for a year, too.
They will be fit and raring to go come the start of 2019/20, as will the prodigiously gifted Rhian Brewster, of whom great things are expected.
Add in what is expected to be a select few new faces and it is understandable why Liverpool supporters are feeling the most confident they have in 30 years.
Alex Ferguson knocked the Reds off their perch, but they're now close to being right back on it.
It's all down to Klopp, who realised what needed to be done after the battering at Spurs and has masterminded the club's turnaround to the point where he has already cemented legendary status.
It is quite staggering the progress made since that day, with two Champions League finals reached, one of which led to European immortality.
On top of that, just four league games have been lost in the 68 that have taken place, with a total of 159 points won in that time, at an average of 2.33 per game.
From being an entertaining but unpredictable side battling for a place in the top four, they are now one of two clubs in Europe nobody wants to leave and everybody should want to join.
Perhaps most exciting of all is that Liverpool are likely to become even more formidable.